By Lookout Staff
April 6, 2018 -- All 11 runners from the Santa Monica Police Activities League ( PAL) crossed the finish line in last month's 26.2-mile Skechers Performance Los Angeles Marathon, PAL officials announced Friday.
The local youth received medals for their participation in the race from Dodger Stadium to Santa Monica, which took place on Sunday, March 18 and drew more than 24,000 runners from around the world.
Asked what it means to finish one of the four largest marathons in the country, most of the PAL members said it gives them a sense of confidence and accomplishment.
Finishing the marathon, said Karen Morales, 15, means that "so many months of hard work have paid off and it also will show me that if I can do a marathon I can do anything."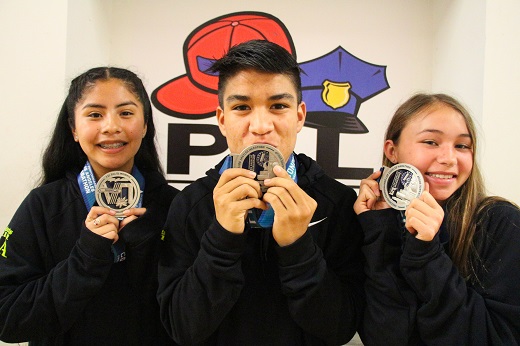 Santa Monica PAL runners (from left) Karen Morales, Jesse Del Rio and Kim Hansen (Courtesy Santa Monica PAL)
Benjamin Castillo, 14, said he is proud to have "done something that I thought I couldn't do."

While Kim Hansen, 14, said finishing the marathon means "I can accomplish anything and I will be able to unlock the force."
Other PAL Youth runners and medal recipients are Christopher Aguilar, 17; Jessye Bautista, 16; Katie Bravo, 16; Luis Buenrrostro, 14; Jesse Del Rio, 15; Justin Lee, 18; Daniela Medina, 17, Zaahir Shorter, 17.

"We are very proud of each one of the PAL runners that competed and completed the Los Angeles Marathon," says Eula Fritz, director of Santa Monica PAL.

"The kids were extremely dedicated in their training and spent many hours in preparation for the race," Fritz said. "It takes determination, commitment and character to finish the race. These are some of the traits that we try to instill in our PAL kids daily."
Staffed by the City of Santa Monica, the local PAL is a nonprofit organization dedicated to providing a safe and supervised place for young people ages 6 to 17-years-old who live or attend school in Santa Monica.

PAL "teaches skills, promotes self-respect and respect for others, and helps kids reach out to their peers and to adults," PAL officials said.

The organization provides free academic and cultural programs and a wide range of recreational activities.

The Center is open year-round, Monday-Friday from noon to 10 p.m. and Saturday noon to 6 p.m. For information, visit smpal.org or call 310-458-8988.