By Lookout Staff
April 5, 2018 -- Participants will get a glimpse of "what may lie beneath the surface of daily life" this weekend when Art at Tongva stages "Among Us," Santa Monica Cultural officials said.
Staged by director Marike Splint and Los Angeles Performance Practice, the audio-theater experience -- which takes place Saturday and Sunday rom 5 to 7 p.m. -- allows the participant and the city to take the stage.
"Among Us" takes participants "through familiar places," from the Santa Monica Pier to the green surroundings of Tongva Park, "while listening to meditative prompts and invites (participants) to look deeper," organizers said.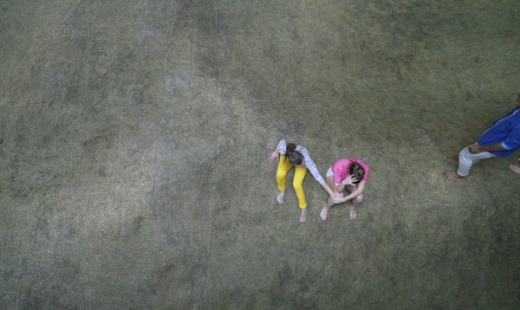 Wilderness performs "Leaves of Grass" (Courtesy Wilderness)
The City of Santa Monica Cultural Affairs' Art at Tongva series continues Wednesday and Thursday, April 25 and 26 with 7:30 to 9 p.m. with a work by artistic director Annie Saunders and her company Wilderness.
"Wilderness push the envelope of the traditional theatre-going experience" with a "live immersive experience (that) will activate the intimate 'rooms' of Tongva Park," event organizers said.
"Inspired by unexplored and uninhabited spaces, they create experiential and interdisciplinary theatrical events that disrupt the boundaries between observer and observed."
Wilderness will stage two works "Leaves of Grass," a text and movement work, and "On Paper," a "durational and intimate duet," organizers said. Both works have been revised for the landscape of Tongva Park.
Originally created with Sarah Corman of Frantic Assembly, "Leaves of Grass" examines "how we as couples grow to become alike, what that means about the insularity of the self, and how this phenomenon of similarity affects our relationships
"On Paper" examines "domestic relationships through movement, music and recorded sound," organizers said.
The season continues in May with additional performances of "Among Us" and an evening of performance and art by contemporary indigenous artists.
Award-winning Tongva Park -- designed by James Corner Field Operations, the designers of the highly acclaimed High Line in New York -- features gardens, winding paths and urban vistas ("Tongva Park is a Unique Experience in Santa Monica," September 10, 2013).
Art @ Tongva is co-produced by Santa Monica Cultural Affairs and Dyson & Womack
For updated information, visit smgov.net/tongvapark/events.