By Niki Cervantes
Staff Writer
July 31, 2017 -- Encircled by glistening, lovingly restored cars from the WWII era and later years, young George Garcia basks in the 2nd Annual Westside Unity Car Show this sunny breezy Saturday afternoon in Santa Monica.
He is showing off his lowriding pride and joy -- a sleek and commanding Royal Blue 1970 Monte Carlo, polished to a fine glow, with boldly designed and shiny chrome wheels.
"It took me three years," to restore," said Garcia, who grew up in Santa Monica on a block where the Dads, his included, and other local car buffs spent every minute they could bringing junked old cars back to life.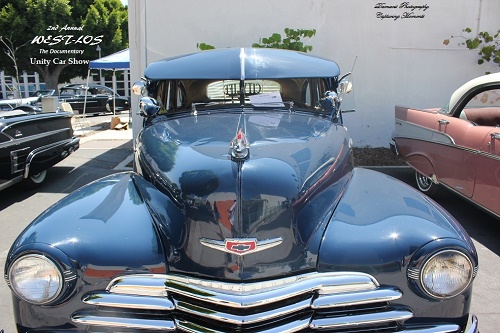 2nd Annual Westside Unity Car Show ( Photos by Damaris Castro)
"I just grew up with it," said Garcia, now 26 and working in accounting in West L.A. "I told myself I was going to do it. I saved up and bought it on my 23rd birthday."
Saturday's show of about 100 classic cars, trucks and what looked like a glittery black hearse (but might have just been an unusually long station wagon) drew a large and diverse crowd. Children clamored into the cars so their parents could snap smartphone pictures.
Young and older men, wives, sisters and girlfriends spent the afternoon kicking back to swap cars stories, like neighbors at a block party.
Which was the point.
"Everyone had a good time and it was a real show of unity," said Oscar de la Torre, a School Board member and activist in Santa Monica's Hispanic community who helped organize the show, which raised $1,900 for the Pico Youth and Family Center he runs.
Lowrider car club representatives show unity on stage
More than a competitive car show, the event at John Adams Middle School on 16th Street was designed to demonstrate that the Mexican-American culture around lowriders is maturing.
Organizers want the public to see lowrider culture as aging beyond its identity as wheels for gangs into what they say is a non-violent and passionate pursuit handed down from parent to offspring.
"It has evolved," said Isabel Lopez, as she polishes spots here and there on the 1954 GMC truck --- a milk-chocolate brown -- she and her husband, Alex, restored over nine years of Sundays.
Her family is in a local lowrider car club, she said.
"There are a lot clubs and they're very family oriented," said Lopez, who also lived her life surrounded by lowrider classic cars in various stages of restoration.
"You find two, three generations of us. We do fundraisers. We do charity work."
The lowriding world was born in the barrios of East L.A., dating back to the racially tense days of the Zoot Suit Riots in the 1940s, gaining momentum in the post-war era and continuing through the boulevard cruising that still sparks complaints and police attention in some parts of Southern California.
In much of the public's mind, lowriders became synonymous with the surge in gang warfare and drive-by shootings in Hispanic neighborhoods of the 1980s.

Beautiful and bold as the classic cars were, they badly rattled onlookers as they slid past, either alone or part of a greater assemblage.
It's a past Garcia barely seems aware of -- a time long before his time and not so interesting.
"Maybe back in my Dad's day?" he said.
De la Torre said Saturday's event was meant to show the lowrider culture is growing up. Devotees hold down steady jobs -- a necessity given the high cost of restoring classic cars.

It is an absorbing hobby but also an exercise in pride, he said, and it crosses boundaries.
"We're building relationships," said de la Torre.

A few cars away, another man and his grown son, from nearby Lennox, hovered protectively around a crème-colored 1978 Chevy Fairlane.
"I rescued it from a chick coop in New York," said Pat Riley, a retired mechanic with a long list of restored lowriders to his name -- including a 1958 Impala, hauled in from New Mexico and restored with original parts.
The son said his Dad was offered a new Lexus and $100,000 for one of his classics. No deal.
Garcia said he was hanging onto his Monte Carlo. He said he still has some work to do on it.
Plus, he scraped together $5,000 to buy it.
Although the chance to transform an old wreck into a piece of art on wheels is the main reason he bought the car, "it also might be a little bit of an investment," Garcia said.
Saturday's 2nd Annual Westside Unity Car Show was sponsored by TRUEcar, Southside Towing and Campos Restaurant.