By Lookout Staff
July 28, 2017 -- Santa Monica College became the first community college in Southern California and only the second in the state to earn national accreditation for its Associate of Science degrees in Early Childhood Education, school officials announced this week.
SMC also earned accreditation for the program's Associate in Science for Transfer degree, which "satisfies most of the California State University lower-division requirements and offers students priority admissions consideration at select CSU campuses," officials said.
The accreditation -- which puts SMC among 195 two- and four-year institutions accredited nationwide -- came after a "rigorous process of self-review and site visits by out-of-state experts that began about a year ago," officials said.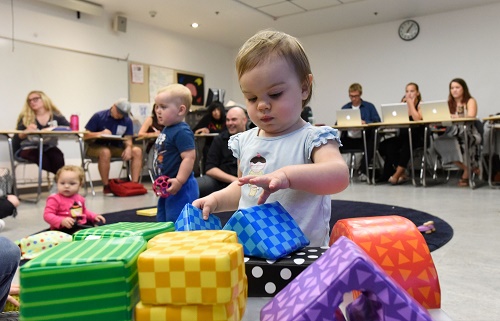 "Baby Day" during an Early Childhood Education practicum class at Santa Monica College (Courtesy of Santa Monica College).
The approval report cited strength in faculty who are "committed to student success and involved in the early childhood profession; program responsiveness and innovation to address the needs of the community; and the program's promotion of both career and transfer pathways," officials said.
The report also commended SMC's program "for its many strengths revealed through the accreditation process and beyond."
SMC Superintendent and President Dr. Kathryn E. Jeffery said the accreditation is "a testament to the dedication and hard work of Santa Monica College faculty, who are passionate, progressive and among the most highly qualified in the field."
There is a growing demand for professionally trained employees in the child development field, SMC officials said.
Studies by Santa Monica-based RAND and the Brookings Institution have found that early education provides long-term benefits, especially for poor students and those whose primary langage is not English, officials said.

"The goal of our program," said Laura Manson-Weingarten, SMC ECE Department Chair, "is to help our students understand child growth and development and to experience what that looks like in a classroom setting."
SMC's programs help lower division students meet the education and licensing needs for a career in Early Childhood Education.

Graduates are qualified to work in the pre-school and infant-toddler fields or to "go deeper into their studies, transferring to four-year programs in elementary and special education, child psychology, counseling and other child-focused occupations," program officials said.
Last month, Santa Monica College became the first community college in California to offer a program under its the Early Childhood/Education Department that trains and certifies teachers for Transitional Kindergarten (TK) ("Santa Monica College to Offer Program for Teaching Transitional Kindergarten," June 8, 2017).
TK addresses the need to help children who turn 5 between September 2 and December 2 prepare for kindergarten, which in California only accepts children who are age 5 on or before September 1.