By Lookout Staff
July 12, 2017 -- A spiderweb of strings will resonate across Reed Park in Santa Monica on Saturday when String Theory strums ad plucks its custom harps hanging from giant Eucalyptus trees.
The performance, which starts at 5:30 p.m., is part of the City's "Meet Me at Reed" series of free open-air concerts at the recently renovated Christine Emerson Reed Park.
Attendees are invited to bring portable chairs, picnic blankets, food and refreshments to enjoy during the performances.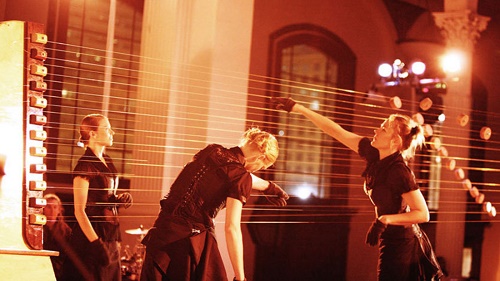 String Theory (Photo courtesy City of Santa Monica)
Founded in 2002, L.A.'s String Theory is a hybrid performance ensemble that combines the troupe's signature gigantic architectural harp installations running hundreds of feet with original music, costumes, dance and projections, organizers said.
"Architecture is transformed into giant musical instruments, spaces become resonators, and audiences are enveloped in a giant canopy of golden musical brass wire and sound," according to the group's publicity.
String Theory has performed in venues across the world from Singapore to Grand Cayman, entertaining audiences at Walt Disney Concert Hall, The Emmys and Grammys, museums and festivals.
The series concludes Saturday, July 29, with what organizers are billing as Santa Monica's first ever "A Cappella Picnic" featuring eight different vocal groups that range from a vocal trio to a choir numbering more than 30 singers.
The event -- which takes place from 3 p,m. to 7 p.m. will also feature a special "beat box" segment showcasing some of the region's finest beat boxers, organizers said.
"Meet Me at Reed" offers an opportunity to enjoy the re-designed park, which now features a winding pathway, a host of new native plants and shrubs, free and open exercise equipment, picnic tables, chess tables and an outdoor performance area adjacent to the Miles Playhouse.
The series if presented by Santa Monica Cultural Affairs and Miles Memorial Playhouse.

Free parking will be available at 808 Wilshire Boulevard, but biking, walking and taking the Big Blue Bus to the concerts is encouraged.
For more information click here or contact MilesPlayhouse@SMGov.Net.