By Niki Cervantes
Staff Writer
July 12, 2017 -- Proposed legislation by a Santa Monica lawmaker to designate a duck-billed dinosaur as the official California dinosaur moved a step closer to final approval Tuesday.
The Senate Committee on Governmental Organization unanimously approved AB 1540, authored by Assembly Member Richard Bloom (D-Santa Monica).
The bill names Augustynolophus morrisi -- also known as "Auggie" -- as California's state dinosaur.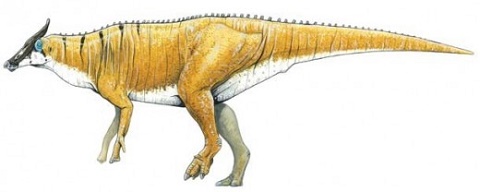 Artist rendering of duck-billed Augustynolophus morissi (From Dinopedia.com)
Auggie roamed California 66 million years ago, and belongs to a family of dinosaurs known scientifically as Hadrosauridae -- or, colloquially, as "Duckbill Dinosaurs."
AB 1540 is now headed to a vote before the State Senate, said Bloom, a former Santa Monica mayor.
"Over the past several months, we have received a tremendous amount of support from students excited about having a state dinosaur," he said.
Bloomed said the support of students "is an incredible testament to the ability of something as simple as a state dinosaur to excite the minds and imaginations of students around the state."
If the bill is ultimately approved, Auggie would join 39 other entities with California's state insignia.
California, for instance, has a state flag, state emblem, a state fossil (the saber-toothed cat), a state flower (the poppy) and bird (the quail).
There is no state dinosaur, which Bloom proposed earlier this year as a way to excite students about the sciences.
Auggie's fossils -- first unearthed in 1939 in the Moreno Formation of Fresno County -- have only been found in California. Its remains compose the most complete dinosaur found in the state.
Augustynolophus resided in California during the same historic period as its better-known compatriots, such Tyrannosaurus and Triceratops, popularized in the 1993 blockbuster movie "Jurassic Park."