By Niki Cervantes
Staff Writer

February 8, 2017 -- The "Plaza at Santa Monica," a major mixed-use project on City-owned land downtown that helped fuel a slow-growth ballot measure, is making the rounds in a new, scaled-down version.

Located at 4th/5th and Arizona, the proposed project's size has been reduced from 420,000 to 357,000 square feet, with another 41,557 square feet of open space for a "Grand Plaza" and a "5th Arizona Plaza" and parking, according to plans being circulated as part of the preparation for final environmental review.

The project now ranges in height from 19 feet to 129 feet, instead of earlier plans that reached 148 feet.

The deadline for comments to be submitted in writing is Thursday, February 16, by 5:30 p.m.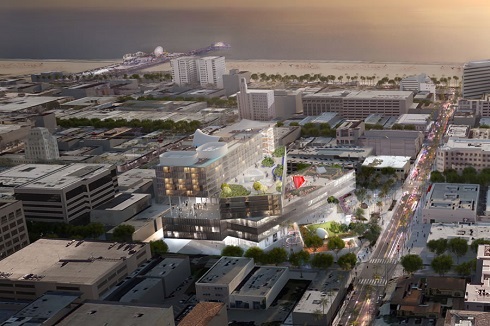 Rendering of arial view of the "Plaza at Santa Monica" (Image courtesy of Metropolitan Pacific Real Estate Group)
Both the size and height of the 4th/5th and Arizona development raised the ire of slow-growth advocates worried that it would generate too much traffic in an area already prone to gridlock, and that it would block the sun and ocean breezes.
Opponents are pushing for the 2.5-acre site to be used as a public park.
The park should be "generous enough to allow children to toss balls and run and play without fear of obstacles and barriers," said Tricia Crane in a letter sent to the council Monday on behalf of the Northeast Neighbors association.

"The remaining 25% ground level space should be divided in a manner that allows for a combination of needed hard surfaces for walkways and small ancillary structures," wrote Crane, who is also a Residocracy leader.
City Council members have generally supported the project, in part, because they hope the 48 affordable apartments included will help Santa Monica address a housing shortage.
The council last year asked that the project's size be reduced, saying more than 200,000 square feet devoted to commercial business was too much ("Santa Monica Council Still Split on Controversial Plaza Project," October 22, 2015).
In the new plans, the commercial space has been eliminated and 106,800 square feet of creative workspace has been added.
A development agreement requiring the council's approval is needed for the project to move forward. It is expected to be in the mix when the council tackles the controversial and long-delayed Downtown Community Plan this spring.
The proposed project would demolish the existing bank branches and parking lots on the site to make way for a 17,800-square-foot "Grand Public Plaza," as well as a smaller plaza at 5th and Arizona and two ground-level pocket parks.
The second level would include an 11,000-square foot-public park, a 12,000-square foot "cultural amenity" and the 48 affordable housing units.It also includes 42,200 square feet of retail.
The latest version of the project increases the number of hotel rooms to 280, taking up 154,000 square feet. Older versions of the plaza envisioned about 195 rooms.
Additionally, the project would include a 1,700-square-foot Bike Center with 3,500 square feet of below grade bicycle storage and 5,900 square feet of below-grade service area and equipment rooms.
Another 39,100 square feet of unenclosed elevated exterior decks will be available for the visiting public, hotel guests and tenants, under the new version of the project.
Vehicles would enter the subterranean parking garage via two driveways, one on 4th Street, the other on 5th Street. The three-level garage would have space for 820 vehicles, not including motorcycle parking.
The proposed plaza was a rallying point for proponents of Measure LV, a slow-growth measure on last November's ballot that would have required a public vote for most major developments and planning policy changes.
It was soundly defeated. The pro-LV camp says it was lost because of the more than $2.1 million campaign against it -- most of it money from developers. The anti-LV side, which included almost all of the city's established political players, said the defeat showed the measure was too extreme for the community.