By Jorge Casuso
May 20, 2016 -- When the first train in more than 60 years rolls into Santa Monica Friday morning, Pam O'Connor hopes to be inside the first car peering through the front window.
It would be a fitting place for the longtime Santa Monica Council member who was one of the few people on board nearly 20 years ago when the prospect of bringing light rail from Downtown LA to the beach in Santa Monica seemed an improbable dream.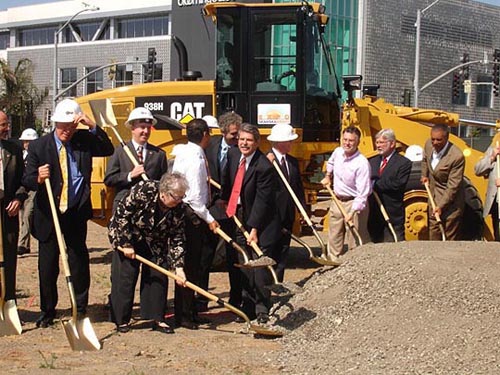 Pam O'Connor and Dignitaries at the 2011 Expo Groundbreaking Ceremony. Photos by Gene Williams
"I'm going to make sure I get up extra early to be on the first car that will break through that little banner," the former mayor told the Lookout Thursday evening, referring to the ceremonial ribbon that will mark the train's arrival in Santa Monica.
As a member of the council, where she has served since 1994, and as a board member of the Metropolitan Transportation Authority (MTA) and Expo Construction Authority, O'Connor has been instrumental in bringing back the train line popularized in the 1988 film "Who Framed Roger Rabbit."
A Chicago native raised with a century-old rail system that ties together a sprawling the city, O'Connor jumped on board the Expo train early on.
"I understood the benefits a dedicated rail line provides," she said. "The buses are great, but they are still impacted by congestion.
"We have the third largest rail network in the country. It's a growing network. Each piece continues to make it a more robust system."
By the late 1990s, O'Connor was knocking on the doors of transit officials and politicians and handing out little laminated cards charting the future Expo route.
A decade later in 2008, as chair of the MTA Board, O'Connor would make the motion to fund the Expo line's 6.6-mile extension from Culver City to Santa Monica with a tax measure that would be approved by voters that year.
"We had great partners like Friends of Expo who were going to board meetings and working behind the scenes and knocking on doors," O'Connor said.
O'Connor recalls joining former Assistant City Manager Kate Vernez and Planning and Community Development Assistant Director Ellen Gelbard at Santa Monica City Hall and driving to Downtown LA together with the laminated cards and "paddle-type fans" that carried the message "Expo All the Way."
"The challenge was finding the funding," O'Connor said. "If measure R hadn't passed there would have been a lack of funding."
Once funding was approved by more than two-thirds of the County's voters, the prospect of bringing passenger rail back to the beachside city turned from a promising dream to a distinct reality.
In September 2011, O'Connor joined state, local and regional elected officials for a groundbreaking ceremony at the former site of Sears Automotive Center, which would become the future site of Expo's western terminal station ("Expo Breaks Ground in Santa Monica," September 13, 2011).
There would still be a lawsuit to overcome filed by West Los Angeles residents ("Expo Light Rail to Santa Monica Clears Legal Hurdle," August 6, 2013)
and the prospect that the train would run to Venice, not Santa Monica ("Exploring Light Rail Options," October 14, 2008).

There were also "little things along the way to make sure it would work well," O'Connor said. "Once you build it, it will be there a long time."
It has been a long time since O'Connor started championing a train to Santa Monica. Those little laminated cards she once handed out have been replaced by smart phones.
"Things happen you can't predict," O'Connor said. "Now you can get real time info that will allow you to chain together an entire trip."
O'Connor took the train twice last week and videotaped it entering the City.
"I was in front by the operator," she said. "The real excitement came when we were pulling into Santa Monica."
When the train makes its maiden run Friday, the national media will be jockeying for position. But chances are O'Connor will have one of the best views on board.
"It's very exciting," she said. "I ran into (LA) Mayor Eric Garcetti, and he said that the train will connect the skyline to the shoreline and all points in between.
"It will be used by generations without having to rely on the car."