By Jason Islas
Staff Writer
July 31, 2013 -- He's chased down dozens of suspects and sniffed out explosives. He's a decorated member of the Santa Monica Police Department and now, at 10 and a half years old, he's ready to retire.
Landor, a Belgian Malinois police service dog from Holland, retired from his job with the SMPD on June 10 after more than five years on the force, serving as a trained explosive detection and patrol canine.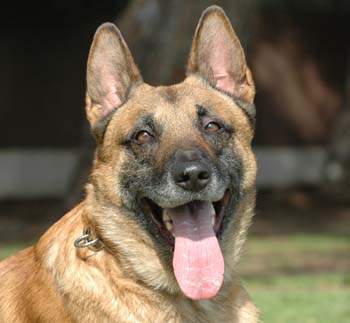 Landor gets ready to retire (photo courtesy of Santa Monica Police)
But old habits are hard to break and Landor -- who lives with his former partner, Officer Adam Barry and his family -- is still getting used to his new life of leisure.
On the first day of his retirement, Landor "got a little rambunctious and did a little bit of destruction in my home," said Barry. "He was out in the backyard and literally tried to dig out a hole in the door to the garage."
Barry said that Landor was confused after Barry left to work without him, since for the last five years the two would leave to the station together.
"He was wandering around the yard all day," Barry said. "They go through a transition."
While Landor is going through a transition, so is Barry. "It's kinda weird because you get used to having that little furry head in the back seat," he said.
As Landor's handler, Barry said the two would get called out on "all the most serious stuff," since Landor was trained both to pursue armed suspects and to sniff out 18 distinct chemicals used in explosive devices.
"If he finds one of the odors he's trained to find, he'll sit and stare at it and not move," Barry said.
Landor's last arrest came in April after a two-hour man hunt for three suspects wanted in an armed jewelry store heist on Montana Avenue. Landor found one of the suspects under a car in a parking garage. ("Third Suspect in Santa Monica Jewelry Heist Arrested," April 15)
Landor -- who Barry said is named for a popular European racing horse from the early 1980s -- has lived with his handler since he started with the force more than five years ago.
It's standard for police dogs to live with their handlers because the two have to be prepared to respond to calls 24-hours a day.
Over the years, Landor has become a part of Barry's family.
Barry recalled the first day he and Landor met. Barry was at the kennel to pick up the new canine recruit when Landor got away from his handlers and charged at Barry.
"If I run, he's going to take me down and bite me," Barry thought as Landor charged. So, he stood his ground and Landor ran up to him, aggressively bumping the side of his leg, demanding to be petted.
"He picked me," said Barry. "We were partners ever since."
Landor was officially sold to Barry at the July 23 Council meeting for a dollar, standard procedure for the department since the canine program was started some 40 years ago.
At 10 and a half years, Barry said, Landor is ready to retire. "He's really healthy," he said. "He's just lost the endurance."
"He's probably the friendliest dog we've had at the department," Barry said.

Landor was unavailable for comment.