By Lookout Staff
July 31, 2013 -- Get a hands-on appreciation for the flora and fauna of Santa Monica Bay Saturday and Sunday at the Pier Aquarium.
For its yearly Ocean Appreciation weekend celebration, the non-profit Heal the Bay is inviting people to come to the Pier Aquarium from 12:30 a.m. to 6 p.m. on August 3rd and 4th for an activity-filled educational experience.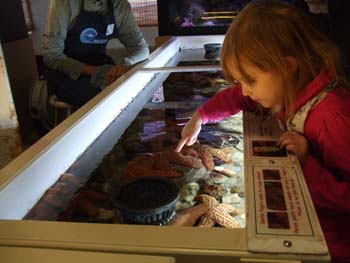 Touch tanks at the Santa Monica Pier Aquarium (photos courtesy of Heal the Bay)
"This annual tribute to the ocean -- and celebration of the role it plays in our lives -- focuses on the four habitats of the Santa Monica Bay: the sandy bottom, the kelp forest, the rocky shore and the open ocean," Heal the Bay officials said.
"Through games, arts and crafts projects and naturalists' presentations, visitors can explore each of these unique environments while gathering fun facts about the animals that inhabit them," they said.
There will be face painting, a scavenger hunt, plankton races, puppet shows and other activities for families, all in the name of education.
"Displays, presentations and activities focusing on environmental hot topics give all visitors the opportunity to increase their marine science knowledge," officials said.
Since the Aquarium is located on the Santa Monica Pier -- at 1600 Ocean Front Walk -- visitors may even get a chance to see some of the Bay's natural inhabitants.
"Visitors might spy dolphins, sea lions and sea birds just off the west end of the Pier at the marine wildlife observation station," officials said, and the curious will be able to ask Aquarium naturalists about the plants and animals that live beneath the Pier and in the surrounding ocean.
In addition to the special activities planned as part of the celebration, the Aquarium's normal programming will continue, including the 3:30 p.m. shark feeding on Sunday.
While admission is free to visitors 12 and younger, for all others, there is a $3 admission. For groups of 10 or more, admission is $2 per person, regardless of age.
For more information, visit healthebay.org/smpa or call 310-393-6149.