By Ann K. Williams
Lookout Staff
January 21, 2011 -- Welcome to the future of easy parking as M3 – the first "find-your-car" system to hit Santa Monica – kicks off in Lots 7 and 8 at Santa Monica Place.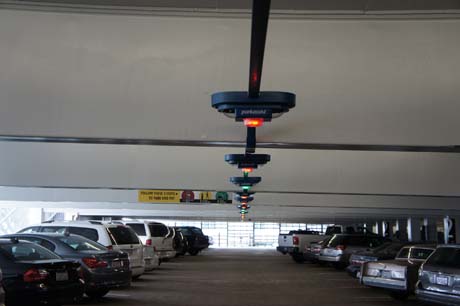 The technology created by parkassist, a New York City company, uses an array of cameras that surveils every space in the structures and sends the images to a central computer that tracks license plates, location, occupancy and how long each vehicle stays in the lot.
After shopping, customers will be able to go up to stragetically placed kiosks to find out where their cars are parked if they've forgotten where they left them. All they need be able to do is remember their license plate numbers.
And red and green lights on the new moniters in each row will tell drivers entering the lots how many empty spaces are up ahead and where they are.

"We want every aspect of the Santa Monica Place experience to exceed our visitors' expectations, and we know parking throughout Santa Monica can be challenging," said Doug Roscoe, senior manager, property management, Santa Monica Place.

"We've made this investment in the two, City-owned parking structures at Santa Monica Place so that our guests can park more conveniently. These improvements, along with our two Valet Parking areas on 2nd and 4th streets, make getting to Santa Monica Place easier than ever."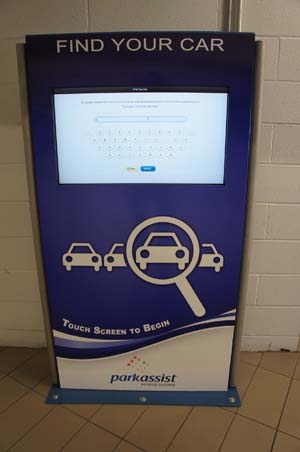 The system is designed to maximize profit while minimizing driver frustration. Gone are the days when "I can't find my parking ticket" can be tried as an excuse not to pay.
Parkassist touts its "security- and cash-generating applications that are specifically designed for sophisticated asset owners."
"The M3 can immediately identify all vehicles, and provide real-time knowledge of how long they've been on-site," and the system is "all housed in one weatherproof ceiling unit, for a clean, contemporary look," according to parkassist.
The lots are open 24 hours and, for visitors who enter between 8a.m. and 6p.m., the first two hours are free. After that, they'll have to pay $1 per half hour, with a $9 maximum charge. Visitors entering after 6p.m. pay a $5 flat rate.