By Melonie Magruder
Lookout Staff
January 19, 2011 -- On an unseasonably warm day of light winds and sunny skies – "perfect" Frisbee weather, according to bystanders – the classic Sunday afternoon game with the round plastic disc returned to its roots, albeit in a much more organized structure.
The 12th Annual Lei-Out, the national Frisbee tournament, was held on the beach north of the pier last weekend, with Frisbees hovering over teams from around the world.
When Fred Morrison and his fiancée tossed a flattened pie plate around on the beach in Santa Monica back in 1938, he never dreamed that the flying disc he ultimately dubbed a "Pluto Platter" and sold to Wham-O Inc. 19 years later would become one of the most successful toys invented (more than 200 million sold in the past 50 years).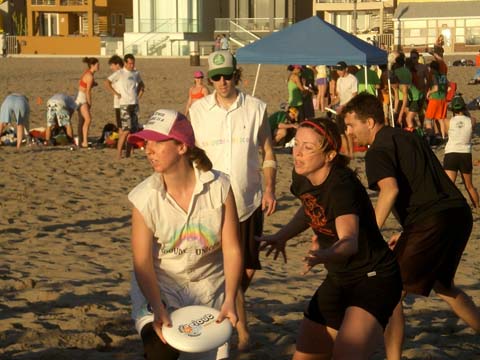 A tense moment on the field. (Photos by Melonie Magruder)
The Lei-Out was founded by aficionado Brian Calle of Orange County and developed into an international tournament fielding 118 teams from around the world.
"A 'lay-out' is kind of like an ultimate Frisbee move where you dive for the disc, so we called the tournament 'Lei-out', because leis are all about fun," Calle said.
"We have a wonderful partnership with the city of Santa Monica and they seem happy to hold this tournament here every Martin Luther King weekend."
The sands north of the pier were chock-a-block with teams of sweating young people, intensely focused on hovering plastic discs and shouted strategic suggestions from the sidelines.
In its tournament iteration, a Frisbee team can be gender-neutral, with men playing alongside women, following rules much like soccer.
Going for a lei-out.
Players pass off to each other, heading up field, with the goal of completing a pass to a teammate inside a tiny end zone. First team to score 11 points wins.
According to several players, strategy, less than muscle, is the key to a winning team.
Players and teams go with colorful names, Matt "Goat" Colchamiro said while watching the Green Monstah vs. Just the Tip rip it up.
"Basically, we're just here to have fun," Colchamiro, wearing a T-shirt that proclaimed "I'm the Guy You Give the Scores To," said.
Teams are organized by groups of college students, or work mates, or even folks that just hang out together, and there seems to be just as much pride in wearing a particular team jersey as to making a great catch.
Matt "Goat" Colchamiro
Judging by the players' genial approach to sharing water and sand space with other players, competition is not particularly the driving inspiration to this game.
"We're here to play hard," Daniel Inouye (no relation to the Hawaiian senator, though he is from Hawaii). "But mainly we're here to have fun. We shut down a bar last night. Chez Jay? We might go back tonight if they let us."
Inouye's team, the Mad Outlaw Monkeys (when they are not called the Mail Order Manatees or the Minions of Mayhem) was from the Bay area and included "a lot of engineers," though Inouye wasn't sure why.
His team also fielded players from the Champagne region of France and a visiting Aussie from the Sunshine Coast. Shannon Garrahy now lives in Maryland, but returned to Santa Monica to play with his old team.
To train, Garrahy said that he played basketball ("And chases kangaroos," Inouye called out), just to keep loose.
"But it's all about playing with friends again," Garrahy said.
The two-day tournament saw some stiff competition, but ultimately the mostly European team of the Woodies went down in the semi-finals, leaving the Santa Barbara Antimonys to triumph over the Bay area team from Crazy Gonuts University.
"Both teams were former champions," Calle said. "It was a really great, close, final game."