By Michael Aushenker
Special to The Lookout
"This little light of mine, I'm gonna let it shine.
Let it shine, let it shine, let it shiiiiiine!"
January 18, 2011 -- Keynote speaker Val Zavala headlined a brisk, rousing celebration of the life of slain Civil Rights leader Monday.
Following a moment of silence "for our friends in Tucson," Master of Ceremonies former Mayor Nat Trives introduced Zavala, who also linked the holiday to the tragic shooting in Arizona.
Val Zavala delivers keynote speech. (Photos by Michael Aushenker
Zavala, Vice president of News and Affairs at KCET Los Angeles and the award-winning anchor of shows such as the long-running "Life & Times" and "SoCal Connected," asked some hard rhetorical questions that may not have clear answers.
"Are we Americans innately violent? Do we prefer the rights of gun owners over the rights of a nine-year-old girl? Why are we concerned over whether or not the gunman's politics were Right or Left?" she asked.
Zavala described King as "a man who did not shrink from soul-searching." She said that these dark times require Americans "to reach into the rich mud of our souls for answers…to address the dark side of our character."
"This is perhaps the most difficult of all mandates that Dr. King has suggested," Zavala said of King's mandate to forgive our enemies.
Bringing it back to home to Arizona and Gabrielle Giffords, she added, "I will be interested to see how she views her assailant.
"If Martin Luther King had been able to meet James Earl Ray…do you think he would be able to say anything other than 'I forgive you?'" Zavala asked.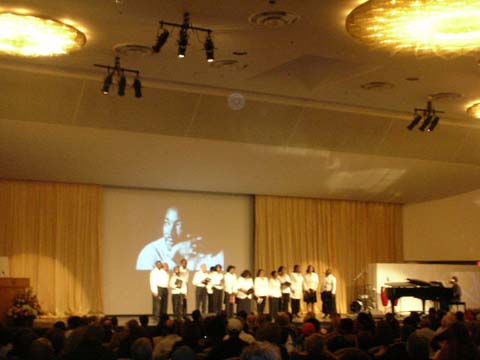 Martin Luther King Jr. Community Choir
But the mood was often upbeat as civic leaders and organizers celebrated King's legacy.
"One of the great things about Santa Monica is that you're going to find that every person in this room is a community leader," Trives said, pointing out such luminaries as Congresswoman Julia Brownley, Santa Monica Mayor Richard Bloom, City Manager Rod Gould, a handful of Santa Monica-Malibu School System teachers, and a pocket of Santa Monica law enforcement officers in the audience.
Former Santa Monica police chief James T. Butts was in attendance as well.
As the MLK Day program began, Christie Woo-Thibodeaux, an SGI-USA member and one of the program's 33 planning committee members, told the Lookout News that she got involved three years ago after being active in the Obama campaign.
Woo-Thibodeaux was looking for an outlet to take the place of the campaign after Obama was elected.
The annual MLK event, along with her SGI membership, filled that void.
"We want to remind people [of King's legacy] and to keep them involved and let them know that the peace movement is still the best way," she said of the event as SGI-USA Taiko drummers pummeled their instruments inside the auditorium.
After that percussion introduction, the Rev. Dr. Martin Luther King, Jr. Community Choir sang a gospel song, chanting "Go tell it to the mountain. Let my people go" under the direction of pianist Terry Young.
Seven scholarships were awarded to students who creatively interpreted King's "Six Principles of Non-Violence," including Santa Monica College's Raymundo Reyes, who won an award for his essay, "Nonviolence is a Way of Life for Courageous People."
Fellow SMC student Iliana Gonzalez was awarded $600 for her artwork titled "The Conspiracy of the Universe."
Tamura Davis, who wrote the poem, "Acts of Nonviolence," said she was "humbled" to be onstage at the event. She said that, as a minority at her school, it took her a while to get adjusted. The St. Monica Catholic High School senior said, "I'll never give up on my dreams and goals. If Dr. King can do it, so can I."
After the celebration, everyone was invited to a gathering to "feed your heart and your soul and your stomachs."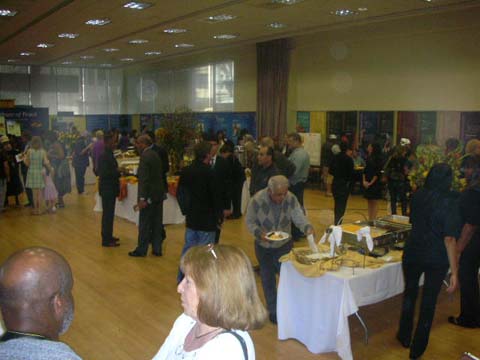 Involvement Fair
Indeed, the Involvement Fair was a whole other realm of excitement, as the presentation's audience crossed the street pretty much en masse to partake in macaroni and cheese, meatballs, chicken skewers and cupcakes, courtesy of The Flavor Table, a New Orleans-style restaurant based in Leimert Park.
The 26th annual 2011 Reverend Dr. Martin Luther King, Jr. Day program, put on by the Martin Luther King, Jr. Coalition, was held at Soka Gakkai International (SGI)-USA World Culture Center Auditorium.
SGI-USA also hosted the Involvement Day fair across the street following the program, where some 30 local nonprofits manned information booths and where the 200 to 300 people in attendance at the auditorium enjoyed lunch and socializing.