By Melonie Magruder
Lookout Staff
January 3, 2011 -- Santa Monica's vending cart program braved an early controversy when it was launched five years ago, a subsequent economic downturn and, most recently, a series of winter storms that have dampened sales.
Last month's mega-storm drenched the cart vendors' hopes for a cash-friendly holiday, with most of the 26 carts being shuttered for four of the five shopping days before Christmas.
"We weren't even open for most of the days before Christmas," said Zair Daud, a four-year vendor of two carts selling cellular phone accessories and baseball caps.
"We've had some people come back for exchanges and we're making some sales, but we lost a lot of the good shopping days," Daud said.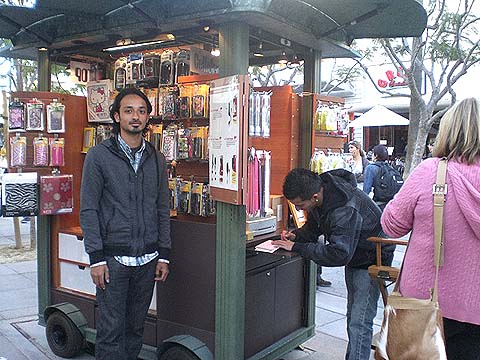 Zair Daud (Photos by Melonie Magruder)
Farhat Altintas' cart featuring My Pillow Pets -- super soft plush animals that beg to be napped upon -- would normally be a no-brainer for parents looking for a gift for their young children.
But Altintas said he feels the storm robbed him of customers at one of the most propitious shopping times of the year.
"This is the most popular kid's item I've ever sold, and we were closed for most of last week," Altintas said. "The rain cost me several thousand dollars."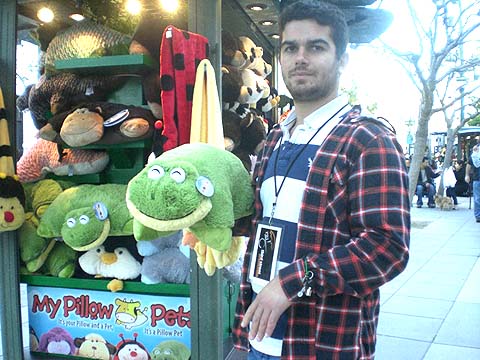 Farhat Altintas
The inclement weather recalled the rough transition that took place five years ago when the City ordered the old vendors to close up shop to make room for new vendors and a new management company, Provenzano Resources, Inc, (PRI).
By the timesthe carts rolled out, the venders had missed the extended Thanksgiving weekend when merchants look to make a sizable chunk of their holiday profits.
In addition, the old vendors -- who were invited to apply for leases under the new management -- charged that PRI rejected their applications in retaliation for speaking to City officials who were helping craft the new cart program.
The charges prompted the City Attorney to launch an investigation into the retaliation claim, which was not substantiated.
Despite the controversy of 2005 and the winter storms of 2010, the program run by PRI -- which tricked out the mini boutiques with fancy built-in displays, cash registers, awnings and other details that bespoke upscale quick-stop shops -- marked its fifth anniversary on a strong footing.
As soon as the sun finally peered through, optimism shone once again.
"Today it's been just crazy," said Tatiana Kaufman, who was busy selling bubble-making toys during a break in the weather shortly before the New Year. "We've refilled our cart four times already."
It's lucky Santa Monica's commercial life doesn't depend on the vagaries of weather, and the outdoor vending carts, which have been a staple of the Promenade since 1989, are not going away anytime soon.
Just bring your umbrellas.