By Ann K. Williams
Lookout Staff
August 30, 2011 -- A light plane crashed into the back yard of a house in Sunset Park Monday, yards away from the Penmar Golf Course. The pilot suffered a broken leg and ankle. No one else was seriously injured.
Wreckage of Cessna in Sunset Park back yard.
Photo by Johnnie Assmann
The Cessna 172 was attempting to land at 2:40 in the afternoon when it started to loop back around, Santa Monica Airport Manager Robert Trimborn told The Lookout. It appears that the pilot was having some kind of a problem, but the FAA will have to determine what went wrong, he said.
The plane skimmed at least one tree and crashed through the property's back wall and into the garden, Trimborn said.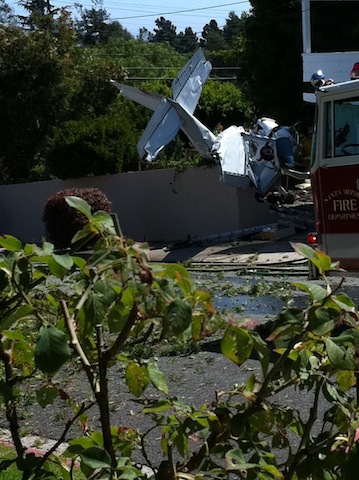 Tail of the Cessna clearing the back wall.
Photo by Austin Peralta.
While the house at 21st Street and Navy was unoccupied, painters were at work on the property, he said.
They pulled the pilot out of the plane, Trimborn said. The pilot was taken to a local hospital for treatment. One of the painters received minors cuts from flying debris.
When the plane crashed, a small fire broke out which the painters were able to put out with a garden hose, said Trimborn.
A call to Justice Aviation confirmed that the pilot had rented the Cessna from them.
When asked why the plane appeared to have deviated from the approved route over the golf course, and was flying over homes, Trimborn answered "We don't know why he got to where he was."
Neighbors peering over the fence at the downed plane were upset, but not necessarily surprised by the accident.
"They fly over here constantly," said Davida Leal, who lives across the alley behind the house where the plane crashed.
"We have them just zooming right through," said Leal. "This is like a runway here, props, jets, all that."