By Ann K. Williams
Lookout Staff
August 24, 2011 -- Is it or is it not an Apple store? Even the City planner in charge says he doesn't know.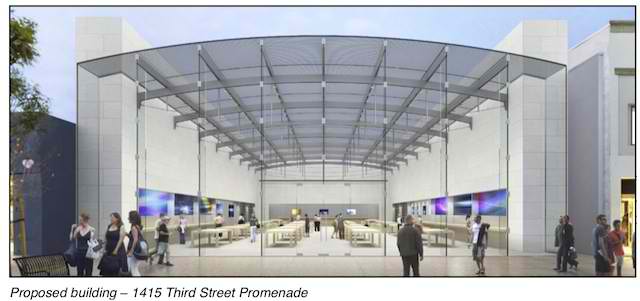 Apple or not? Image from City of Santa Monica Planning Department
Last week, the Santa Monica Planning Commission zipped through its approval of a modernistic store with a glass facade and roof on the Third Street Promenade that major news outlets in and out of the country speculated was a new Apple outlet.
A drawing in the staff report showed tables and what appeared to be monitors arranged in typical Apple-store fashion. The structure bore a strong resemblance to similarly glass-encased Apple stores in New York City and Shanghai. All that was missing in the report was the name "Apple."
So what's with all the mystery?
A call to the Apple store already on the promenade Monday got nothing more than the quote "These stores are micromanaged" from an employee, who gave The Lookout Apple corporate's phone number.
Nick Leahy from that office didn't have much more to add. He did tell The Lookout that Apple's average store revenue – $10.8 million – could be found on Apple's third quarter financial report.
He would not comment on whether or not Apple was planning on moving into the former Borders site, nor when Apple planned on breaking its silence on the subject.
Maybe those closer to home would be a little more forthcoming.
Like city Senior Planner Tony Kim, who would have presented the staff report before the Planning Commission meeting if his office hadn't moved the item to the commission's consent calendar.
No matter. Despite news reports spanning the globe, no one had shown up to speak at what had been published on the commission's agenda as a public hearing.
Monday, Kim said he didn't know who the tenant was going to be.
He did give The Lookout the name of the project applicant – Howard Robinson.
For those who don't know, Robinson managed programs for the City of Santa Monica's Economic Development department from 1993 to 1998 before leaving for the private sector.
Now Robinson "manage[s] the discretionary entitlement process (variances, conditional use permits, tract maps, development agreements, etc.) for real estate developers, property owners and business owners," in Santa Monica, according to his LinkedIn profile.
No call back from Robinson Monday or Tuesday, so that branch of the Apple mystery seemed to have hit a snag.
The city's Senior Development Analyst Jennifer Taylor did return The Lookout's calls and was happy to share that "it's exciting to see new plan applications" and "creative designs" and that downtown development "will help make sure of ongoing vitality and economic success" of Santa Monica.
So is it an Apple store? Taylor couldn't say.
She did give The Lookout a number – $352 million. That's how much the stores on the Third Street Promenade generated in total taxable sales during fiscal year 2010-11, she said, and Apple is among the top 25 producers.
Hmmm. "Follow the money" – wasn't that the advice in some movie about investigative journalism?
Apple certainly has enough of it. Its market capitalization hovered around $337 billion earlier this month and at one point exceeded that of Exxon. And just last month, the Los Angeles Times reported that Apple had more cash on hand than the U.S. Treasury.
Both city and Apple officials told The Lookout that individual store revenues are "proprietary," meaning, no, we won't tell you how much the Apple store on the promenade is making.
But Needham and Company – a national investment banking and asset management firm – has done some of the math.
"Average annual store revenues of $47.9 million translated into sales of $6,190 per square foot, undoubtedly the highest among retail chains in the world," wrote Charlie Wolf of Needham & Company in a January report urging investment in Apple Corporation.
Even more "incredible," said the New York Post in August 2009, a prospectus indicated that the Fifth Avenue Apple store "under the famous glass cube" was pulling in $440 million a year.
But let's stick with the smaller number – after all, the Fifth Avenue store does stay open all night.
At 8,084 square feet – the floor space shown in the city's staff report – a store pulling in $6,190 per square foot would make a tidy $50 million a year – a good seventh of the entire promenade's total taxable sales.
And $1.25 per $1,000 – the city's take via sales tax – comes out to $625,000, not a bad chunk of change for a city that's facing an uncertain fiscal future.
City Manager Rod Gould certainly appreciates Apple's presence.
"Apple is one of our strongest sales tax producers in the city," Gould told The Lookout Monday. "We are delighted Apple wants to make this investment on the Third Street Promenade."
Any ambiguity was thrown to the winds by City Councilmember Kevin McKeown.
"Not only is it a new Apple store, it is a stunning flagship presence that indicates the continuing success of the Third Street Promenade," McKeown emailed The Lookout Monday.
"The new building is smaller than what used to sit on the site, yet provides Apple, already the top revenue generator on the Promenade, a permanent custom home in Santa Monica," wrote McKeown, who advises the local schools on Apple technology.
"The quick approval demonstrates that when Santa Monica's planners are shown exemplary architecture, we can be as quick to approve excellence as we are famous for sending mediocrity through repetitive reviews," McKeown added.