By Melonie Magruder
Lookout Staff
August 22, 2011 --If you were unlucky enough to miss Santa Monica Rep's premier production of Shakespeare's "The Tempest," at the Annenberg Beach House this month, you might want to start bugging your city councilmember to find a permanent home for this fledgling theatre company and pray for a revival.
This is the kind of professional regional theatre troupe that would add another notch in the city's belt of cultural excellence, while providing wholly accessible, fantastically engaging, slap-your-thighs fun theatre.
In staging "The Tempest" – reputed to be the Bard's last solo writing venture – at the Marion Davies' Beach House, director Jen Bloom decided to cast the Southern Gothic, architecturally static venue as another character, nimbly capitalizing on the multi-level stage opportunities, and using the white columns and balcony porticos as acoustically advantageous set pieces. Scarlett O'Hara as medieval island sorceress.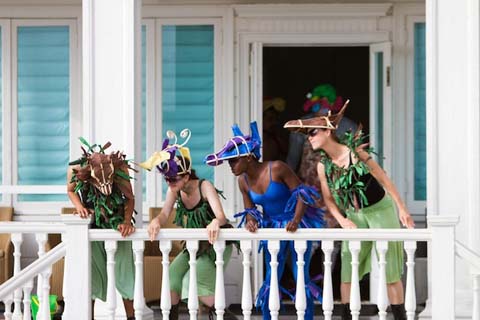 Magical beings populate the Beach House. Photos by Jon Spaihts
The tone is set by a three-man ensemble (the slyly branded "CaliBand," with Jon Lee, Joseph Muskat and Aaron Salinas) that provides not just musical accompaniment, but thunderous and magical sound effects.
The opening scene with the infamous tempest conjured by the island's magician king, Prospero (Gugun Deep Singh), was ambitious enough in Shakespeare's bare-staging time.
It called for a savage storm to sink a ship and throw its passengers – Prospero's evil brother Antonio, co-conspirators Alonso and Antonio, and others – up on shore, setting the stage for a drama of revenge on the shipwreckees, who usurped Prospero's rightful position as Duke of Milan twelve years earlier.
This tempest featured crashes of thunder and lightening, stomach-churning waves, fathomless oceans, Italian-accented boatswains and howling winds – all accomplished with a ladder, some tin foil, some strips of blue cloth and a deeply-felt bass drum.
Another example of Bloom's creative budgeting was in double- or triple-casting all the roles.
Barbara Jean Urich gender-switches as Miranda, Prospero's virtuous daughter, and Antonio, the ambitious sleazeball. Eric Bloom (co-founder of Santa Monica Rep) dives from the cynical Sebastian to the comically inebriated Trinculo. Mike Niedzwiecki does double-duty as the moony-eyed swain Ferdinand, and as Stephano, the drunken butler who is long on plot, but short on execution. And Anthony Rod Castillo struts as Neapolitan King Alonso, then crawls as Caliban, the monster enslaved by Prospero. The quick-changes must be an energetic challenge.
But perhaps Bloom's biggest victory lies in her charming and resourceful employment of puppetry (co designed by John Burton and Leslie Gray) and Commedia Dell'Arte masks to expand the character roster, visually illustrate the action and captivate a passel of six-year-olds who never expected to see something like this on a day trip to the beach.
From the put-upon (Prospero stretches the limits of his employment contract) sprite Ariel – Sola Bamis in a graceful and exotic performance – to the specter of the dead witch Sycorax, to the woodland animals, to an alarming supernatural harpy, the actors winningly employ masks, hats, innovatively constructed wings and giant eyes that would give Gatsby's Dr. T. J. Eckleburg pause. It stretches the boundaries of the proscenium and the audience's imagination.
All eyes were on The Tempest.
Judicious cuts to the text (sorry, Shakespearean purists), an impromptu Punch and Judy show, monster puppets with claws powered with industrial fans and lickety-split timing from the actors combine to bring in this show at a mere 75 minutes, with no loss of poetry. Indeed, as Caliban says, "The isle is full of noises, sounds, and sweet airs, that give delight and hurt not."
And can we say one thing about costuming? Would that theatre companies with ten times the budget of Santa Monica Rep get even half as much mileage out of plastic shopping bags, strips of newspaper and Velcro as do these players. Kudos to costume designer Maddie Keller.
Though one could wish in general that American actors had more comprehensive vocal training to achieve proper projection in open spaces, the troupe is solidly connected to the language, while obviously enjoying a barrel of fun. In Bloom's capable hands, a generosity of spirit blends with timeless text to make "The Tempest" a show to cherish for anyone with an open imagination.
At end of Act IV, Prospero waxes sentimental with "We are such stuff as dreams are made on." Theorists over the years have speculated that Prospero was Shakespeare's alter ego, and in the character's renunciation of magic at the end of the play, Prospero – and Shakespeare – were signaling the Bard's farewell to the stage. Hopefully, the same will not be said of Santa Monica Rep's local residency.
More information on Santa Monica Rep may be found at http://santamonicarep.org/