By Lookout Staff
August 18, 2018 – The recent passing of Santa Monica activist Millie Rosenstein has inspired many in the community to share their loving memories of the woman who worked so hard to make her city a better place.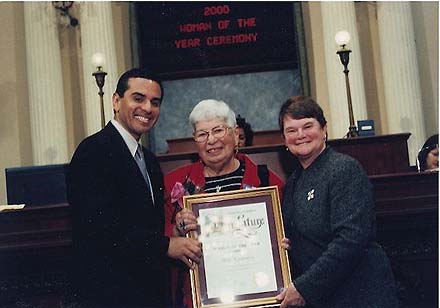 Antonio Villaraigosa and Sheila Kuehl honor Rosenstein before the
California Assembly. Photos courtesy of Millie Rosenstein's son Paul Rosenstein.
"My family has been overwhelmed by the outpouring of love for Millie that we have received," her son and former mayor of Santa Monica, Paul Rosenstein, said Wednesday.
"It helps us think of her with that infectious smile and twinkle in her eyes," he said.
Millie Rosenstein worked alongside many members of the Santa Monica community as she spent a good part of her 96 years involved in local politics.
Nathaniel Trives, former mayor of Santa Monica, told of how Rosenstein and her husband, Herman – who passed away in 1996 – brought fervor and power to their political stances.
"Democratic politics in Santa Monica had the stamp of Millie Rosenstein written all over it during the decades of the 80's and 90's.
"I was blessed to have had the opportunity to be in her and her husband's presence and to listen to a truly progressive point of view being articulated with a powerful east coast point of reference, even though they had lived in California for more than 20 years," Trives said.
He went on to add that the legacy of the two live on in the traditions that they passed on to their children.
"Paul was fortunate to have such activists as parents and I am sure the former mayor's political bent was, in large measure, framed by what he learned at his own family's kitchen table," he said.
Rosenstein was "a great lady, who I valued as a friend and confidant and who will be truly missed in the rooms of political caucus in the community," Trives said.
Former Council Member Dennis Zane called Rosenstein "irreplaceable and irreplicable."
"Those of us who have been in Santa Monica politics for the last three decades know that...Herman and Millie were indefatigable, irreplaceable and essential anchors, especially for the Democratic Society," Zane said.
"They have to be counted as historic figures," he continued. "She was a deeply committed, public-spirited social activist and community leader."
Local artist and policymaker Bruria Finkel said of her friend, "Millie was good to the last drop."
"Millie's life was central to our community," added her husband Judge David Finkel. "I remember marrying Herman and Millie (I guess it was re-marrying them) as I married her son Paul and Ada Hollie.
"Millie and Herman brought Bruria and me close to dear, progressive people in Barcelona, comrades of Herman's during the Spanish Civil War," said Finkel.
Millie and Herman Rosenstein celebrate their 50th Anniversary.
"Such is the continuity of life and the reach of Millie's 'connecting rods,'" he said.
Rose Kaufman, also active in the community for many decades, said she remembers meeting Rosenstein through the Commission on the Senior Community at least 22 years ago.
"Millie was a strong-minded woman. She was very active in the community," said Kaufman.
"She was a commissioner on the Commission for Women. And she was a commissioner on the Commission for the Senior Community. She was also active in the Democratic Club. She was on the advisory board on WISE and Senior Health," Kaufman recounted Rosenstein's many roles.
"And she is the mother of Paul Rosenstein. She was a good friend and a loyal person. And very good at remembering friends' birthdays," Kaufman said fondly.
"Millie Rosenstein was a champion of social justice and compassion – always expressed with her characteristic chuckle, smile and New York accent," said Santa Monica Human Services Manager Julie Rusk.
"In her years as a leader and advocate within Santa Monica, she added depth and energy to many a Commission, community and Council meeting" said Rusk. "Her love of people, belief in the power of community activism and strong sense of purpose represent the very best of Santa Monica."
"Always, telling it exactly as she saw it!" said Rusk.
"The last time I saw Millie was a few months ago at a Virginia Avenue Park community event with Paul," Rusk said. "Her body was frail but her eyes were bright and her smile huge – clearly, she was energized by the music, dance and joy of the day.
"Warm, engaged, and brimming with pride – pure Millie!"
"The thing I most remember about Millie is the day she showed me a picture of her as a little girl," said Connie Alvarez, Director of Volunteer Services for KCRW.
"She couldn't have been more than three. She was wearing a little white dress with an enormous white bow in her hair. She had short bangs and a little bob hairdo," said Alvarez.
"I was struck by how historic the photo looked to me...I was fascinated...I couldn't believe that the perfectly sharp and active woman who sat across from me every week had a photo that old," Alvarez said.
"She was historic, yes. And monumental, as well as brimming with experiences and knowledge that she never lectured me with – but she was not old. Somehow, because of her long life and keen eye, she was always contemporary in her thoughts.
"I often asked Millie about the past, but she never failed to bring the conversation back to the present in very important ways," Alvarez said.
"She feared nothing. I remember laughing in amazement when I received Millie's first email announcing that she'd stepped into the internet (she was 82 or so)!
"It was an honor when I took my husband and baby to meet Millie at her assisted living facility a few months ago. It meant a lot to me for my baby daughter to see and touch a monumental woman."
"I love you Millie," said Alvarez.
Millie is also survived by her daughter, Fran Alexander and her husband Don, who live in Seattle.A public celebration of Millie Rosenstein's life is being planned for September. Details will be announced. Her ashes will be interred next to her husband Herman's at the West LA Veterans' Cemetery.