By Jason Islas
Lookout Staff
August 18, 2011 – The old site of Borders on the Third Street Promenade may become the location of a new Apple store.
A building design has been filed with the Santa Monica Planning Department for 1415 Third Street Promenade, the old location of Borders book store.
While Apple, Inc. is not saying anything one way or another, the design bears a strong resemblance to other Apple stores around the country.
Design for 1415 Third Street Promenade. Image from plans filed with the Santa Monica Planning Department.
"I was told that Apple wants to go into that site," Councilmember Bob Holbrook told The Lookout Wednesday.
He said that a realtor told him that the ever-growing computer company has been interested in filling the void left when Borders closed its doors in 2009.
Currently, there is an Apple store on the first block of the Promenade, between Arizona and Wilshire Avenues. But, according to Holbrook, they want to relocate to the old Borders site.
If the new design is any indication, Apple may get what it wants – a new location on the Promenade. But no one's saying for sure if they're the tenant.
Rumors about Apple's new location began flying when the design became public. The renderings show a building with a roof made entirely of curved glass – a design element that is strikingly similar to Apple's store in the Upper West Side of Manhattan.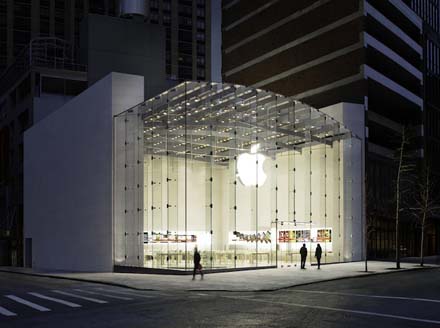 Apple store in Upper West Side of Manhattan. Image courtesy of Apple, Inc.
Though he could not confirm whether the building would be the future site of an Apple store, Tony Kim, a senior planner with the city, said, "It's a unique design and one of the first newly proposed buildings on the Promenade in quite some time."
This design, proposed by ASB/Blatteis Promenade Holdings, LLC, will be an 8,084 square foot building with a glass roof and 34-foot tall glass store front, according to the staff report.
Some bloggers are calling it a "mega Mac store."
It will be even larger than the Apple Store 2.0 that just opened in Glendale's Americana which features a similar all-glass building face.
The Lookout tried to contact Apple, Inc. to confirm that this will be their new home in Santa Monica, but as of publication, there was no response.