By Jason Islas
Lookout Staff
August 4, 2011 – Several hundred Santa Monicans turned out to enjoy free hot dogs, watch karate and boxing demonstrations and hobnob with police and firefighters during National Night out Tuesday.
The focus of the evening was disaster preparedness, and Police Chief Tim Jackman used the opportunity to let the crowd know about the City's newest public safety department, The Office of Emergency Management.
"Emergency preparedness must be a priority," Jackman told The Lookout Tuesday. "Everyone must be ready to protect and aid" as individuals and as a community.
Paul Weinberg, the City's new emergency services coordinator, was handing out information booklets at his tent, touting the "I've got 7" campaign, which encourages residents to make sure they have enough emergency supplies for seven days.
National Night Out, which is celebrated by more than 37 million people from 15,110 communities, is quickly becoming a Santa Monica tradition, giving residents a chance to meet those who protect them.
"I'm so appreciative to our police department for sponsoring this," Mayor Pro Tem Gleam Davis said. She added it was great to see people "interacting with our safety officers on a personal level."
One way safety officers mingled with Santa Monicans was through food. The Santa Monica Fire Department offered everyone grilled hot dogs.
Hot dogs, courtesy of the Santa Monica Fire Department
"This event is great," local resident Roger Swanson said. "It's a good thing for the kids to get out and see."
Council Member Bob Holbrook poses with the Santa Monica Fire Department mascot Sparky.
Swanson said he hoped residents were able to get something out of the evening, "whether it was knowledge or a toy for the kids."
Local business and community organizations like Chabad set up booths next to the police and fire departments to give people an opportunity to ask questions and find out more about how they serve the community.
It was also an opportunity "to thank each public employee of the Santa Monica Police Department for the strong partnerships they have made in the community," Jackman said.
"I want to commend the work of the fire and police" departments, State Senator Fran Pavely told the crowd that gathered on the stretch of Olympic Drive south of City Hall. Mayor Richard Bloom echoed her sentiments, adding, "We live in a very, very safe city" because of the work of these departments
Both crimes against persons and property crimes dropped last year, according to statistics released by the U.S. Department of Justice.
Crimes against persons were down six percent, with one homicide, twelve rapes, 213 aggravated assaults and 164 robberies. Property crimes dropped 25 per cent, with the biggest drop in the number of thefts.
Residents at the annual block party got a chance to meet Officer Rob Dawson and his horse Bert, one of five that serve the Santa Monica Police Department.
Actress June Lockheart, from Lassie and Lost in Space was there selling t-shirts and autographed pictures to help support the mounted division.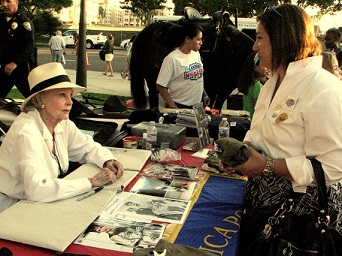 Mayor Pro Tem Gleam Davis talks with actress
June Lockheart, star of Lost in Space and Lassie, while she was fundraisingfor SMPD's mounted division.
Also on display was a vintage Santa Monica police car and a helicopter, one of two the City leases for patrols and events.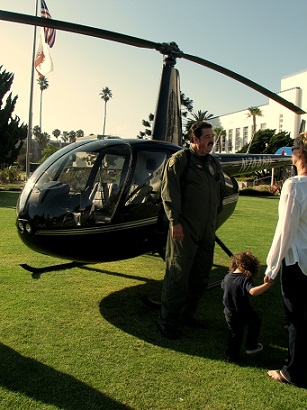 Officer Adam Gwartz shows off the helicopter to a curious family.
Residents were also treated to a demonstration by the Police Activities League's karate and boxing club as well as some traditional Mexican folk dancing.
National Night Out is a nation-wide event sponsored by the National Association of Town Watch to help prevent crime and foster a closer relationship to people and their public safety officers.