By Melonie Magruder
Special to Surfside Santa Monica
Sept. 27, 2010 -- If you missed Glow, the city's second-only, one-night-only art installation extravaganza, this weekend, go out and buy yourself a 2012 calendar and mark the date, 24 months hence. For a civic statement of arts appreciation combined with goofy carnival theatricality, Glow ranks up there with the most innovative cultural events seen on the international stage.
First produced two years ago by the city and the Santa Monica Arts Foundation, Glow 2010 was expected to draw more than 100,000 visitors to the beach, pier and Palisades Park, where, from dusk till 3 a.m., 20 ephemeral installations by an international roster of artists appeared, to be savored, criticized, rhapsodized over and ignored by a festive crowd that seemed to span the range of ages and lifestyles.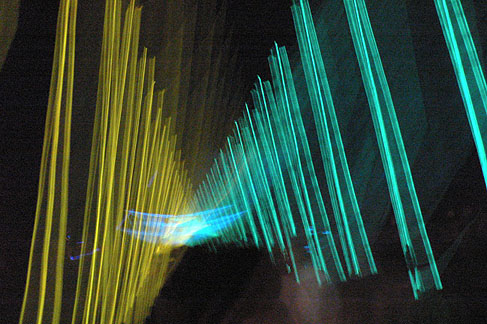 Photos by Frank Gruber
Glow is the only event of its size in the U.S. that exhibits only commissioned works for one night. Artists were selected by city Artistic Director Marc Pally and a panel of arts professionals and community members.
The very nature of the commission means that works can be provocative and mysterious, silly and sly. But at all times, the works exemplified artists' opportunities to quickly make a powerful visual and auditory statement to a captive audience of thousands.
Santa Monica City Manager Rod Gould said, "The city is proud to host this innovative, world-class cultural event. The level of creativity and collaboration – from artists, staff and event partners – is truly unique, and will provide something for everyone to enjoy."
All of the installations were recognizable, located next to a huge, glowing, white, beach ball on a stick, like a fairy tale moon.
Christopher O'Leary's "Alter Egos" featured a video mash-up of different, amusing characters who would wander on to the screen and stare back at the audience watching them. Colorful, sari-clad women watched you curiously before edging off the screen to be replaced by figures in HazMat suits bearing aluminum panels or masked Venetian Festivale revelers.
"I don't get this," one young man, approximately 12 years old, was heard to say.
O'Leary, an artist originally from Seattle, said that he filmed two dozen or so different characters, then edited them into a program that would constantly rearrange their entrances and exits in a multitude of combinations, sort of like a visual iPod Shuffle.
"I don't think this was a deeply conceptual piece," O'Leary said when asked "what it meant."
"I think it's more a satire on art audiences, with themes of sci-fi and super heroes," he continued. "This is a big, fun cultural art event. I just want the audience to enjoy being watched as much as it enjoys watching."
Down on the beach, "Howling at the Sun," was presented by the 18th Street Art Center & La Commons. Before introducing the 50 or so musicians involved, a Commedia dell Arte-inspired character was exhorting "the old folks who don't usually stay out all night" to take advantage of the event to party until the wee hours.
"This is the kind of night when you wish you hadn't stopped taking drugs," he crowed.
Céleste Boursier-Mougenot's "shapednoise" featured a totally white lifeguard tower being slowly transformed into a mound of suds, constantly accumulating with a rate and force determined by data derived from a series of tracking cameras scanning the audience. In a nod to Santa Monica's environmentally responsible sensibility, the installation was powered by a diesel generator.
John Carpenter, Jerry Digby & Alex Deutschman's "Shoreline Luminescence" provided appropriate ambient music to a stream of lighting designs projected on, well, the shore, and Pentti Monkkonen's "Barbeque Train" served up grilled ears of corn.
Glow exhibit number 11, Klutch Stanaway's "Controlled Boulder," seemed to be entirely deserted, in what immediately seemed to an observer to be a commentary on the sterility and heartlessness of post-post-modern art, until a young man showed up, bearing a radio-control device and a miniature paper maché boulder.
"Sorry," Stanaway smiled sheepishly. "Men's room break."
He proceeded to control his boulder electronically, allowing the knee-high rock to rumble around the feet of bemused spectators, one of whom waggishly exclaimed, "That thing rocks!"
"I was looking at some cheesy, 50s sci-fi movies and got this idea," Stanaway said. "Whatever was menacing in those movies was kind of absurd. I think that playfulness is missing from a lot of art nowadays and my boulder is, I guess, a comment on that."
A Santa Monica Police traffic officer said that crowds had been orderly during the night, a concern of the city after Glow 2008, when some 250,000 people showed up in a massively successful response.
Restaurants along the pier and Ocean Avenue were packed, with lines to the sidewalk. With several streets blocked off, downtown Santa Monica had the air of New Orleans at Mardi Gras and some of the city's most beautiful permanent art installations, like the parking garage next to Santa Monica Place with its Ball Nogues Studio-designed "Cradle" of silver balls, were shown off to best advantage.
As described by the city Cultural Affairs Manager Jessica Cusick, "Glow instantly became Santa Monica's signature cultural event. It brings together some of our community's strongest attributes, with art and innovation united in an unparalleled public space."
Glow rocks!