By Jonathan Friedman
Lookout Staff
September 13, 2010 -- In a city that is world famous for leftist politics, Santa Monica Republicans have struggled for many years to have a voice in the community. But the local GOP this year is energized and ready for a battle. Nearly 100 people gathered on Sunday afternoon for the opening of the Santa Monica Republican campaign headquarters at 3004 Santa Monica Boulevard.
"Getting Santa Monica Republicans out of the closet is our slogan this year because they are the only ones left in the closet," said Donna Block, vice president of Santa Monica Republican Women Federated and manager of the campaign headquarters.

Republican City Council candidate Robert Kronovet speaks
on Sunday during the grand opening of the Republican campaign
headquarters. Photos by Jonathan Friedman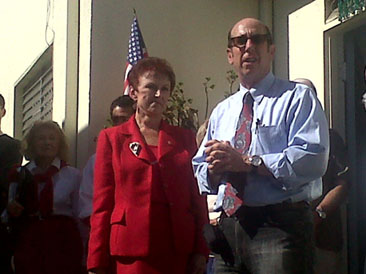 Republican City Council candidates Robert Kronovet and
Jean McNeil Wyner speak on Sunday during the grand opening of
the Republican campaign headquarters.

The Santa Monica Republican campaign headquarters
at 3004 Santa Monica Boulevard.
The Republicans have one candidate in each of the City Council races—landlord and Realtor Robert Kronovet for a two-year seat and Jean McNeil Wyner, a physician and community liaison at Santa Monica-UCLA Health Center, for a four-year seat. Also, Chuck Wilkerson is attempting to dethrone longtime Democratic Congressman Henry Waxman and Terry Rathburn wants to represent the 41st State Assembly District. That seat is currently occupied by Democrat and former Santa Monica-Malibu Unified School District (SMMUSD) President Julia Brownley.
"We have a good group of candidates," said Carole Currey, former Santa Monica College District trustee and president of the Republican Women Federated. "I hope the people will vote for change. But I never predict."
Kronovet has no hesitation about making a prediction. He guaranteed a victory for his campaign, saying he will win by approximately 3,000 votes. He said the voters are tired of Santa Monica's most powerful political group, the left-leaning Santa Monicans for Renters' Rights (SMRR).
"SMRR doesn't stand a chance against me, no chance," Kronovet said. "We're going to crush them. The time has come because they are an ugly political machine. They intimidate."
Approximately 9,000 of Santa Monica's nearly 58,000 registered voters are Republicans. Kronovet is encouraging all of them to vote only for him even though they can select two people in the race for the two-year seats on the council. But he is also looking to appeal to moderate Democrats and others who are opposed to the policies of SMRR.
Kronovet is not just speaking as a dreamer when he talks of defeating a group that has controlled all the major local political bodies for most of the past 30 years. Two years ago, he shocked many political observers when he became the first person to win a seat on the Rent Control Board as a Republican and without an endorsement from SMRR.
"It takes a lot of chops to stand up there and push back at SMRR," Kronovet said. "But we have given people courage. It's inappropriate to be intimidated by government. Government is designed to support the individual. The difference between me and SMRR is they think Santa Monica owes them. I, on the other hand, owe Santa Monica."
Kronovet said the city wastes about $20 million per year on social programs. He said this money should go to the local schools. He opposes the half-cent sales tax proposal because "you cannot tax your way out of financial mismanagement." Kronovet said municipal spending must be reduced, especially in the City Attorney's Office, which operates on a nearly $9 million annual budget and in his opinion works "as a muscle of SMRR" on orders from elected leaders.
"They go after landlords with vengeance," Kronovet said. "They go after homeowners with vengeance. They don't go after tenants with such vengeance."
Although not as outspoken as her fellow Republican, McNeil Wyner is also giving an-anti-establishment message in her campaign. She wrote in a flyer that Santa Monica must "stop the traffic insanity" and "stop the budget and tax insanity."
The flyer states that the City must expand parking and that "the City's experiment has failed" with a focus on creating more bus and biking opportunities as a method to reduce traffic congestion. She also wrote that the City is "at the edge of bankruptcy" because of "bloated spending and bad planning."
"Millions of dollars are being funneled into failed traffic control and various 'social experiments,'" McNeil Wyner wrote. "That money must go where it belongs—to benefit our residents."
McNeil Wyner said on Sunday, "I don't think that our current City Council members really consider themselves civil servants. And that's what I'll be. I will be a civil servant for the City of Santa Monica."
The Republicans even received a visit from loyal Democrat, Chris Bley, who is running for a seat on the SMMUSD board. Bley finished a close fourth in the race for three seats two years ago.
"Education is about the classroom and not about political parties," said Bley when asked why he was there. "Many of you have kids, and that is what you should be thinking about when it comes to education."