By Lookout Staff
June 16, 2009 -- Santa Monica College's new Quad -- which has become a gathering space for students on the main campus -- has won Los Angeles County's top grade for landscape architecture.
The four-acre heavily landscaped area that has transformed the look and feel of the campus won the 2009 Los Angeles Architectural Award in the Landscape Architecture category sponsored by the Los Angeles Business Council.
The awards are considered the premiere architectural honors for projects in Los Angeles County.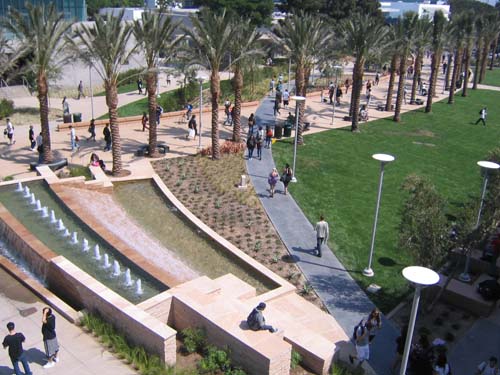 SMC Quad
"The Quad has truly transformed the campus and has given it a university feel," said Greg Brown, SMC director of facilities planning. "It 's become not only a place for students to relax and visit with friends, but is now the preferred hub for outdoor concerts and special events.
"It has truly changed the way students interact on campus," Brown said.
Since opening last August at the start of the fall 2008 semester, the $9 million Quad has become a focal point for student, as well as community, activities, including Club Row and the community-oriented Picnic on the Quad.
Funded by Measure U, the SMC bond approved by voters in 2002, the Quad features a promenade of pavers lined by palm trees and flanked by two large water fountains. Grass areas, trees, large planters and seating areas fill out the Quad.
The Quad was designed by tBP Architects and Meléndrez landscape architects.