By Jorge Casuso
June 10, 2009 – Santa Monica's new $3.5 million Boys & Girls Club facility at John Adams Middle School (JAMS) hadn't officially opened its doors yet, and already it was getting rave reviews from those who matter most.
"It's so nice," said Amy Juarez.
"It's fun," said Xochitl Silva.
"It's modern," said Ruby Baruth.
"There's games," said Navonia Braton.
"There's games, there's computers and a professional recording studio," Baruth added.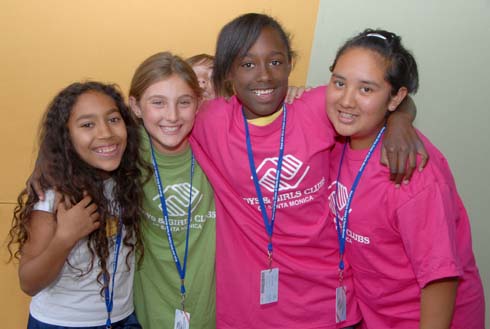 Club members (from left) Xochitl Silva, Ruby Baruth, Navonia Braton and Amy Juarez (Photos by Fabian Lewkowicz)
The four sixth graders at JAMS had been using the facility for the past couple of weeks -- "It was an opening. Now it's a grand opening," one of them explained -- before the ribbon cutting ceremonies and speeches Wednesday afternoon in the patio of the new facility, which took six years and an outpouring of community support to complete.
"This is like having your child graduate for college," said Allan Young, who will be retiring as president of the Santa Monica clubs in January after 47 years with the organization. "The hard work has been worth it." ( "New Clubhouse Breaks Ground, Finally," September 15, 2008)
The new facility -- designed by the local firm Killefer Flammang Architects -- will serve more than 7,0000 kids a year, many of them from the Pico Neighborhood, Santa Monica's poorest and most diverse area.
"This will allow us to triple the number of kids we can serve in the Pico Neighborhood," Young said.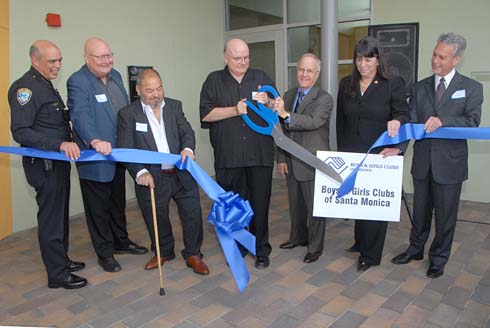 Cutting ribbon (from left) Police Chief Tim Jackman, Dr. William Crookston, Mayor Ken Genser, Allan Young, Supt. Tim Cuneo, Roxanne Spillett and Club Chair Craig Mordoh
The new facility -- which grew from a modest $150,000 plan to attach two trailers under one roof and surround them with a wooden deck -- has offerings that rival those at Lincoln Middle School in the upscale north side of town, Young said.
"At Lincoln Middle School we saw computers and technology and the things that the kids here deserve," Young said. "They deserve the best."
The facility features a Technology and Media Center where kids will learn to put together computers and use them for animation, web design and robotics and produce video, sound and even an Internet radio show in a professional recording studio.
The game room -- which has a huge window that floods the space in sunlight – includes ping-pong, foos ball and video games on a giant flat screen, while the learning center gives students a place to work on school projects, debate the day's news and play Sudoku on the Internet.
Police Chief Tim Jackman and Fire Chief Jim Hone face off in play room.
The inviting space some community leaders called "magical," should help reverse an alarming trend that saw 1.2 million students drop out of school last year, 35 percent of them before the ninth grade, club officials said.
"Many don't have encouragement, support, mentors," said Roxanne Spillett, the president and CEO of the Boys & Girls Clubs of America, who flew in from Atlanta for the opening. "The most vulnerable are in middle school."
Spillet, who has overseen a major expansion of the clubs nationwide to 4,3000, called the new facility "a model for America."
"What we have here is not just a place to go," she said. "It is a place to grow."
Police Chief Tim Jackman read a list of "deeply troubling and astounding" crime statistics – 2.8 million arrests in 2007 of persons under 18; a third of all crimes committed by juveniles that year took place between 3 p.m. and 7 p.m.
"This facility will offer a safe place to go during those times they're most vulnerable," Jackman said.
Mayor Ken Genser and School Superintendent Tim Cuneo touted the importance of the facility.
"Investing in the young people is what makes a great community," Genser said.
"What a jewel this is for the entire community," said Cuneo.
Allan Young
Dr. William Crookston, a USC business professor who as president of the Santa Monica Rotary Club used $25,000 to sow the "acorn" that grew and grew, called the six-year effort "a great run."
"The results are not bricks and mortar," Crookston said. "They are the young men and women that can come here after school."
Young, he said, "pulled all his markers to make this happen" before retiring.
It was a statement Young was quick to correct.
"I'm working on a $6 million center in Inglewood," he said.