All Aboard for Blue Bus 80th Anniversary
By Jorge Casuso
April 16 -- Three decades ago, fans of The Doors pondered the meaning of the "blue bus" in the lyrics of the legendary LA rock band's epic song "The End."
"The blue bus is callin' us," Jim Morrison sang. "Driver, where you taken' us?"
While fans came up with metaphysical interpretations for the meaning of the "blue bus" the band rode from Venice to their gigs in Santa Monica, Big Blue Bus riders are being treated a more practical answer to Morrision's question as the transit system celebrated its 80 anniversary this week.
Big Blue Bus drivers are taking passengers to an increasing number of destinations – and they're doing so with a fleet that operates on alternative fuels and is on time 86 percent of the time, earning numerous awards for customer service, safety and efficiency.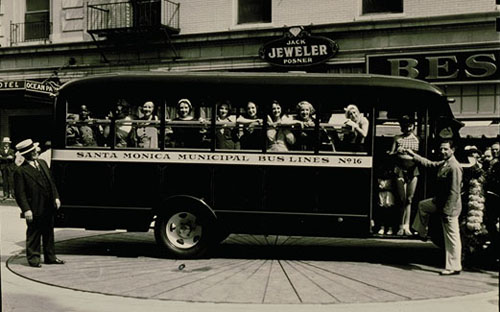 Santa Monica Bus circa 1930 (Courtesy of Santa Monica Public Library)
"The Big Blue Bus has been able to grow over the years because of the incredible vision and dedication of many former city and transit leaders," said Big Blue Bus General Manager Stephanie Negriff.
"They knew a long time ago that investing in a modern public transit system would be very important to the growth of Santa Monica, and they never gave up trying to improve what we could offer to the public."
City and bus officials gathered on the Third Street Promenade Monday to celebrate the success of a transit system that started as a collection of unemployed Model T car owners who charged five cents for a ride down Santa Monica Boulevard.
"When we first started back in 1928, we were only able to take people down the main streets of Santa Monica, like Pico and Wilshire Boulevards," Negriff said. "Now we cover almost 52 square miles of Los Angeles county."
The system now boasts more than 200 ultra modern, alternative fueled buses that help more than 20 million people a year get to work, school and around town, Negriff said
Negriff thinks the Big Blue Bus is helping to change the image of public transit -- from a mode of transportation for those without cars to an alternative for motorists who want to make an environmental difference.
"It's no longer just a smoky old bus for people who have no other way to get around," Negriff told The Lookout. Young people "think it's really cool to get on an alternative fuel bus.
"We are so lucky to live in a community where people say good things about public transportation," she said. "It not only saves on gas, it's the right thing to do."
Community outreach – coupled with soaring gas prices – has helped boost the number of riders choosing to take the bus around the transit agency's service area, bus officials said.
Between 2004 and 2007, ridership increased overall by 2.3 percent, higher than the national average, translating into half a million more trips taken every year, according to the latest data
"I think people are realizing that taking transit makes a lot of sense, especially with gas prices so high and people having to spend so much more of their income now on filling up the tank," said Dawson.
"Using public transit, even occasionally, instead of driving a car is one of the most powerful personal commitments people can make to conserve energy and positively impact the environment," he said.
Through the years, the Big Blue Bus has been able to keep its fares low, with regular fares costing 70 cents more than they did 80 years ago, officials said. For students and seniors he price is 50 cents.
"That's remarkable in this day of $4 a gallon for gas," said Negriff. "Keeping public transportation affordable and accessible to everyone was a major goal of this transit agency from the very beginning, and I'm very happy to say that it's still one of our most important objectives."
Monday's celebration featured a video -- "80 Years in 8 Minutes" – shown inside a vintage New Look bus used in the 60s and 70s, when the Doors were riding the line, and featured in the movie "Speed."
The celebration also featured a gigantic bus-shaped cake baked by Art Institute of California-Los Angeles students; a performance by Blue Note, a musical group showcasing the talents of City and Blue Bus employees and riders, and a tribute to employees who have been with the system for more than 30 years.
"I think so many of our employees remain here a long time because of the camaraderie we have here," said Negriff. "We have quite a few employees that have passed the 20 and 30 year marks, and one of our employee's father even worked here in the 1930s!"
But the event also was a time to look to the future, which includes plans for new Rapid service, real time information for passengers at bus stops, more bus-only lanes and mobile trip planning assistance, according to Blue Bus officials.