By Lookout Staff
January 10 -- For the first time in 15 years, a new police chief was sworn in at Santa Monica City Hall.
Timothy Jackman -- who advocates a holistic, open and collaborative approach to policing -- was sworn in Tuesday night as the 13th police chief in Santa Monica's 132 year history.
Tapped by City Manager Lamont Ewell in November, the former Long Beach Deputy police chief replaced former Chief James T. Butts, Jr., who left the post he had assumed in 1992 to head security at LA regional airports.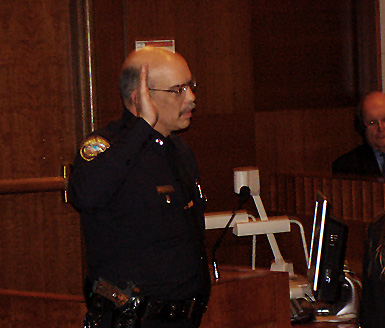 (Photos by Olin Ericksen)
Quoting an allegorical tale told to Notre Dame football players by former coach Lou Holtz, Jackman said during his swearing in ceremony that teamwork was not merely laying bricks, but building a grand cathedral.
"I'm part of a team helping build the finest community in America," the new chief said.
Jackman has a strong background in finance and budget management and is known for having made innovative strides in tackling Long Beach's youth crime and homeless problems, Ewell said.
In an interview with The Lookout earlier this month, Jackman shared his views on everything from how to tackle the city's homeless and gang problems to Santa Monica's new marijuana initiative and building community ties.
Comrades in arms from Long Beach and Santa Monica came out for the swearing in.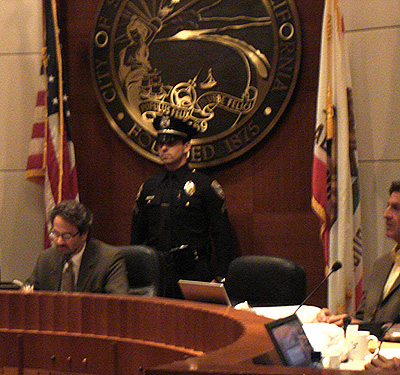 An officer stands at attention behind Mayor Richard Bloom.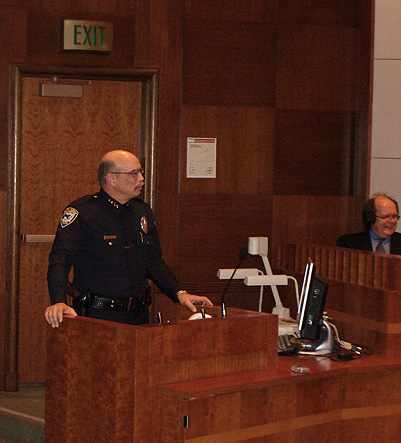 Jackman addresses the council.
Jackman is hugged by his wife, Lisa.