Championing the Dark Crusade
By Etha Williams
Special to The Lookout
July 28 -- Regent St. Claire leads a dual life, and he's not keeping it a secret.
In one, he lives with his girl friend and their four-year-old son in a modest 1950s stucco house on a quiet street in Culver City.
A Toyota sits in the driveway near the shade of a large elm tree. Inside, the child plays with legos and watches the Jetsons, while Dad talks on the phone and the air-conditioner hums quietly.
By all appearances, it is the epitome of suburban normalcy.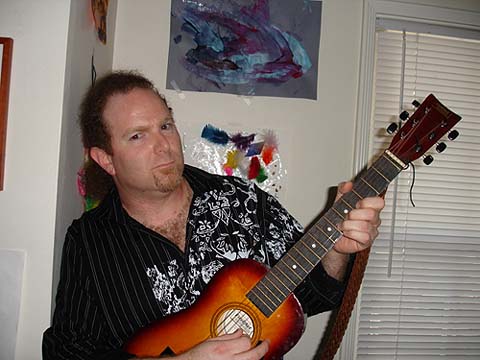 Regent St. Claire at home. (Photo by Gene Williams)
But the 42-year-old artist's graphic novels and music belie another world: a macabre place where Frankenstein-like monsters serve as religious hit men, angels speak out in defense of suicide, and apocalyptic horrors are just part of everyday life.
"I do my part for the dark crusade," St. Claire says, laughing. His smile makes him look like a slightly gnarled and mischievous middle-aged cherub.
Recently St. Claire released "Glamour and Damnation," a retrospective three-CD box set of songs he wrote and recorded with Castle Blak, the metallic "dark California glam" band he fronted between 1982 and 1991.
And now he's busy at work on "Sanction," which he says will be a "very graphic" graphic novel with a political message. It's all part of his life's work: "the piece by piece dismantling of the profane and hypocritical religious right."
Growing up in the small town of Pleasant Hill California, about 25 miles east of Oakland, St. Claire started taking drum lessons at the age of eight and quickly moved on to songwriting.
When he "couldn't find anyone who could sing" his songs, he decided to sing them himself. He taught himself to play piano and guitar and started joining bands.
But St. Claire was never really cut out for the exhibitionism of rock and roll.

"For most of my life, I was a pretty shy person," he says. "What was my reason for wanting to be in a band in the first place? I wanted to write songs. And it really wasn't just 'I want to write songs,' it was, 'I want to write.'

"I didn't want to be on stage. I was way too shy for that," he says. "But you know what, well, you do it. The best way to do something that you're scared of is just to shut up and do it."
And he did it for more than a decade, playing drums in punk bands with musicians including Kevin Army, who went on to produce Operation Ivy, Samiam, and Greenday.
Then, in the early 1980s, St. Claire joined Castle Blak, a San Francisco-based band that came out of the "new wave of British heavy metal" and mixed glam, power pop and goth influences.

But when heavier metal movements like thrash metal and grindcore came to the Bay area in the late 1980s, St. Claire saw that it was time to leave, and in 1987, the band moved to Los Angeles.

St. Claire sees the move as a turning point.

"When you come to LA from anywhere else, even a kind of urbane place like San Francisco, this place will educate you," he says. "When you're not from here, this place is really strange.
"We got to know other musicians who were in the scene, and you can't help but absorb some of their knowledge and their attitude. You just get educated."
Castle Blak played in L.A. for four more years under the "sleeker" name Blak before the birth of grunge and troubles with a record label led St. Claire to leave music altogether.
By the time the band broke up, he had already begun writing freelance film and music articles using the connections he had fortuitously made through a scammer roommate. It was a childhood dream come true
"When I was 13 years old...I came to the attention of, I don't know, somebody, and I was chosen as the youth citizen of the year in my town," he recalls.
"I remember I got up there and they asked me...'Hey, what do you want to be when you grow up?' And I said, 'I want to write for television or film.' And they just stared at me...no one knew what that concept was in Pleasant Hill."
One article of his in particular spoke to things to come: a piece on adaptations of comic books into movies.
That was more than ten years ago – but he's back looking at the same problem now, as he tries to raise money for a film adaptation of his seven-part graphic novel Candy Apple Black.

The comic-book series tells of an angel, Cayce, who is punished for challenging the celestial view that suicide is a damnable offense. Cayce is sent to earth, where only small children and those at the brink of despair can see him, to change his mind – but instead, seeing their suffering only makes him hold firmer to his beliefs.
Many of the characters – including Cayce -- are inspired by people close to St. Claire, and the subject strikes close to home as well.
"Probably the first rule of writing is you write about what you know. And the second rule of writing is, I guess, that you write about what you care about," he says. "People that have been very close to me have killed themselves, and I make a joke about this, but it's true. I tend to trip over dead bodies."
With help from the owners of HiDeHo Comics in downtown Santa Monica -- people whom St. Claire calls his "teachers" -- and working with his co-publisher and girlfriend Heidi Schmid and a team of artists, the Candy Apple Black series was released during the fall of 2003 and winter of 2004.
The three-CD Castle Blak retrospective came out in April 2006.
But, comic books and rock and roll aside, St. Claire knows he isn't a superhero. He acknowledges that Castle Blak "weren't big stars," and realizes he can't save the world from suicide, or even from the religious right.
But the letters he gets back --"tons and tons" of them, he says -- come from people who have started bands because of his work, despairing people who feel that St. Claire understands them in a way society doesn't, and people who just like what he does.
He says his goal is to share his own experiences with "the rest of the world." He's communicating. And that's enough.
The Castle Blak CDs and Candy Apple Black series can be ordered through the web at goodintentionspaving.com
Candy Apple Black is also available at HiDeHo Comics and Books at 525 Santa Monica Boulevard, Santa Monica.