Los Amigos Play Ball
By Frank Gruber
July 18 -- Los Amigos Park at Sixth and Hollister in Ocean Park has hosted Pony League baseball for more than 40 years.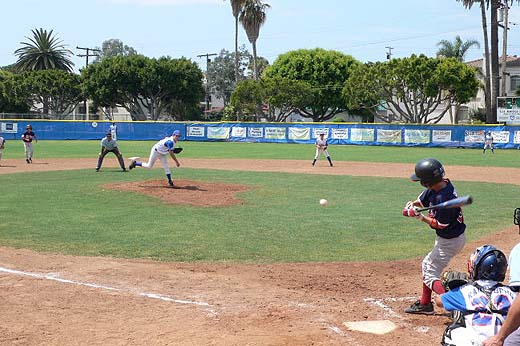 Santa Monica's Conner Greene tosses a strike to an East Long Beach batter. (Photos by Frank Gruber)
This year the park hosted the Bronco Division Sectional Tournament, featuring teams of eleven and twelve year-old boys from Long Beach, Torrance, Pico Rivera, and Norwalk, as well as Santa Monica.
The park was festooned with bunting as for any important baseball series, and shirtsleeve crowds watched a weekend of exciting baseball.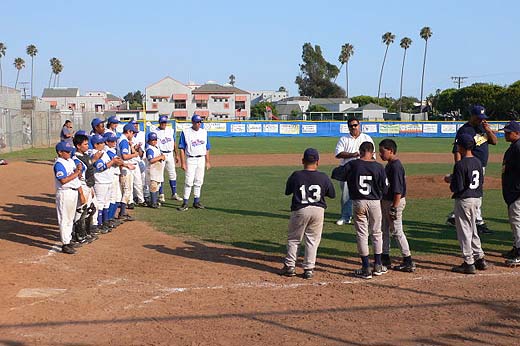 The Santa Monica team applauds Norwalk players receiving their runners up medals.
The Santa Monica team played four games in three days, including two one-run victories on Sunday. Santa Monica defeated Norwalk 2-1 in the final, to advance to the next level tournament, which will be held starting Wednesday in Simi Valley. For more information visit http://www.smpony.com/
The public address announcing crew, from L-R, Jager Metz, Joey Rosenblum, and J.J. Arnold.
Three Santa Monica Pony League officials, from L-R, Abby Arnold, Lety Johnson and Steve Dennis.