Future of Solid Waste Still Being Sorted
By Phil Wayne
Staff Writer
This is part of an ongoing series of articles on the business of recycling in Santa Monica
July 7 – With the future of the City Yard hanging in the balance, the City Council will sort through options Tuesday for dealing with an inefficient solid waste transfer station, a recycling center with obsolete equipment and a contract up for renewal.
The long-awaited decision will affect how Santa Monica – which has won worldwide recognition as a sustainable, green community – takes on the environmental challenges of the 21st century.
Those challenges include vanishing landfill space, increased fees for trash disposal, soaring fuel costs, dwindling natural resources, solid waste pollution and looming requirements for higher diversion rates away from landfills.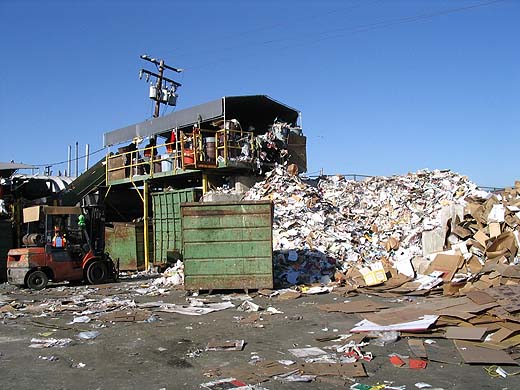 Paper and cardboard sorted at aging recycling center. (Photos by Phil Wayne)
The Yard not only handles all of the City's solid waste operations and fleet maintenance, but is also the site of the Santa Monica Recycling Center, where both the City and public bring recyclables for weighing and payment.
Although officials have been wrestling with options for more than ten years, "We don't quite know where we're going with the Yard," said Herb Katz who, along with Ken Genser, sits on the Council's solid waste sub-committee.
"That's why there's a study session" July 11th with the consultant studying Yard options, Katz said.
Officials interviewed by The Lookout all agree that, in its current form, the Yard is an archaic, costly dinosaur worthy of extinction.
"I don't think any of us want to continue as we are, because that facility right now is out-dated, it's inefficient," said Craig Perkins, director of environmental and public works management. "It's not getting the job done that we think needs to get done."
In addition to its limited size and clunky equipment, there are problems with the soil under the Yard, said Katz.
"That was an old trash area, and it's sinking -- slowly -- but it's sinking," said Katz, who is an architect.
The study session at Tuesday's council meeting will look at findings made by GBB Consulting, a 25-year-old firm that has conducted solid waste studies for Nashville, Fort Worth and other cities.
Options for the Yard include:
Entering into partnership agreements and revenue-sharing arrangements with either private companies or other public agencies to handle trash, recyclable materials or garden waste.

Maintaining certain operations at the Yard, such as recycling, while turning others over to private companies. That could mean closing down the transfer station altogether -- in which case solid waste would be processed elsewhere.

Continuing all operations at the Yard and undertaking a complete renovation. That option could at least temporarily close down the facility and move operations offsite as work proceeds.

Turning over all Yard operations outright to a private company, such as Southern California Disposal (SCD), which maintains offices and a facility adjacent to the Yard. SCD has vied heavily for the business and campaigned against former Council member Michael Feinstein, the most vocal critic of privatization on the dais before losing his seat in 2004. (see story)

Continuing to contract with a private business to run the recycling center only. The Allan Company has held the contract for the last 12 years. (see story)

Having the City take over operations at the recycling center, or

Any number of hybrid arrangements incorporating the above options
In their report to the council in January 2004, staff recommended against privatizing the Yard.
"We believe that it makes a lot of sense for the City to stay in the solid waste recycling, transfer processing business," said Perkins during an interview this year. For "our rate-payers, if you look at the long term, that seems to make the most sense in terms of how they're going to benefit."
"What we have found, which is what the City already knew, is that the facility is not up to best practice in the industry and should be upgraded," said Frank Bernheisel, GBB's vice president.
Bernheisel noted that the council would make its decision "based on price and other information" included in the proposals that will be submitted by private contractors vying for the City's business.
However, Feinstein, who pushed for the City to maintain control of the Yard when he was on the council, argues that it makes no economic sense to lose "the only municipally controlled transfer station on the Westside.
"Privatization of the City's waste stream is an incredibly bad idea," said Feinstein, a Green Party member and former mayor. "Economically, the City would be giving away an incredibly scarce economic asset."
In addition, Feinstein said, municipal jobs would be outsourced and the City would "lose the ability to apply its sustainability principles to the City's future waste stream."
New methods for dealing with everything from demolition debris to garden waste are quickly emerging. Waste-to-energy technologies in particular could dramatically alter the solid waste landscape in coming years, turning a problem into a solution.
"There is no way to write into a long-term contract the changing environmental conditions and opportunities that the future may present," Feinstein said.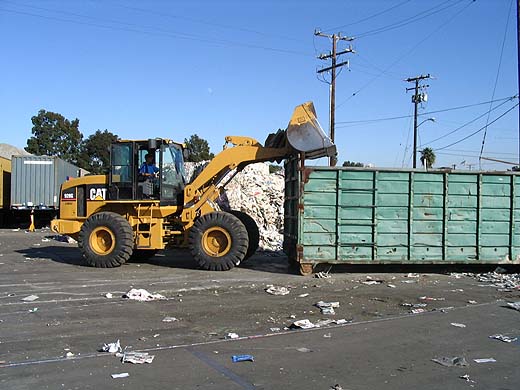 Tractor dumps material into roll-off container at recycling center.
SCD's proposal to take over Yard operations is based on a long-term lease.
Katz, for his part, envisions a totally restructured Yard in which the City could "possibly put all of our (fleet) repair facilities underground and parking underground, and build the transfer stations above ground, even… two stories.
"What you do is you condense a broad spectrum into a smaller facility," Katz said.
By building underground, he explained, the City could simultaneously remedy problems with the soil under the site while creating more space.
As to whether the City should maintain control over the yard, Katz seems to favor a hybrid arrangement.
"I think the public/private could work for everybody's benefit," he said.
Asked if such an arrangement might involve SCD, Katz responded that "it could." But, he added, "We can't marry to SCD. We'd have to go out and get proposals."