Buses, Bikes and Automobiles
By Gene Williams
Staff Writer
July 3 -- Some bike, some walk. Others carpool, but many more take the bus. A few even skateboard to work. And why not?
With Downtown traffic often congested, gas prices at well over $3 a gallon and the cost of parking at $7 a day, a surprising number of Bayside workers are leaving their cars at home.
"We don't provide any parking, so about 80 percent of our employees take the bus," said Marc Zeidler, one of four managers at Broadway Deli, a large restaurant at the southern end of the Third Street Promenade. "They come from everywhere, from Venice and all parts of L.A.
"We have a couple that ride bikes and about the same number that walk," he added. "We have a few employees carpooling as well." Zeidler estimates that about 120 of the of the deli's 150 employees ride the bus to work.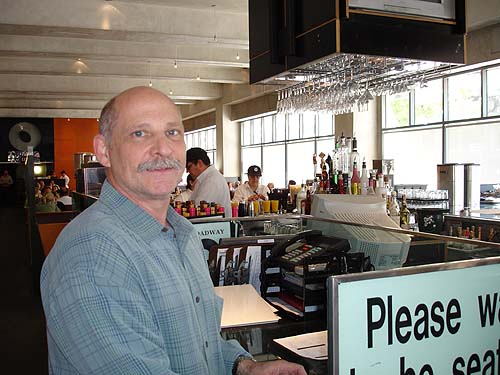 Marc Zeidler (Photos by Gene Williams)
The Broadway Deli isn't alone. Up the block at Borders Books, between 25 and 30 of the store's 40 employees use public transit, and a few others ride their bikes, according to Manager Chris Murdoch, who takes the bus to work.
"It's big. Everybody takes the bus," said Murdoch, who gets to work in 20 minutes from his home in the Marina del Rey area. "It's a lot cheaper to take the bus — 75 cents one way, $1.50 both ways. You don't have to pay for parking and you don't have to pay for gas.
"I would say 60 to 75 percent of our employees take the bus because there is no place to park," Murdoch said. "At least five or six people ride their bikes."
With the completion of the $13.3 million Downtown Transit Mall four years ago, Downtown Santa Monica cemented its role as the city's public transportation hub. The project – which included widening sidewalks, dedicating bus lanes and installing bus shelters, transit information kiosks and signs along Broadway and Santa Monica Boulevard – made it easier to get around without a car.
Workers can hop on a dozen Big Blue Bus and Metro lines just a few stores or short blocks from work and grab a bite to eat a quick ride away on the Tide Shuttle or get home far beyond the beachside city's limits on a Metro Rapid Transit Line or the Downtown LA Freeway Express.
Downtown's dedicated bus lanes allow buses to bypass congested traffic lanes, making the bus a faster and more reliable experience for riders, said Stephanie Negriff, the City's director of transportation services.
"The Transit Mall is all about moving people Downtown in a different way than before, and the new amenities really encourage people to take advantage of alternative modes of transportation," Negriff said.
The convenience of hopping on a bus isn't the only incentive not to drive to work in a city that prides itself as one of the most "sustainable" in the nation.
Under the City's Transportation Ordinance, large employers with 50 or more workers, such as the Broadway Deli, are given economic incentives to meet the City's goal of reducing traffic.
The businesses are required to keep City Hall informed of their workers' commuting habits by conducting an annual week-long survey of employees to determine the ratio of workers per car trips going to and from work.
The target is 1.5 employees per car. If Zeidler's estimate is anywhere near right, Broadway Deli is doing much better than that – about 5 employees per car trip.
As a result, the deli receives an economic bonus from the City, which starts by charging large businesses a yearly transportation fee, currently set at $8.50 per employee.
Employers who meet and maintain the 1.5-employee-per-car target for one year get a 40 percent reduction in their transportation fees; employers who maintain their target for two years receive a 50 percent fee reduction, and those who maintain their target for three years or more receive a 60 percent reduction.
In addition to the survey, businesses are required to provide incentives for their employees to drive less. Incentives can include vanpools; financial rewards for carpooling, walking and biking; employer-provided bus passes or tokens; telecommuting programs; drawings and gifts for employees who rideshare; flexible work hours; compressed work weeks, and transportation allowances or free or reduced parking rates for carpoolers.
The employers then decide which incentives they would like to implement. The only required incentive is a guaranteed "Ride Home" in case of an emergency for employees who rideshare.
Businesses with fewer than 50 employees pay higher transportation fees, currently set at $10.85 per employee. Like large businesses, they too are required to encourage less driving, although they don't have to fill out yearly surveys of their employees' commuting habits.
City officials say the Transportation Ordinance is working. Currently, 55 percent of Santa Monica's large businesses have met both their morning and evening targets. The ordinance reduces 4,500 trips in the morning between 6 and 10 a.m. and 4,600 trips in the evening between 6 and 10 p.m. into and out of the city, according to transportation officials.
Despite the incentives, many commuters refuse to give up the convenience of driving to work, even if it means forking over $7 a day to park in the Downtown public parking structures or putting up with the hassles of trying to park for free.
Many low-wage workers Downtown take advantage of the two to three hours of free parking in the structures, leaving work several times a day to shuffle their cars to new spaces to avoid parking fees and tickets, according to managers and employees.
"Everybody here that does drive has to take breaks every three hours or so to move their cars," Murdoch said of the Borders employees.
Julie Meyers, a manager at Urban Outfitters, also says most of the Promenade clothing store's approximately 40 employees drive to work, with the lion's share coming in from central Los Angeles.
"Probably five or six employees take the bus," Meyers said, "but most of them drive, though the bus is probably better because they don't have to find parking.
"Parking is really hard here, especially on the weekends," she added. "But the problem with the bus is that employees are late a lot, you know, just the stops and the traffic and the schedules and everything."
Like other store managers Downtown, Meyers believes carpooling is a great idea, but it doesn't work at her store because none of her coworkers live close enough to each other.
Managers at a large Downtown bank and a store that sells home furnishings, declined to talk for attribution, but said very few of their employees bus, bike or carpool.
"I think I have a total of two employees who take the bus," said one of the managers. "We're true Californians, and we drive everywhere, unfortunately."
Of all the Downtown businesses, the one that seems to be doing the most to encourage its employees not to drive is the new kid on the block – REI, the sporting goods store that recently took over the old Toys-R-Us building on 4th Street and Santa Monica Boulevard.
Of REI's 90 some employees, about 70 percent use alternative transportation, "whether it's skateboarding, biking, riding the bus or walking," said Anna Ranstell, an assistant manager at the store.
To encourage the use of public transit, REI reimburses its employees half of their bus fare, Ranstell said.
But for each REI employee who takes the bus, at least an equal number get to work under their own power. REI is in the business of promoting outdoor recreation and active living, so the store has showers and lockers for its employees who work up a sweat during their morning commute.
Jaron Danioth
A large part of REI's business is selling bikes, and the company seems to do whatever it can to encourage cycling as an alternative mode of transportation. In early May, the store offered free valet bike parking and donated $10 to the L.A. County Bike Coalition for each cyclist who rode in for the store's opening weekend.
Some 840 cyclists took advantage of the offer. More recently, on National Bike to Work Day, May 18, the store had its top technician outside to help cyclists with free tune ups and repairs.
"It's part of our company culture," explained REI technician Jaron Danioth, who bikes to work from Marina Del Rey. "It's fun. I enjoy riding a bike.
"I don't use any gas and it helps me trim down a little," he said. "Also, cars are not the answer, plain and simple."
Danioth doesn't always bike to work. Sometimes he leaves the bike at home and takes his skateboard. And he's not the only one. "A lot of us skateboard, and since we're in Dogtown, why not?" Ranstell said of her coworkers.
Grant Hustead is one of them. At work behind REI's information booth, Hustead said he skateboards to his job from Olympic High School at Lincoln and Ocean Park boulevards, where he is a student.
"I usually don't take the bus. It's hard to depend on it because of traffic, and their scheduling is not always on time. So I skate to work," Hustead said. "It makes it a lot easier."
The trip takes him about 15 minutes, which includes picking up the skateboard and walking into the store.
As the Downtown booms, the City is balancing the need for more parking with the goal of getting more motorists out of their cars and into public transit.
Last month, the City Council adopted a Downtown Parking Plan that could result in as many as 1,712 new parking spaces over the next ten years. (see story)
But the council wants to keep its options open while planners debate whether the potential new spaces would add to or lessen Downtown traffic congestion.
Public transit users also have something to look forward to. Plans are moving forward for the Metro Link Light Rail that will connect Downtown Santa Monica with Downtown Los Angeles. And plans are making headway for a long-talked-about subway beneath the Wilshire corridor – which currently boasts the highest bus ridership in the County.
But commuters shouldn't hold their breath. Metro Rail probably won't make it to Santa Monica until 2015 and the subway isn't expected to be finished until 2020 – that is, if either project can get funding.
As one participant at a recent public transportation symposium put it, "I hope I get to ride it before I die."
County and Westside City officials are now looking at State bond measures set to go before voters in November. If approved, they hope to tap into some of the bond money to bring rail transit to Santa Monica.