Erasing Urban Scrawl
By Gathering Marbet
Special to The Lookout
Last of two parts
July 12 -- As he has done for 15 years, Rick Raygosa was spending another day on the move looking for urban scrawl.
He spotted black spray paint covering a stop sign and pulled up in his City truck equipped with ladders, cleaning equipment, brushes, buckets and gallons and gallons of paint.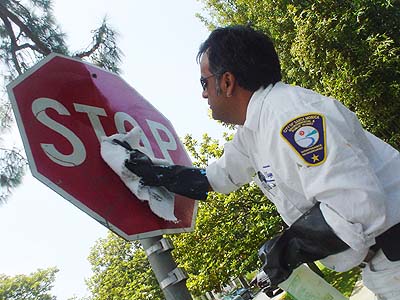 Graffiti crew member Rick Raygosa (Photos by Gathering Marbet)
Raygosa grabbed a rag, doused it with solvent and vigorously scrubbed off the paint until the "stop" in the sign appeared. Then he packed up his equipment and supplies and headed for the next job.
"I try to have positive contact with people and make sure that details are taken care of," said Raygosa, one of the City's two graffiti removal technicians.
"I try to be a little creative whenever possible," he said. "It just makes the job a lot more fun."
With a new wave of summer graffiti sweeping across Santa Monica, the City's maintenance crews, police and community leaders are taking the swell the way they usually do -- head on.
The maintenance efforts result in 10,000 to 12,000 graffiti removals a year, the majority reported through the City's website and graffiti hotline by residents and businesses. The rest are discovered and removed by technicians as they drive the streets.
"Anyone can report their graffiti and we will come out and remove it," said Kim Braun, superintendent for Facilities Maintenance, the central backbone of Santa Monica's graffiti removal services.
The eradicators respond to graffiti scrawled on anything that doesn't move, Raygosa said. Freestanding targets, such as dumpsters or bins, are usually the responsibility of private owners, unless they belong to the City, he said.
Before a removal can take place, residents, business managers or property owners must sign a waiver that makes the City exempt from any liability connected with the work.
Graffiti removal technicians erase or cover everything from spray paint to markers with recycled paints and environmentally safe products with names like "Take-off" and "Goof-off."
All of this is done with an annual budget of $110,000, which covers salaries, vehicles, gas and materials, Braun said.
The City has also created an Adopt-A-Block program that provides paint and supplies to communities and individuals who wish to tackle graffiti on their own, she said.
"We cut the city right in half for our graffiti techs," said Braun. "Although it's only eight-square-miles, it is a lot to cover with two people."
Now that the City Council has approved a third tech, Santa Monica will be divided into three sections, but hiring may take six months to a year, City officials said.
The crews receive backup from a two-year trade intern who is almost always in training and eventually helps to make the rounds.
If there are any signs of gang involvement, the crews will call police to photograph the site, which is considered a "possible public hazard," police said.
"Regardless if it's public or private property, people should notify the police department so we can document it and have it removed," said Lt. Frank Fabrega, the police department spokesman.
"If it is removed immediately, chances are that it will not return," he added.
It is crucial to act at the first sight of graffiti before it has the chance to "attract other artists, decrease property values and increase resident's fear of crime," according to police.
To speed up removals, City officials said, the maintenance department and police are looking for ways to communicate more efficiently.
They are developing a system to take digital pictures that are downloaded directly into a computer that police can access right away, Braun said. "Then we can remove it and not wait for them."
You have to be creative to remove different substances from a variety of surfaces. Most markers and paints are easily removed from traffic signs or electrical boxes, but buildings, stairwells and brick are another matter.
"We do have a contractor that we hire occasionally to ice-blast surfaces like brick and cinderblocks, things that face the street and need attention that we can't take care of," said Raygosa.
The blaster shoots "very small slivers of ice" at high pressure, Raygosa said. "It evaporates because it's water, so there won't be any sand or stuff flying off and hitting cars or anything," he explained.
Crews use a handheld computer that can pull up any property location in the city, Braun said. They can also bring paint samples to a trailer at the City Yards, where a paint mixing machine produces nearly perfect matches of color.
Most of the time, the technicians are able to come up with solutions to graffiti problems, but they are not able to remove etchings from glass, Raygosa said. Depending on the size of the window, it can cost business owners thousands of dollars to replace each pane.
"I recommend to some of the property owners to hire an artist," said Raygosa. "Then maybe they can do something creative with an etching instead of replacing the glass."
The maintenance department also suggests growing Creeping Fig, trees, ferns, ivy or Bougainvillea to hide surfaces that attract graffiti.
One of the toughest challenges is matching paint on retainer walls and in alleyways of million dollar homes, Raygosa said.
"There was a house near 17th and Carlyle that had a large phallic symbol painted on it," Raygosa said. "It had a really bad word on it, and it was really graphic."
Raygosa spent the next four hours cleaning the wall, but didn't like the results.
"I came back the following day and told her (the owner) that I would do a faux finish on the wall to try to make it look like the original stucco, and it actually came out very well," Raygosa said.
Raygosa admits that some owners complain that the paint doesn't match. He "tries not to take it personally," but instead reminds them of the waiver they signed.
"Most of the people are really nice and are really thankful that we are there to remove it (graffiti)," he said.
Getting a complaint is not the worst thing that can happen to a graffiti removal technician.
"One of our co-workers was chased and harassed with a lead pipe," Raygosa said.
The incident took place near Pico Boulevard and resulted in the aggressor's arrest.
"When I used to work in the Pico neighborhood, I would always try to get my graffiti done there early in the morning so that I would avoid any kind of contact -- not the good kind, the bad kind," he said
Oscar de le Torre, executive director of the Pico Youth and Family Center, hopes to channel the frustration felt by many poor kids from the neighborhood into artistic pursuits -- even using the center's own walls.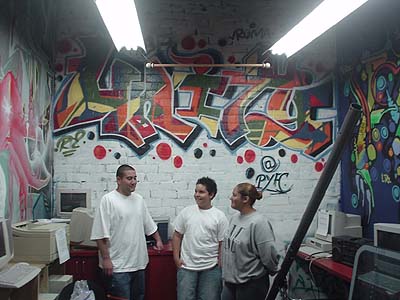 The Pico Youth and Family Center offers alternatives to graffiti.
"What we are trying to do is encourage young people to reclaim hip hop culture and participate in the art of graffiti making instead of vandalism," said de le Torre.
"That's why we give them space to do their pieces," he said. "In exchange, we ask them to not write graffiti in the community."
Once off the street, de le Torre encourages kids to turn their artistic flair into careers, following in the footsteps of Retna, a graffiti artist turned fashion designer, or Heaven and Angel, who have become mural artists and sculptors and are currently working with Venice sculptor Robert Graham.
"Why does someone need to write their name on the wall?" de le Torre said. "It's recognition, it's fame, it's self-esteem."
In Downtown Santa Monica, another maintenance division works to keep the city clean 365 days a year, two shifts a day.
"Graffiti puts in people's minds that it is not a safe area," said Eddie Greenberg, maintenance supervisor for the Promenade and the surrounding public parking structures.
"The thing about graffiti is, if you don't jump on it, it just generates more," he said.
City maintenance works hand in hand with the Bayside District, which manages the Downtown, in what Greenberg calls "the best partnership in City service and the private sector" he has ever seen.
"We are all the eyes and ears for each other," Greenberg said.
Graffiti hotline: (310) 458- 2231