Downtown Makes Seniors Feel at Home

By Olin Ericksen
Staff Writer
December 12 -- For two years Nola, her daughter Sharon and granddaughter Bim made it a habit to go to the Tudor House for tea.

A Downtown institution for nearly a half-century, the traditional British teahouse was the perfect setting for Nola. It was also the last place the three gathered before she passed away.

"Everybody is polite," said Bim, who attended teatime at the Tudor House since she was a little girl. "I think especially for a woman of her generation, it made her feel like she was in her element."

With nearly a quarter of the patrons who drop in born before World War II, the Tudor House is one place where many of Nola's generation go to feel in their element.
Seniors show off dance moves at one of the Senior Recreation Center's many activities.
Yet the teahouse is far from being the only place those 62 years and older can feel at home Downtown. In fact, from socializing to shopping to exercising, Downtown Santa Monica is a city unto itself for what is sometimes a forgotten, yet thriving, population.

Nola was one of 13,932 Santa Monica residents who were 62 or older when the U.S. Census took its latest count in 2000. In fact, seniors accounted for nearly 17 percent of the city's population of 80,080.

That's nearly 7 percent higher than Los Angeles County (9.7 percent) or even California as a whole (10.7 percent), according to the census.

And though the population is in a backslide – seniors 65 and older comprised 14.4 percent of the city's population in 2000, down from 16.5 percent in 1990 – Santa Monica and its Downtown remain a beehive of senior activity.

Ask how long Judy Lamm and Doris Power have been friends, they'll tell you the same thing.

"I don't remember," said Lamm, a longtime Santa Monica resident whose friend Doris comes down from Pacific Palisades to hang out in the Downtown.

Each held onto a side of a rolling basket as they made their way through the Farmers Market on a recent Wednesday, moving at a steady clip to ensure they didn't miss out on the best produce.

They walked and talked as a comedic duo, finishing each other's sentences and slyly smiling at the other's response.

"I can't recall how long we've been coming to the Farmers Market, but it happens a lot," said Lamm, eyeing a bundle of bright red radishes.

After shopping, the two might take in a movie or dine in the area. "There's so much to choose from, and we just come down here and pal around for the day," said Power.

The Farmers' Market isn't the only venue that will bring the two Downtown this week. In the next couple of days, Power will go down a few blocks to the YMCA to swim – a routine she says is the secret to her youthful look.

Lamm will also be back Downtown to attend her computer class at Emeritus College, where 3,400 seniors were enrolled at the new campus on 2nd Street last year.

And they are not alone.

Food, shopping, entertainment, college classes and exercise lure countless active seniors to the Downtown for their basic needs and as a place to spend time together.

While an estimated 150 seniors a day get a low-cost workout at the YMCA, the third floor of Santa Monica Place is a better-kept secret. Yet each Monday, Wednesday and Friday morning, scores of active seniors arrive at the indoor mall between 8 and 10 a.m. ready to sweat.

Funded by UCLA, The Santa Monica Strutters, as they are known, have been walking rings around the mall floors for 14 years.

"There are between 70 and 80 members, and I'd say on any given day there are maybe 25 to 30 seniors walking," said Erica Dixon, senior marketing manager for Santa Monica Place.

The program has remained popular because it's free and in an enclosed and safe area, with a smooth track that's easy for seniors to navigate, Dixon said. While lots of people come for the exercise, many stay for the companionship.

"It's a great place to meet friends," said Dixon. "I often see regulars and groups of people who walk together. The eateries open before 8 a.m., so they can grab a bite to eat and start their day."

In fact, socializing accounts for much of Downtown's popularity with seniors.

While teatime at the Tudor House appears to be popular with those of all ages, many seniors return to the quaint, old-world restaurant weekly or daily.

"We have some wonderful characters come in, that's for sure," said Theresa Dulley, who with her husband Steve now owns and operates the establishment. "We do get quite attached to many of our old customers, and they get quite attached to us."

While "Ol' George" – a hard-of-hearing wanna-be model in his late 80s – is no longer around to grace the place, Sue certainly is, Theresa said.

The nearly 90-year-old Sue regales guests with stories of the time she spent in a California Japanese internment camp during WWII and seems to brighten up the place each time she comes in, say customers like Bim and Sharon.

The Tudor House always offers a 15 percent discount for seniors.

Sometimes seniors, like George, never get charged at all.

"We would never ask him to pay," said Theresa. "Even if we did, he couldn't hear us anyhow."

A few doors down from the Tudor House on Second Street, Willie and Gloria's Beauty Salon is another popular Downtown hangout for seniors, a place where they have gone for years to be with people they know and turn back the clock a bit.

"I come here because it makes me feel young again," said Betty, who has been a patron of the shop for several years.

Betty sat on a plastic-covered couch as she waited for her hair dye to set. Asked her age, Betty answered that she's "young at heart."

"Gloria and Willie are very kind and always do a good job on my hair," she said.

While Betty is the only customer on a weekday morning, Gloria Rodriquez, who runs the shop with her brother, says the weekend will see the small shop under the downtown parking structure fill up with seniors like Betty, who come as much for the social interaction as for the manicures.

"They like to come here and talk," said Rodriquez, who is famous for giving out hugs like some grandmothers give out candy. "They feel at home here, and we like it that way."

While her clientele has dwindled some since Emeritus College moved out from next door, Rodriquez said business is still good, and the seniors keep coming back.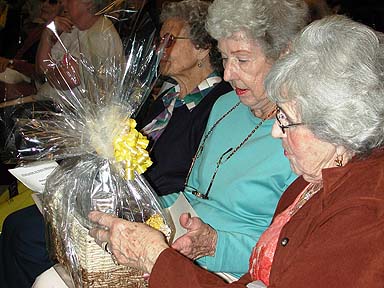 Santa Monica Place Strutters are recognized at a special event.
Popular businesses like the Tudor House and Willie and Gloria's are just two of many unique venues that draw seniors Downtown from other parts of the city and surrounding communities.

According to census figures, most Santa Monica seniors reside outside the 90401 area code, which encompasses the Downtown. In fact, census figures show that only 954 of Santa Monica's nearly 14,000 senior residents actually live in or near the Downtown.

While many of those interviewed by The Lookout said they drove a car or hopped a bus to get Downtown, there is a healthy pedestrian culture buttressed by four active senior buildings with more than 500 units within walking distance of the city's central business district.

In fact, the four senior buildings in the Downtown area account for more than half of the 1,000 units of affordable senior housing spread out in 11 buildings that dot the city, according to the City's Housing Element.

Many residents of the 72-unit Wilshire House at 1125 Third Street, which services low-income seniors and the disabled, rely on the Downtown to lead a full and healthy lifestyle, said Michelle Branch, the building's manager.

"The people who live here go swim at the YMCA and visit the Farmers Market Downtown or take in a movie," said Branch, who has been manager for 14 years. "Much of it is cheap and close, and they have easy access to it."

The primary income for most Wilshire House residents is Social Security, with many of the seniors living on less than $10,000 a year.

"They basically have no money," said Branch. "Santa Monica is quite an expensive place to live."

The nearly 1,600 applicants waiting an estimated six years for a unit to open up at the Wilshire House are a testament to the high demand for senior housing, especially near the beach and the Downtown, Branch said.

"People want to live here because it's close to the beach, but also because it is so near to so many other things as well, like what's in Downtown," Branch said.

Though many of Branch's tenants are active seniors, there is a significant portion of Santa Monica's elderly population with special needs.

So each day, an unparalleled network of service groups goes to work to ensure a better quality of life for those who are growing older.

"Santa Monica is far and above the most resource-friendly city for seniors in Los Angeles County," said Liz Wilson, vice president for the Long-Term Care Services program for the Santa Monica-based Westside Independent Services to the Elderly (WISE).

"It is a city that has been a laboratory of sorts in meeting the needs of all of its seniors," Wilson said.

Headquartered Downtown at 1527 Fourth Street, WISE largely helps those seniors who are homebound or in need of assistance, Wilson said, and there are many.

"We mostly come to them," she said. "It's much easier that way, but we work out of Downtown Santa Monica."

From providing a lift with the popular dial-a-ride program to assessing nursing home conditions, from advocating for incapacitated seniors to organizing a small army of active senior volunteers, WISE helps those in the area who can no longer help themselves.

The agency's popular dial-a-ride program provides an estimated 120 rides a day to seniors who don't drive, and it does it at little or no cost.

"For many seniors, just getting on a bus or driving can be a problem," said Wilson. "Our para-transit service gives people a way to get around without worrying about having to take public transport."

The programs at WISE extend to nearly every facet of senior living. Some help seniors with their taxes or teach them to counteract senior fraud. Other programs give more independent seniors a chance to help others through volunteer activities that include helping teach kids in elementary schools how to read.

None of this would be possible without the City's unique commitment to its seniors, Wilson said.

"Santa Monica has really gone the extra mile," said Wilson, who credited the Santa Monica City Council for backing the service network, even through lean fiscal times.

Back at the Tudor House, Bim and Sharon are having dessert. They share a plate of fresh strawberries and point out a bouquet of fall-colored faux flowers on the desk behind them.

"These are her flowers," Bim said, referring to her grandmother, Nola. "We just couldn't bear to part with them."

"We thought where on Earth would we put the flowers, and we thought here at the Tudor house would be the best place for them. It's where she felt most at home."