It's a Rap at Samohi
By Jeneé Darden
Special to The Lookout
December 7 -- Under tight security, Grammy-award-winning rapper Kanye West performed for more than 3,000 exhilarated students, who screamed and danced to the Chicago artist's sharp beats and smooth flows at Santa Monica High School Monday afternoon.

The bright-blue skies and warm weather reflected the mood of the packed amphitheater where anxious fans were on their feet even before the rap star took to the stage.
Students wearing "Kickin' It With Kanye" were sprinkled throughout the crowd, but the excitement was everywhere.

"This is cool," said senior Angela Vargas. "They should do it every year."
"I'm a happy camper because he came through," said freshman Ori Ross.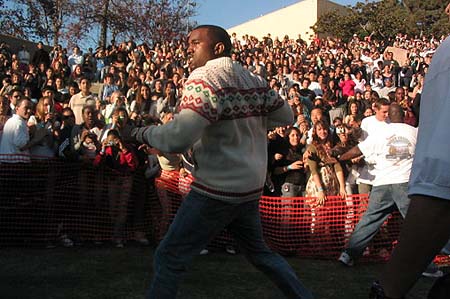 Kanye' West demonstrates his smooth flows at Samohi. (Photo by Frank Gruber)
West's appearance was Samohi's reward for overwhelmingly winning a radio station's online voting contest. More than 100 Los Angeles area schools competed in Power 106's "Big Boy's Backstage with Kanye West."
Samohi won after delivering 20 percent of the contest's 5 million votes.

"We don't think there's a better school that deserves something like this," popular morning deejay Big Boy said to the spirited crowd. "When we do this again, we don't mind coming back to Santa Monica High School."
Dressed in his unique, hip-hop/preppy style -- a cream ski sweater with Christmas-colored red and green diamonds, blue jeans and sneakers -- West rocked the stage with hits from both of his multi-platinum albums, "The College Dropout" and the new "Late Registration."

West, who is headlining his Touch the Sky Tour, said he enjoys playing for smaller venues such as Samohi's Greek Ampitheater and finds them "better" than large arenas.

"No amount of money can match up to that element of surprise" from an audience in a smaller venue, he said.
Students await West's arrival (Photo by Ann K. Williams)
Security was beefed-up with Santa Monica police officers and school district security guards visible both inside and outside the campus. During the concert, one guard conspicuously looked down on the scene from the roof of a nearby gym building.
Both students and teachers wore colored wristbands to make it harder for outside students to crash the concert. Some tried but failed, school officials said.

At a press conference before the concert, West announced that the Kanye West Foundation and entertainment retailer Musicland were sponsoring the Free U. College Giveaway, a nationwide contest that will award $150,000 in college aid next year.
West meets the press. (Photo by Ann K. Williams)
West, a college dropout and a critic of institutional education, clarified the mixed message that his background and this partnership may send to youth.

"You can be successful without (a college degree), but this is a hard world and you want every advantage you can have," he said.
"When I dropped out of school I had worked in the music industry and had a record deal on the table, but when I wasn't successful I had to go back to the real world and work a telemarketing job."

West made headlines in September when he said that President Bush "doesn't care about black people" during a live NBC broadcast, adding to criticism of the government's slow response to the Hurricane Katrina catastrophe in the Gulf Coast.
Known for his lyrics that address race, poverty and social issues, the rapper made a jab at the president Monday when he added an extra line to the beginning of his Grammy-winning rap song "Jesus Walks".

"We're at war because of you know who," he rapped.

During the show, students were able to get more personal with West in a question-and-answer session. One student asked the rapper what kind of grades he got in school.

"I didn't do a lot of homework, but I got all As and Bs," he answered with a smile.

Later, West jumped down from the stage and danced his way toward the crowd. Students rushed past the net barriers to touch the artist, but security guards kept the audience in control.
3,000 students filled the Greek (Photo by Frank Gruber)
Heightened security on campus came more than half a year after racial tensions erupted during a lunchtime melee at the 3,500-student school. But Principal Ilene Straus said she had other worries Monday afternoon. (see related story)

"People told me I should be nervous, but I was nervous about making sure this was a great opportunity and keeping our kids in and (non-students) out," said Straus.

After presenting West with a City proclamation before the show, Council member Richard Bloom said that fear of unruliness was "blown out of proportion."

"This is a campus full of peaceful students who worked hard to get this together," said Bloom, who is also a Kanye West fan.

Many teachers and students said the concert was good for the school.
(Photo by Ann K. Williams)
"He was awesome," said Coach Gregory Bernard. "It's a different change from gangster rap. He's more conscious."

"This brought us together," said senior Michelle Castillo. "We all like Kanye."

West said he had no message to spread and that he was there "being who I am."
But some students left the concert encouraged.
"The message I got was to use your talents in a positive way," said Omid Hadavand, a sophomore.

And Big Boy said the students made a positive impact by working together to win the contest.

"No one race did it, no one class did it, they all did it," he said.