A Grand Re-opening for Virginia Park

By Gene Williams
Staff Writer

December 6 -- Anything that's good takes time. At least that's what City officials were saying Sunday afternoon during Virginia Avenue Park's grand re-opening festival.

"It always amazes me in Santa Monica how long it takes to get things done," remarked former mayor Paul Rosenstein. "But it's usually well worth the wait."

And Rosenstein was in good company.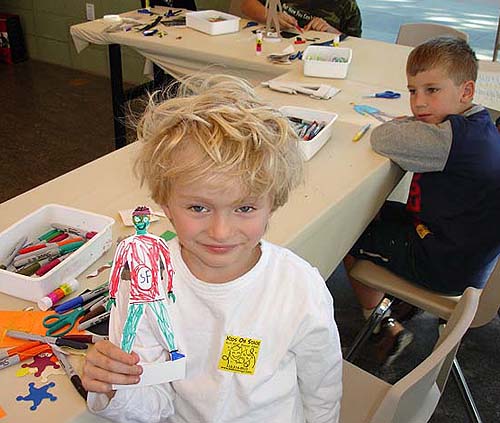 Children ,like six-year-old Freddie Learoyd, were given lots of crafts opportunities Sunday. (Photos by Gene Williams)
As he looked around at the hundreds who had come from both sides of Pico Boulevard to celebrate the improved and expanded nine-and-half-acre recreation area, others were saying pretty much the same thing.

The City has "struggled to increase open space," Council member Kevin McKeown said.

Virginia Avenue Park is proof that "patience has paid off and we're delivering on our promise," McKeown added.

And the neighbors seem to agree. They've been streaming in ever since the fences came down in mid November after nearly two years of construction.

Those who grew up hanging around the neighborhood park in the 1960s were amazed by what they saw.

Sure, the standard features are there -- basketball courts, picnic areas, swings for the kids and lots of trees and grass.

But this is the 21st century, and Virginia Avenue Park is keeping up with the times.

Features in and around the park's four buildings include:
A recording studio
A computer lab
And wi-fi internet access throughout the park
An interactive water-play area called "the Beach Blanket"
Two "space age" playgrounds
Two state-of-the-art fitness gyms – one with a boxing ring and weights, another for fitness and martial arts
A multi-purpose space used Saturdays by the Pico Farmers Market
A Santa Monica Police substation and Police Activities League
And an 80-by-24-foot mural of "Our Pico Neighborhood" by East Los Streetscapers
Planning for the park – bordered by Virginia Avenue, 21st Street and Cloverfield and Pico boulevards -- began 15 years ago.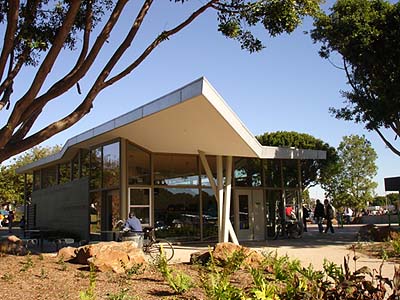 "The Patio," one of Virginia Park's new buildings designed by Koning Eizenburg Architecture of Santa Monica
But a variety of factors, not all bad, kept pushing the completion date farther into the future, City officials said.

Finally, after three land acquisitions, many hours of community meetings and public hearings and numerous trips back to the drawing board for design changes, the $13-million construction project has finally been completed.

Listening to find out what the neighbors wanted is one of the reasons the process was so slow and the end result so good, officials said.
Parks Commissioner Neil Carrey called it "a community designed park."

"It took a lot of input from a lot of people working together," said Carrey. "The result was way beyond my expectations."

Mayor Pro Tem Herb Katz agreed.

"This is probably one of the few parks that's had this much public input, and I'm really proud to see it," said Katz.

Then Katz helped illuminate another reason why it took so long to build the park.

Standing on the grassy field Sunday where a Smart and Final once stood, Katz explained that developers wanted to turn the site into a strip mall. But residents didn't want that, he said.

"I made the motion to purchase this land for a park," Katz said. That was in the early 1990s.

Plans were drawn up, but before construction got underway, the City purchased two more pieces of adjoining property – including the old Plastic Mart building on the 2100 block of Pico Boulevard, at the opposite end of the park.

Each time it meant going back to the drawing board for design changes.
But City officials said the delay was worth it.

The old Plastic Mart building was reused and another building was constructed nearby. This enabled the old Smart and Final site to be converted into the large grass-covered open space it is now.

Standing on a stage set up for the opening ceremonies, State Senator Sheila Kuehl congratulated everyone who had a hand in making the park a reality.

"Good for the architect, good for the builders, good for the City, and good for you," Kuehl told the crowd.

Virginia Avenue Park is offering a wide range of sports, crafts, recreation, educational enrichment and study opportunities for all ages.

For more information on the park and its programs go to www.vapark.smgov.net