Part II: On the Frontlines
By Gene Williams
Staff Writer

Last of two parts
August 2 -- It is still dark when Santa Monica Police Officers Monique Carrillo and Robert Martinez get in their patrol car shortly after 4 a.m. and roll out of the Civic Center to go to work.
Martinez and Carrillo are two of the four police assigned to the department's Homeless Liaison Program (HLP). Started in 1991, HLP (pronounced "Help") has two goals: to enforce the law and steer the chronically homeless into programs and off the street.
Over the years, they have gotten to know some of the city's more colorful characters -- men and women with names like "Lipstick Mary" and "Fat Frank."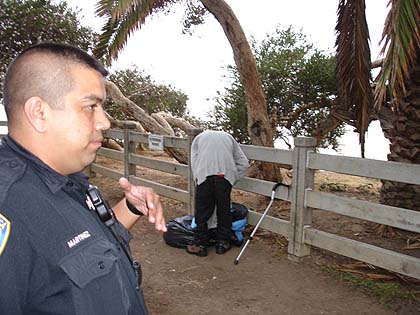 Officer Robert Martinez in Palisades Park (Photos by Gene Williams)
These are the down-and-outers who have lived on the streets in Santa Monica for 10 to 20 years or more, the regulars who greet the officers with friendly, weathered faces and cracked smiles.
And then, there are others who are less cooperative. In the last year Carrillo has suffered a broken finger and a concussion at the hands of transients who resisted arrest.
"In the homeless population there's a big criminal element," Carillo explains. "Parole violators, prostitution, narcotics, sex-offense registration violators....." to name only some.
Driving into Downtown an hour before dawn, Carrillo and Martinez pass through a parking lot where as many as a dozen homeless are huddled under sleeping bags and blankets, with their belongings piled around them. But the officers don't stop.
"Legally, I cannot do anything. No letter," Martinez explains. Without a letter or a complaint, he must assume that the property owner doesn't mind, he says. So he drives on.
Public property, however, is a different story and it doesn't take long to find a violator at Reed Park, where a 68-year-old woman is illegally camped out.
"Where do you usually sleep? Where's your stuff?" Carrillo asks.
The woman looks downcast but unafraid; then she laughs. "I don't have any stuff anymore," she answers.
A homeless man in the tennis courts nearby sees what is going on, and quietly picks up his bedroll and slips away.
"Are you a drinker?" Martinez asks the woman. No answer.
Carrillo tries the question another way. "Are you an alcoholic?" she asks.
"I have a drink now and then," the woman replies, "but I'm not an alcoholic."
The woman's story changes several times as the questions continue.
First she says that she's been on the street only a few months; then she says for a year, then several years. She says she wants to stay near her family who live in the area and then she says her family isn't talking to her.
Carrillo and Martinez say her answers aren't unusual.
"There's a whole lot of excuses," Martinez says. "They change (their answers) because they see where the questions are going. A lot of them are mentally ill, but they're not stupid."

The woman had been ordered by a judge not to camp in the park, but now she is back.
As Carrillo writes her a ticket, Martinez tells her about a nearby program for homeless seniors. "They have great services, great people there," he tells her. "Now if they offer you services, will you turn it down?"
"No, I wouldn't turn it down," she answers. Then she thinks for a moment and adds, "I don't want to go in LA. I want to stay in Santa Monica."
The officers understand why she wants to stay.
Free meals in the parks, abundant charities and friendships within the homeless community itself have made Santa Monica popular among the transients, the officers say, adding that life on the streets is tougher in Los Angeles.
"They want to stay close. They don't want to go to the shelters in LA, because they have it much nicer here," Martinez says. "You won't starve in Santa Monica."
And that's part of the reason why many of them would rather face repeated citations than accept services that often ship them out of the city.
"They don't want to take advantage of the services that are offered," Martinez says. "They want to be picky and choose where they go."
Of all the homeless he contacts, Martinez says he refers about 90 percent of them to rehab or other services. But few get off the street.
"The newer ones, they'll accept the services," he explains. But "we deal mainly with the chronics, and the chronics don't want the services, that's for sure."
Carrillo joins in. "There is a kind of culture to being homeless. They take care of each other," she says, adding that many of the chronics "like the stimulation and interaction" of the street.
Carrillo and Martinez point out numerous illegal encampments on the freeway embankments and on the bluffs below Palisades Park. Many of these people have been cited or arrested multiple times but, after a few hours in jail, they return.
Camouflaged by the vegetation on the bluffs are sheets of plywood and tarps, which, Carrillo says, is a "three room apartment" with a kitchen, bedroom and library.
"He's got it set up pretty fancy down there," Carrillo remarks.
"We've taken it down, I can't tell you how many times," Martinez says, adding that each time it takes about half a day.
After enough citations "we've been able to take him to county jail," Martinez says. "He did eight days and then he was back. He hasn't really done any time for it so, for him, it's worth it."
Driving down Ocean Avenue the HLP team spots a slender woman who looks about 40 wearing a Lynard Skynard tee-shirt and olive drab military pants and jacket.
Pulling along side her, Martinez rolls down the window and calls out, "Hey lady, I thought you went to Tarzana."
The lady walks up to the car, leans her head inside, and answers, "I did."
She smiles. Her face is soft and gentle and betrays the look of someone who led a different life before hitting the skids. But Martinez and Carillo have seen another side of her. She can turn belligerent when she drinks.
"What are you doing back here?" Martinez asks.
"I'm done," she replies.
"Done with detox in six days?" Martinez asks incredulously. "Okay," he says with a hint of frustration and drives on.
"She's lying," Martinez says. "This woman says she's going into detox and then she doesn't show up."
Substance abuse, Carrillo and Martinez say, is a big part of the problem. Booze and marijuana are the perennial favorites. A few years ago they saw a lot of rock cocaine, but now methamphetamine seems to be gaining in popularity.
"They inject it, they smoke it, they snort it, they don't care," says Carrillo about the meth users. "It makes them feel like they're superman......and they're not afraid of the police or anybody."
Martinez gets on the phone to a local charity and talks to a case worker who didn't know that the woman had skipped on the program.
"It's only because of the relationships we have with these organizations that we are as successful as we are," Martinez says later.
Back at Reed Park, as they do every morning shortly before 6 a.m. when the curfew is about to lift, dozens of homeless begin crossing the street to enter the grassy recreation area.
Martinez and Carrillo spot a familiar face in the crowd, a woman named Donna, who has been arrested as many as 70 times.
Officers Robert Martinez and Monique Carillo with Donna

But Donna is no longer homeless. With the help of Carrillo and Martinez she got off the street and into an apartment.

Donna is part of a pilot program "so new, we don't even have a name for it," Martinez says.

Under the program -- which is based on a "Housing First" model – Donna pays a third of her monthly disability check for rent. The City picks up the rest.

Before getting her apartment, Donna had lived on the streets for 20 years. But then she saw a lot of her friends get sick and some died.

She was a heavy drinker back then and finally hit rock bottom. "I got real sick out there," she says. She's been sober two years now but still visits the park most mornings to see her friends.

Although Donna is happy with her new life, it's taking her some getting used to. "It's hard living inside," she says.
.
Donna still doesn't understand why her first phone bill was $117 when she was promised a low monthly rate. "I hate phones," she says.

She thought she had ruined her carpet the first time she used her vacuum cleaner and saw the tracks the machine left. She has trouble with her TV and broke her garbage disposal the first time she used it.

It's easier living on the street because "you don't have all this stuff," Donna says.

"You guys are the biggest problem out there," she adds, teasing Carrillo and Martinez.