Part I: City Begins Major Shift in Homeless Policies
After a decade of using a carrot-and-stick approach to tackle Santa Monica's persistent homeless problem, the City is shifting its focus from service-oriented policies to providing housing and working with other cities to lift the burden from a seaside town dubbed "the home of the homeless."
By Olin Ericksen and Jorge Casuso
First of two parts

August 1 -- Seven days a week, near the crack of dawn, Dave Albert takes up a familiar spot on the Third Street Promenade. A backpack by his side, the former house painter pulls out a small weathered cardboard sign and begins his day, panhandling tourists and locals on the popular shopping strip.
Homeless for 35 years, Albert has asked for money in several cities, but this particular corner in this particular seaside town is where he feels most at home.
"I come down here around seven in the morning, except of course when I'm being chased off," Albert says, his Texas twang detectable as he flashes a fractured smile at a passerby who drops some change in his cup. "I've been panhandling down here for the last six years.
"I like Santa Monica," Albert says. "The weather's good. I've eaten at every restaurant, and I know the people around here. The employees help me out and take care of me."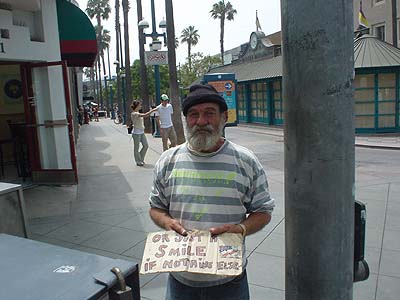 Dave Albert panhandles for a living on the Third Street Promenade. (Photo by Olin Ericksen)
Like Albert, untold numbers of homeless individuals sleep, eat, hang out and ask for money around the outdoor mall, creating a continuing conundrum for City leaders and business owners Downtown.
For more than a decade, City Council members have tried to regulate the problem locally by passing laws that discourage people like Albert from panhandling, sleeping in doorways and attending outdoor feeding programs that City officials say attract more people Downtown.
Now, the City may be ready to shift gears.
City officials are emphasizing a regional approach to homelessness, a move that gathered steam last month when the L.A. County Board of Supervisors earmarked nearly $28 million in funding for shelter, housing and services.
In addition, City officials said they would reexamine the "Continuum of Care" model that has long been the blueprint for handling homelessness in Santa Monica. The model directs and tracks homeless individuals as they receive a variety of services to help them get off the streets.
"My take on the 'Continuum of Care' is that it failed the most chronic of homeless people," said Julie Rusk, manager for the City's Human Services Division. By this fall, Rusk said, City officials hope to hire consultants to "reevaluate" the model.
An unprecedented count last February of the County's homeless population found that nearly 91,000 people sleep on the streets, with nearly 35,000 of them considered chronically homeless. That number is much higher than the 7,500 to 10,000 thought to be chronically homeless in previous years, according to County officials.
To reach the "chronically homeless" – those who have struggled for years on the streets, often battling addiction and mental illness – the City is beginning to explore a dramatically different service model, known as "Housing First," Rusk said.
"The 'Housing First' model is adding another tool to the toolbox," Rusk said. "The 'Continuum of Care' is working for some people, and 'Housing First' will be to aid those who are the most chronically homeless.
"With this approach, you offer a person a place to live, and then connect them to services," Rusk said. "The way the 'Continuum of Care' works is first you must get sober and then you get a place to live. So it's really flipping the model."
Currently, twenty-five people are enrolled in a pilot program to test the "Housing First" model, Rusk said.
Some City Council members have expressed their support for the new model, which other cities, such as San Diego and Miami Beach, already have instituted.
"We need a 'Housing First' approach," said Council member Bobby Shriver, who was elected last November, campaigning heavily on the issue of homelessness. "As far as the 'Continuum of Care,' some people say that model has failed."
Since taking a seat on the council, Shriver has successfully pushed for a $200,000-a-year homeless liaison post to work with surrounding cities and the County and push for increased cooperation from Santa Monica's neighbors.
Now, Shriver is working to add housing at a Veterans Administration Facility located in nearby Westwood.
"We have to offer affordable housing, and once they (former homeless) are stabilized, then we go to them with the services," said Shriver. "I think housing is the key. This is what will help people."
In addition to changes in the service model, Shriver and others on the council say they hope to reduce the number of homeless Downtown through regional cooperation, increasing housing, shelters and services across the Westside.
"Santa Monica is not going to solve the problem alone," said Council member Richard Bloom, who has worked extensively to win the support of surrounding cities. "We need to address the problem on a regional basis. You're not going to see progress until you see programs across the county that are coordinated."
Despite momentum for a regional plan and an emphasis on a housing model, a key question remains: Will the new approach actually diminish the number of homeless individuals, such as Albert, who live in and around the Downtown?
"I make between $10 to $20 a day. Sometimes it's over $100, but that's rare," Albert said. "I come down here because of the crowd. There's a better shot with 20,000 people passing in a day than just 20."
A couple of blocks down the Promenade, the story is the same for 60-year-old Marie Stoure, who has recently saved enough to graduate from sleeping on the streets to sleeping in a van.
"I'd use services outside Santa Monica," said Stoure, who has been homeless here for close to seven years, "but I'll keep coming back here to the Promenade. It's where I earn a living."
Though some City officials believe that the Promenade's panhandling potential only draws a small number of individuals – the most capable of the homeless – outdoor feeding programs that continue to defy local laws and sidestep County health codes continue to lure the homeless Downtown.
"This is one of the issues we've known about for a long time, that food distribution should be linked to services and housing," said Rusk. "For the City, the fact that these groups continue to sponsor these programs runs counter to the policy that the City has been trying to promote."
Despite a three-year-old ordinance to curb feeding programs, groups are handing out free meals almost every day in parks in or near Downtown, City officials said. Free meals are handed out in Reed Park, Palisades Park and on the City Hall lawn.
"The feeding ordinance hasn't helped," said Council member Bob Holbrook. "Staff has convinced some (groups) to move indoors, (but) we have half a dozen who defy," said Holbrook.
Since the City Council passed the ordinance in August 2002, the law has been challenged in court by the groups that hand out the free meals, and the County has had trouble enforcing the new codes, said the City's top official on homelessness.
Code enforcement "has not been a priority for the County," Rusk said. "They're definitely understaffed."
In addition, the groups have sidestepped the law by dividing the homeless crowds they serve and by calling their free meal programs "picnics," Rusk said.
Officers from the Police Department's Homeless Liaison Program (HLP) cite a woman for camping overnight at Reed Park. (Photo by Gene Williams)
A companion ordinance that bans sleeping in Downtown doorways has been more strictly enforced. Since January 1, there have been 74 citations and four arrests for breaking the new code, according to police.
Still, council members say Downtown businesses need to become more involved if the ordinance – which requires that property owners post signs giving police the go-ahead to issue citations – is to have an impact.
"I don't think anybody goes out of their way to make it easy to live on the streets of Santa Monica," Bloom said. "If there's going to be an impact, the business community is going to have to pull behind the ordinance."
Providing alternatives to panhandling should be looked at, Bloom said, but he cautioned that it should be "done sensitively" and warned that it would only have a limited impact.
"The population is transitory," Bloom said. "Even if you were to move all of Santa Monica's homeless off the street, 99 percent of the homeless people in the county would be there, and other people would come to Santa Monica."
A "concierge" or "host" program proposed for the Promenade could make a dent in the homeless problem Downtown, Holbrook said. The hosts, for example, could encourage alternatives to handing money out to panhandlers.
"People are really looking for money, but they're holding up a sign asking for food," Holbrook said. "If you really, really think you want to help that individual, then make the offer of food.
"You have to train the public not to support the homeless," Holbrook said.
Bloom said he supports making it harder for the homeless to eat out of trash receptacles, noting that the canisters on the Promenade now have lids.
"We have to be conscientious to not do things that sustain unhealthy lifestyles." Bloom said. "Preventing homeless from rummaging through trash cans addresses a very legitimate health concern."
No matter how many laws are passed and enforced and how much the County and surrounding cities help out, many officials believe homelessness in the Downtown will remain an ever-present problem.
"I think it (the laws) will help the problem, but it won't solve it alone," Holbrook said. "You'll never solve the problem of people living on the streets."
County officials hope the $25 million the board of supervisors earmarked to build and upgrade shelters and administer homeless services will begin making a dent on the problem.
"This is the first time the County of L.A. has appropriated this amount of money for shelter," said County Supervisor Zev Yaroslavsky, who co-sponsored the funding measure. "We are not going to do it for one year, this is an ongoing commitment.
The $22.6 million allocated for shelters will help increase the county's 5,240 emergency shelter beds, but will still fall short of the temporary housing needed," Yaroslavsky said.
"It's no doubt it's only scratching the surface," said Yaroslavsky. "The homeless problem in the county and LA is just huge. We are not going to turn the homeless problem around overnight."
Part II: An inside look at how police are enforcing the City's homeless laws and steering the chronically homeless into programs and off the street.