Top Stories of 2004
By Lookout Staff
December 31 -- 2004 will be remembered as a year of transitions, with key events marking both a beginning and an end. Major construction projects were initiated and completed, the first new council member in five years was seated and the first incumbent in a decade defeated and the college bade farewell to its top administrator and welcomed two new trustees.
Battles over school funding and a controversial gift policy resulted in key votes that will resonate for years to come. Major lawsuits were filed and thrown out. And several prominent Santa Monicans, who added colorful chapters to the city's lore, died in 2004.
Here, in no particular order, is The Lookout's list of the top ten stories of the year.
1. Shriver, Three Incumbents Win
With a member of the Kennedy family in the running and special interest groups pumping record amounts of money behind local candidates, the race for four open City Council seats was likely the most expensive and closely watched election in Santa Monica history. ("Shriver, Three Incumbents Sweep to Victory," November 3, 2004)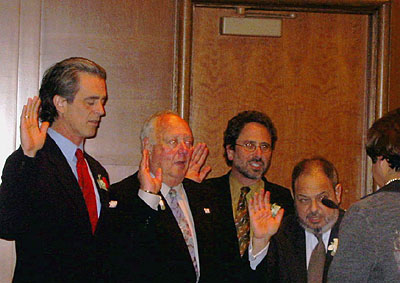 Fron left: Bobby Shriver, Herb Katz, Richard Bloom and Ken Genser are sworn in as members of the City Council by City Clerk Maria Stewart. Photo by Cindy Frazier
In the end, Bobby Shriver, a nephew of John F. Kennedy and brother-in-law of Gov. Arnold Schwarzenegger, easily won with the most votes and by the largest margin in two decades. Council members Richard Bloom, Ken Genser and Herb Katz were all returned to office, while Michael Feinstein was soundly defeated in his bid for reelection.
Feinstein, who failed to win the SMRR endorsement and was the target of numerous hit pieces, was the first incumbent in a decade defeated at the polls. As his replacement, Shriver -- who is emerging as an old-fashioned liberal who might often side with the council's anti-SMRR minority -- could prove a swing vote on key issues.
2. College in Transition
2004 will likely prove to be a landmark year for Santa Monica College, which saw an era come to end with the retirement of Dr. Piedad F. Robertson after a decade as president. A strong, sometimes controversial leader, Robertson is widely credited with ushering Santa Monica College into the new high-tech millennium and leading an unprecedented expansion of its facilities that often put her at loggerheads with City officials. ("Dr. Robertson Retires as SMC President," November 17, 2004)
Before announcing her retirement in December, Robertson oversaw a $135 million bond on the November ballot that will provide funds to buy land for playing fields and renovate college facilities. Voters also elected incumbent Margaret Quinones and two new members -- Rob Rader and Susan Aminoff -- to the College Board. The newcomers were backed by the faculty, which has been engaged in a power struggle with the college administration, and could be instrumental in ushering in a new era. ("Incumbents Win in College, School Board Races; Bond Approved," November 3)
One of SMC's campuses also got a fresh start in 2004. After 30 years and 14 different moves, Emeritus College, a free higher learning institute for senior citizens, held the grand opening in March of its new $8.8 million headquarters in downtown Santa Monica. ("Emeritus College Opens $8.8 Million Center," March 20)
3. District Gift Policy
Opponents warned it would discourage giving, violate PTA bylaws and prove likely illegal. Supporters called it a "bold and courageous" step towards bridging a fundraising gap that saw wealthy district schools add staff, boost programs and buy equipment, while poorer schools remained in need of paper and "balls that bounced." ("A Tale of Two Schools," January 27)
After months of debate, the School Board approved the controversial policy that would put 15 percent of all donations to individual schools into an Equity Fund to be distributed to all district schools. ("School Board Approves Gift Policy, Malibu Separation Process," September 14)
Even before the policy got the go-ahead in September, a group of Malibu parents launched a campaign for the wealthy city to secede and transform its four schools -- three elementary and one middle/high school -- into an independent district. ("Stalled Malibu Secession Effort to Resume," September 30, 2004)

4. CEPS Forces Council's Hand
In an impressive showing of political clout, an influential group of parents pressured the City Council into agreeing to give the cash-strapped School District between $6 million and $8 million a year over the next five years. ("School Funding Agreement Scales Final Hurdle," May 12, 2004)
The last-ditch compromise agreement came as the Community for Excellent Public Schools (CEPS) was poised to submit the signatures needed to place an initiative on the ballot. The petition drive and subsequent negotiations between City and District officials triggered a heated debate about the City's responsibility to public education.
Reluctantly casting the deciding vote, Council member Pam O'Connor likened CEPS to "schoolyard bullies" who used "extortion (as) a way to make policy." Feinstein, who abstained from the council vote, was labeled a foe of public schools by CEPS during his unsuccessful bid for reelection.
5. Annenberg Funds Beach Club
With plans to turn what is left of actress Marion Davies' oceanfront estate into a public beach club floundering, the Annenberg Foundation came to he rescue, agreeing to spend $21 million to refurbish the dilapidated "Gold Coast" property at 415 Pacific Coast Highway. ("Annenberg Foundation Gives City $21 Million to Refurbish Beach Club," December 16)
Plans for 415 PCH by the firm of Moule & Polyzoides
The grant, one of the largest in Santa Monica history, will jumpstart a project begun in the mid-1990s that was stalled by funding woes. Construction is expected to begin in 2006 and take two years to complete.
The City's plan, approved by the council in 1999, retains a guest house and swimming pool designed by noted architect Julia Morgan and calls for a banquet center, a promenade and public recreational components.
6. Local Economy Rebounds
Thanks to a falling dollar, an influx of foreign visitors and an ongoing spending spree by U.S. consumers, Santa Monica's economy rebounded from the hit it took in the wake of 9/11. ("Local Economy Shows Signs of Recovery," August 20, 2004)
Auto sales, which continued strong, helped drive the recovery, as did spending in the City's Downtown, which saw sales jump in the first two quarters by more the 20 percent, compared to the same period in 2003.
With an exchange rate favoring foreign currencies, hotels posted hikes in rates and occupancy as oversees visitors embarked on high-end shopping trips. The question remains: Will the trend continue in 2005?
7. So Sue Me
A number of high profile lawsuits made local -- and in one case, national -- headlines in 2004.
In January, charges were filed against George Russell Weller, the elderly driver who left ten dead and more than 60 injured when his car plowed through a crowded Farmers Market in July 2003. ("Elderly Driver Charged with Manslaughter," January 5, 2004)
Six months later, one of the nation's leading plaintiff firms sued the City on behalf of some of the victims and their families, charging it had failed to install bollards or barricades to block traffic and to properly monitor the roadways or regulate motor vehicle traffic on market days. (Prominent Firm Files Lawsuits in Farmers Market Tragedy," July 14, 2004)
In March, the California Supreme Court put an end to a three-year legal saga when it declined to review a lawsuit against the City over a backyard playhouse. The suit, which could have had a far-reaching impact on the way local government was conducted, questioned a council member's alleged influence over staff, testing the First Amendment protections for City leaders. ("Playhouse Suit Comes to an End," March 30, 2004)
In 2004, the City also received a mind-boggling $66 million legal bill for services rendered by outside firms in its suit against oil giants charged with polluting Santa Monica's drinking water. The City is currently challenging the fees. ("City Sues over $66 Million Legal Bill," May 7, 2004)
8. Smoke-free Beaches
In March, with news cameras trained on the dais, the City Council narrowly approved an historic ordinance to ban smoking on the beach and partially restrict smoking on the pier. Soon, other beach communities followed suit, making smoking an offense up and down the California coast. ("Council Bans Smoking on Beach," March 24, 2004)
The ordinance -- which comes almost a year after the council voted to outlaw smoking in public parks -- also prohibits smoking at bus stops and other public waiting areas, within 20 feet of all exits and entrances of public buildings and creates a system to enforce the new laws.
9. Building for the Future
After years in the works, major developments that will change the face of Santa Monica for decades to come opened their doors in 2004.
After years of planning, RAND ushered in a new era when it opened its new headquarters in November, replacing the building the think tank had occupied for half a century. The 300,000-square-foot, elliptical, five-story office building occupies a prominent spot across the street from the Santa Monica Courthouse.
Ten year's after the Northridge earthquake damaged Saint John's Health Center, the first phase of the hospital's $360 million reconstruction -- a new four-story North Pavilion -- received the Cardinal's blessing in September. ("Saint Johnís Reconstruction Gets Blessing," September 29, 2004)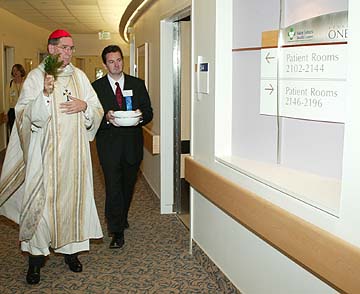 Cardinal Mahony and usher Joe Meehan -- Cardinal blessing first floor
The completion of the 200,000-square-foot North Pavilion is the culmination of the first phase of an extensive rebuilding project that will continue with the construction of a 275,000-square-foot, four-story diagnostic and treatment facility built on the site of the original hospital. The anticipated completion date is January 2009.
Construction of the Santa Monica's new Main Library in the Downtown started in 2004, while a major production studio expansion in the city's industrial corridor got the council go-ahead.
10. R.I.P.
The world's gaze fell on Santa Monica last June, when the remains of Ronald Reagan, the nation's 40th president, rested at a local funeral home quickly bestrewn with flags, notes, flowers and mementos left by well-wishers. ("Sun Sets on Reaganís Rest in Santa Monica," June 8, 2004)
Reagan's death wasn't the only one mourned in Santa Monica. 2004 also marked the death of some of Santa Monica's top civic leaders and most colorful characters. They included:
Former School Superintendent Neil Schmidt, died suddenly in December after an allergic reaction to a bee sting suffered while working in the avocado orchard flanking his Fillmore home. A strapping figure who stood well over six feet, Schmidt was remembered as a visionary with a soft spot for children. ("Former Supt. Schmidt Dies," December 17, 2004)
Former City Manager Perry Scott, the firebrand city manager and councilman whose storied battles with labor unions headlined his nearly 15 years in city government, died in August at a Redding Hospital. He was 80. ("Colleagues Recall Fiery City Managerís Legacy," August 31, 2004)
| | |
| --- | --- |
| | Esther Smicklas, one of the city's leading civic personalities and the mother of Council member Pam O'Connor, died in December. A constant, joyful presence at gatherings and functions during her dozen years as a Santa Monican, Smicklas was known for the no-nonesense Chicago style she used to dispense advice to City leaders. She was 93. (Goodbye, Esther," December 3, 2004) |