Shriver Takes Seat on Council
By Cindy Frazier
Special Correspondent
December 7 -- In a meeting punctuated by emotion and intense media coverage, Kennedy family member Bobby Shriver was seated -- along with three incumbents -- on the City Council.
No new mayor was selected, due to the absence of Council member Pam O'Connor, whose mother died Friday.
Instead of electing a mayor and mayor pro tem, the newly installed council agreed that outgoing Mayor Richard Bloom and Mayor Pro Tem Kevin McKeown, would continue to serve in the largely ceremonial posts until the full council could be convened.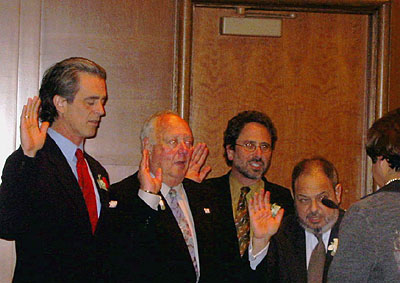 Fron left: Bobby Shriver, Herb Katz, Richard Bloom and Ken Genser are sworn in as members of the City Council by City Clerk Maria Stewart. Photo by Cindy Frazier
Shriver joined Herb Katz, Richard Bloom and Ken Genser at the swearing-in ceremony, conducted by City Clerk Maria Stewart.
Stewart also officiated at the inductions of new members of the Santa Monica College Board of Trustees, Santa Monica-Malibu School Board and Rent Control Board.
Genser made municipal history by being the first councilmember to serve five consecutive terms.
But it was Shriver's presence that drew unprecedented media attention -- and a phalanx of television news cameras -- to the usually staid council installation ceremony. One television newscaster attempted a brief interview with Shriver prior to the installation ceremony.
Shriver, whose sister is Maria Shriver, the "First Lady" of California, replaces outgoing Councilmember Mike Feinstein. Shriver came in first in the balloting, while Feinstein placed ninth in the race for four council seats.
Shriver, who garnered support of the city's business and resident communities, said he plans to focus primarily on the issue of homelessness.
Shriver thanked his supporters, many of whom turned out at the ceremony. In some 80 coffee meetings held by supporters, Shriver said, homelessness was the primary issue that "people want to do something about."
"I hope to get something done quickly," Shriver added. Shriver was drawn into local politics by a tussle with city officials over the height of a hedge in his yard.
Council members seemed to revel in Shriver's presence, and each welcomed him to the council dais.
"I look forward to your energy and intellect," said McKeown. "It will be a good four years."
Council member Bob Holbrook presented Shriver with historic political buttons he had found that bore the names of McGovern and Shriver -- dating from an early vice-presidential bid by Shriver's father, Sergeant Shriver.
Bloom, who is expected to be replaced as mayor, said the past two years in the post were "meaningful," particularly after the Farmer's Market accident in which 10 people were killed and more than 50 injured when an elderly driver plowed into a crowded street market.
"In July 2003, the city was unified in sadness, and I was needed as a shoulder to lean on, which was a very emotional time for me," Bloom said.
As for the future, he said, "I am looking forward to sustaining our economic growth and leadership in environmental issues and homelessness. Santa Monica is a beacon to the world of everything good."
Genser, the first councilmember to be elected to five consecutive terms, said he is "humbled to be back here," and hoped that the council would "work together to find solutions" to the city's problems.
The meeting was adjourned in memory of Esther Smicklas, O'Connor's mother, who accompanied her in a wheelchair to many meetings and civic events.
Smicklas was remembered fondly by various councilmembers, including McKeown, who said she "told me to stand up straight."
Katz brought tears to many when he said that Smicklas allowed him to call her "Mom," because his own mother had passed away. "It was always nice to have Mom around," Katz said.
Holbrook praised O'Connor as a model daughter, who included her aged mother in her daily activities. "Pam was devoted to her mother, and she set an example to all," Holbrook said.
Shriver's mother, Eunice -- the sister of President John F. Kennedy -- who had appeared at many of his speaking engagements during the campaign and was an enthusiastic supporter of her son's candidacy, was absent from the installation ceremony.