I, Californian
By Frank Gruber
January 10, 2011 --I made my permanent move to California 32 years ago, and since then I have become a true Californian. (I do have an abiding obsession for the Philadelphia Phillies, but like religion that doesn't count; neither ancestral sports loyalty nor religion have any impact on being a Californian.) I love California, both the place and the concept. (But I still believe that for political reasons, as I have written before, there should be four California states.)
But I had one nagging doubt about whether I was a real Californian: until last week I had never been to Yosemite. How embarrassing.
It's not like I haven't been around the state. I have driven nearly the entire distance of Route 49, the highway through the Mother Lode, and through the vast northern half of the state; I've had a bowl of clam chowder in Crescent City, the northernmost California town on the coast.
Partly as a side benefit of having a son who went through the John Adams Middle School science program, I have camped in places like Anza Borrego and up on the Central Coast. I camped out in Joshua Tree to watch Halley's Comet, and I've been to the George Patton Memorial Museum out in the desert, too.
As a good Californian, I live near the beach, but when I got here I took up skiing, and I have been many times up in the Sierra to ski at Mammoth or Lake Tahoe. Once, as chronicled in a column, I spent a week with friends backpacking in the Evolution Valley.
I've been to the Bay Area and San Diego innumerable times. And for the kicker, for about six years I've been on the steering committee of the California Studies Association. Certified Californian!
But then so what: I'd never been to Yosemite. Talk about not seeing the elephant. Salvation came when my wife and I were looking around for something to do for a few days in the first week of January. A light went off: Yosemite. In the winter. Why not?
Yosemite is one place where pictures are worth thousands of words, and this column is an excuse to show some pictures I took. We drove to Yosemite on Tuesday; we were lucky, because if we had made our reservation a day earlier, we might have been stuck on I-5 after the big storm last weekend. As it was, Route 41 inside the park was still snow-covered, but by taking that scenic road, which passes through the Wawona Tunnel, our first view of Yosemite Valley was the famous "Tunnel View." Here it is.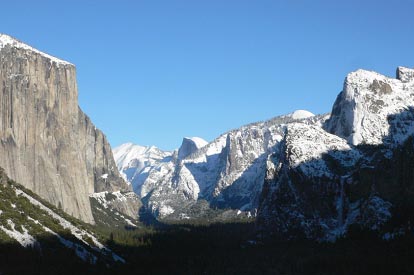 (L-R) El Capitan, Half Dome, and (in the shadows) Bridalveil Falls]
Last week the park was enchanted; the storm had covered everything with snow, but the temperatures reached the 40s and you felt like it was spring, during an early thaw. We took hikes the three days we were there; one to Mirror Lake, where one astounding view of Half Dome appeared after another, a hike to Yosemite Falls, and a third up the Merced River to as near to Vernal Falls as we could get, given the snow.
Half Dome overlooking Mirror Lake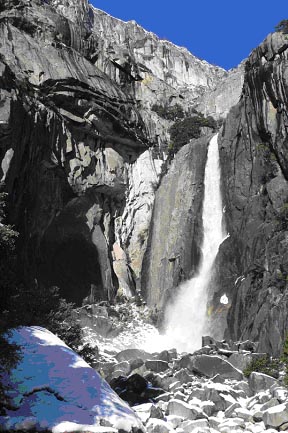 Lower Yosemite Falls – that's a rainbow down below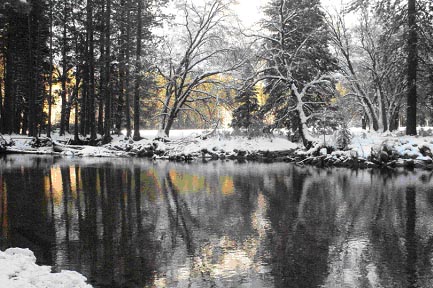 Merced River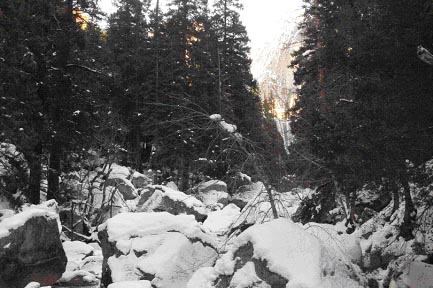 Vernal Falls (way back there)
As I said, it was like spring, and steam from melting snow rose over the meadows.
You can't go to a place like Yosemite and not leave with a few insights, even if they are probably ones that others have had before. One that stuck with me was that there hasn't been any "natural" state in the Yosemite Valley for 4,000 or so years.
At the Tunnel View, there was a Park Service explanatory plaque describing what the first Europeans saw in the Valley when they arrived in 1851, which was that the valley floor seemed something like a well tended English garden. The Miwok Indians used fire to control the natural growth of evergreen trees, to benefit the oak trees that produced acorns that were crucial to the Miwoks' diet.
That image stuck in my mind the whole time I was in the Valley. On our last afternoon in the park, we took a nature walk with a ranger who led us across the snow-covered meadows below Yosemite Falls. There I found another park service plaque that described how, after years of trying to return the Valley back to a natural state (the Valley had been heavily commercialized by early settlers), the Park Service had determined that it would be best to emulate what the Indians had done and again use fire to encourage the growth of oaks.
Nature is a mirror, and humans can't see it without seeing themselves in the reflection. From the Miwoks on down, people have used Yosemite for many purposes, including their own identities. Yosemite is on the back of the new California quarter, and now I feel like it is part of me, too.
Bridalveil Falls
* * *
I don't have much to add to everything that has been said and will be said about the attack on Rep. Gabrielle Giffords in Tucson and the killing of six bystanders, including a federal judge. But I did manage to learn from the overwhelmingly horrible story one thing that cheered me up, and I'll share that.
As is well known by now, Rep. Giffords is Jewish, but I haven't seen it reported, except by a Jewish news service (the Jewish Telegraphic Agency), how much the congresswoman reveled in the fact of her Jewishness in her election campaigns.
As reported by the J.T.A.:
"The first Jewish woman elected to Congress from [Arizona], [Giffords] made her Jewish identity part of her campaign.
"'If you want something done, your best bet is to ask a Jewish woman to do it,' Giffords, a former state senator, said at the time [of her first campaign for Congress]. 'Jewish women — by our tradition and by the way we were raised — have an ability to cut through all the reasons why something should, shouldn't or can't be done and pull people together to be successful.'"
A little nugget to love your country about: a Jew can run for election in southern Arizona, be proud about it, and win. Off the boat, a century ago, who would have thought?
Also reported on this weekend by the J.T.A. was the death of Debbie Friedman, who was an important composer of new music for synagogues. She was perhaps best known for her version of the "Mi Shebeirach" prayer, a prayer that Jewish congregations sing in support of community members who are ill. I suspect the members of Rep. Giffords' synagogue in Tucson have sung it for her and for the others who were wounded in the attack. For a link to a video of the late Ms. Friedman singing the prayer, click here.
And God bless the United States of America.
---
Frank J. Gruber is the author of Urban Worrier: Making Politics Personal, available at Hennessey + Ingalls and Angel City books in Santa Monica, at City Image Press, and on amazon.com.
---
If readers want to write Frank Gruber, email frank@frankjgruber.net The views expressed in this column are those of Frank Gruber and do not necessarily reflect the opinions of
The Lookout.