The Next Phase
By Frank Gruber
I'm writing this Sunday evening on a flight back to L.A. from Chicago, where I was with my wife participating in the ritual of depositing our son at college (the University of Chicago, in this case).
Colleges have this separation thing worked out. After a convocation during which the president of the university and the dean of the undergraduate college welcomed the students and expressed appropriate sentiments to us parents (mostly of a congratulatory nature), we all marched behind a band of bagpipers to the center of the campus.
There, signs pointed in two directions -- one directed students straight ahead to have their class picture taken, one directed parents to the right to a reception. My wife remembered something that I learned as a soccer coach when Henry was about ten. According to the AYSO advisory, children at that age do experience disappointment when their team loses, "but nothing that a slice of pizza couldn't make better."
Apparently snacks and an open bar have the same effect on parents of 18-year-olds; I didn't see any weeping, although the university helpfully had upper-classmen volunteers circulating in the crowd with boxes of tissues. (Readers may recognize one of these volunteers from this photo -- Nora Casey, who graduated in 2007 from Samohi, is a second year student at Chicago who returned early to volunteer during Orientation Week.)
Nora Casey, Samohi '07, Chicago '11 (photo by Frank Gruber)
Since Henry is our only child, this weekend also marked the transition of my wife and me to "empty-nester" status. "Welcome," I thought to myself, "to the rest of your life."
When I contemplated writing this column on the flight back, I expected I would be just bubbling with bathetic insights, mournful yet hopeful ideas about the past and the future. You're saved from that. The weekend was too full of thinking what supplies Henry would need for his dorm room and which of those I should let him get on his own, that I didn't have time to plan out my next (what I hope will be at least) 30 years.
My planning for my future was also disrupted by a large amount of nostalgia. Both my wife and I graduated from the University of Chicago in the early '70s, and it was hard to think about the future as we wandered around the university's campus and its neighborhood of Hyde Park recalling the past.
How could I think about my post-middle-aged future when what I really wanted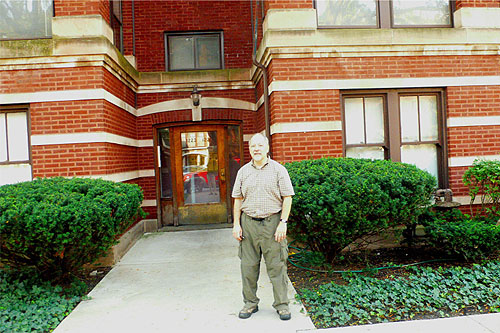 The author in front of his old apartment building (photo by Janet Levin)
to do was be a college student again? And that reminds me -- how do I tell Henry how to get more out of his college years than I did without telling him how to get more out of his college years than I did?
Then there was another distraction: it was hard to think about my personal future when I was also thinking about the future in a specific way that was not personal but which could have a large impact on my future. Hyde Park is now famous for being Barack Obama's neighborhood and it was hard to forget it.
On Saturday I bought towels for Henry in a Walgreen's drugstore that was definitely competing to be designated "Barack Obama's Walgreen's" -- it seemed like half the store was Obama merchandise. Saturday night my wife and I ate our first empty-nester dinner at a pizzeria where the staff wear T-shirts that have "Obama eats here" printed on the back (we bought three as souvenirs).
On Sunday my wife and I took a long walk -- first down to the shore of Lake Michigan and then in a big arc that took us through Hyde Park into Kenwood, the adjacent neighborhood to north where the Obamas now live. Yes, we were looking for their house; yes, just like any old tacky tourists in Beverly Hills looking for stars' homes. We found it; in case you wonder, it's the house guarded by the Secret Service. And although you're only allowed to get close enough to see it through some trees, I am unembarrassed to say that I had goose bumps.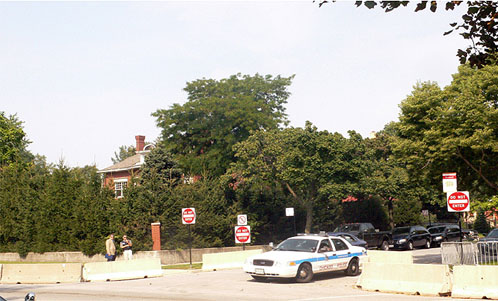 The Obama's house (behind the trees), (photo by Frank Gruber)
So as for this future thing, this next phase of my life -- I'll just have to see how it plays out.
* * *
I do want to say something about the week's financial events, culminating in the plan that Fed Chairman Ben Bernanke and Secretary of the Treasury Henry Paulson have put forward for the government to buy $700 billion (or so) in distressed mortgage-based securities.
There are a few things that gall me about this. One is political. Just hearing John McCain trying to sound like a Populist railing against Wall Street greed drives me crazy, but I will mention that a few weeks ago I pointed out that the Republican Party was becoming a facsimile of the Democratic Party of William Jennings Bryan, so maybe this is to be expected.
Another thing that galls me is just plain grievance, and populist grievance at that. I hope the Democratic Congress won't approve any plan that doesn't strike a hard bargain against the people and the companies that have profited so handsomely during the recent Gilded Age. I'm waiting for shareholder derivative lawsuits against the "brilliant" executives who kept telling the breathless media how they deserved their hundreds of millions, but in the meantime the key is for the government to pay the absolute minimum for these assets.
This is a point that Democrats in Congress and Sen. Obama have to make. Sure they want to be responsible and protect the financial system from cratering, but they can't let the Republicans and John McCain get away with all this "greed" talk when it's their backers on Wall Street who have profited so greatly from the Republicans' eight years of facilitating greed.
I like the idea of the "reverse auctions" that have been proposed, by which the banks would compete for the government's rescuing dollars by lowering the prices of their bad assets.
There's an urbanism component in this, too. Once the government buys these mortgages, the government will have financial stakes in the neighborhoods where those mortgages reside. For the government to get the taxpayers' money back, and even make profits, those neighborhoods need to thrive. For them to thrive, the working class people who live in them need to thrive, and we will need coherent and efficient -- "smart" -- land use policies to make real estate in these neighborhoods valuable again.
The less money the government pays for these assets, the more money it will have for programs that will increase the value of those assets -- and the values of those neighborhoods.
Of course, it all depends on who will be in charge of spending the money and creating the policies. One thing that hit me while I was in Hyde Park over the weekend was that it was a real neighborhood in a real city, full of beautiful homes and substantial brick apartment buildings. I'm looking forward -- with hope -- to having a president who will go home from the White House for the holidays to a neighborhood like that.