By Jorge Casuso
September 18, 2019 -- Yahoo!'s news site on Wednesday removed an article based on a "satirical post" in a Santa Monica newspaper -- but not before a brief media storm sent the parties involved into damage control.
The story Tuesday, which relied on an article posted in the Observer, reported that the robber who held up a Wells Fargo Bank last week "may be charged with cultural appropriation" for wearing a Day of the Dead mask.

The Santa Monica Police Department told the Lookout Tuesday that the press release the Observer used as the basis for its story was "completely bogus" ("Santa Monica Bank Robber Wanted for 'Cultural Appropriation,' News Site Reports," September 17, 2019).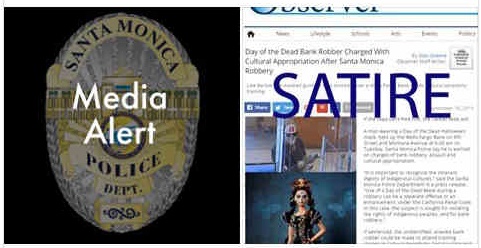 Media Alert posted on SMPD Facebook page
On Wednesday morning, the Observer issued an update.
"This article, which was picked up by Yahoo news, is intended as satire," the update said.
"No one from the SMPD actually said the unidentified bank robber could be charged with cultural appropriation. We thought it was kind of obvious."
On Wednesday afternoon, the Police Department's Facebook page posted a "Media Alert" with a blurred screen capture of the Observer article labled "SATIRE."

"The Santa Monica Police Department takes all crimes seriously and while we understand the Observer's attempt at humor, the quotes attributed to the Department are false," the alert said.

"The suspect in the Wells Fargo Robbery remains outstanding and we continue to work with federal officers and our local partners in identifying the offender."
On Wednesday afternoon, Yahoo's Lifestyle section removed the article -- which had generated more than 1,000 reactions from readers -- and replaced it with an editor's note.
"The article that was previously posted here did not meet our editorial standards," Yahoo! wrote.

"Upon further review, Yahoo Lifestyle learned that details included in the story came from a satirical post that was published by a local news outlet.
"We regret the error and are reviewing our editorial processes," the website wrote.
The Observer has a history of posting wildly speculative stories without labeling them as satire.
Previous stories in the Observer included "Justice Ruth Bader Ginsburg Will Retire from the US Supreme Court in January, 2019" and "Kanye West Appointed Under-Secretary of the Interior After Meeting at Trump Tower."
In July, the paper sparked widespread outrage by speculating Angels pitcher Tyler Skaggs had died of an opioid overdose ("Local Paper's Take on Former Samohi Star Tyler Skaggs' Death Sparks Outrage," July 3, 2019).
The Observer removed the story, citing "death threats, lawyer threats and concern for personal safety" ("Santa Monica Newspaper Publisher Explains Why He Removed Tyler Skaggs Story," July 8, 2019).
The three stories, as well as the one that served as the basis for the Yahoo! article posted Tuesday, were written by Stan Greene.
The image accompanying Greene's bylines in the Observer has been "removed for reasons of personal security."