By Jorge Casuso
February 11, 2019 -- The image of man bouncing on the hard surface of the moon seems natural, but before Apollo 11 landed, there were dire and fantastic preditions of what could happen.
This Friday and next, the Santa Monica College John Drescher Planetarium will continue its "50-Year Retrospective: The Flights of Apollo" series with "Ranger, Surveyor, and Lunar Orbiter – Scouting the Moon."
The show explores how the three robotic probe programs dispelled fears that the astronauts could meet untimely ends once they landed on the mysterious lunar surface, according to NASA.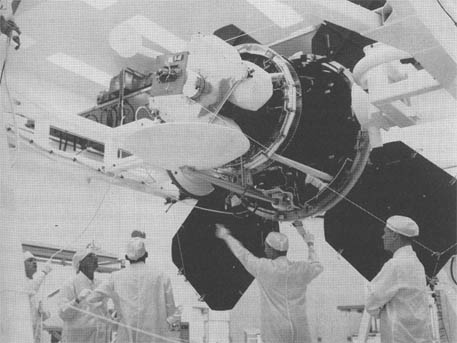 The final inspection of Lunar Orbiter before its launch on August 10, 1966. (Below) Lunar Orbiter's view of the moon's mysterious "dark side" (Courtesy of NASA)
"Although no one believed that the moon was made of green cheese, some lunar theories of the early 1960s seemed equally fantastic," says NASA's history pages.
One theory suggested the lunar surface was spongy and would crumble, another that its dust possessed an electrostatic charge that would make it stick to the windows making it impossible to see.
One British mathematician's prediction seemed torn from a science-fiction nightmare.
According to his theory, "an incoming rocket would throw up a mountain of sand, thus creating a big rim all the way around the outside of the landed spacecraft," NASA said.
"Once the spacecraft settled, this huge bordering volume of sand would collapse, completely engulf the spacecraft, and kill its occupants."

NASA's three robotic probe programs offered scientific answers, paving the way for the Apollo 11 spaceflight that safely landed on the moon carrying Neil Armstrong and Buzz Aldrin on July 20, 1969.

"Conducted in the competitive atmosphere of the space race with the Soviets, these programs came and went in a brief span of time, but hugely increased Earth's knowledge of the Moon," planetarium officials said.
The feature shows and a telescope viewing session take place at 8 p.m. and are preceded at 7 p.m. by "The Night Sky Show," which offers "the latest news in astronomy and space exploration, a family-friendly 'tour' of the constellations and answers to astronomy-related questions.
The John Drescher Planetarium, which features a Digistar projection system, is located near the elevators on the second floor of Drescher Hall, 1900 Pico Boulevard.
Tickets are available at the door and cost $11 ($9 seniors and children) for the evening's scheduled "double bill," or $6 ($5 seniors age 60 and older and children age 12 and under) for a single show or telescope-viewing session.
For more information call (310) 434-3005 or visit www.smc.edu/planetarium. All shows are subject to change or cancellation without notice.