By Lookout Staff
February 28, 2018 -- On Tuesday, the Santa Monica City Council honored former mayor Bob Holbrook for his more than 30 years of service by establishing a scholarship fund in his name. We asked those who sat on the dais with him to share their thoughts.
Asha Greenberg (City Councilmember 1992 to 1999)
I was a Santa Monica councilmember for a nanosecond -- from 1992-1998. It seems inconsequential, compared to the long years of service that Bob Holbrook gave to the city.
He was Mr. Santa Monica, representing the best that the city had to give. He loved the city and the city loved him back.

We were a disparate group, in those days in City Hall. There were many memorable moments, courtesy of long meetings that went into the wee hours of the mornings.
Thanks to a patient staff and a never ending amount of coffee, we managed to stay awake and pay attention. However, Bob never lost his equanimity, even when tiredness made the rest of us giddy.
I think of him and his lovely wife, Jean Ann often. May they always enjoy the love and warmth they have spread to others.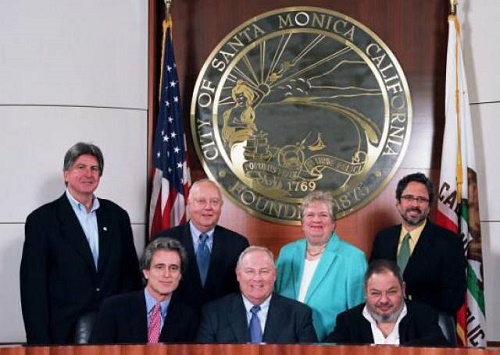 Santa Monica City Counciil 2008 (front row from left: Bobby Shriver, Mayor Bob Holbrook, Ken Genser; back row from left: Kevin McKeown, Herb Katz, Pam O'Connor and Richard Bloom)
Richard Bloom (Assemblymember, former mayor and City Council member 1999 to 2012)
100 votes. On the night of the first Tuesday of November, 1998, I was about to edge out Bob Holbrook and be elected to the Santa Monica City Council by the slimmest margin of about 100 votes.
But, I was about to learn an important lesson: never count Robert Holbrook out.
A few weeks later, when the counting was over, it was not he, but I, who was 100 votes behind and Bob was elected to another in a long succession of terms.
As it turns out, that bruising defeat was, sure, a good thing for Bob, but especially for me. When I was finally elected, in 1999, I was fortunate that Bob was there. Now I could be his student, he my mentor.
Here is a man who loves and deeply cares about our city and its people. Doctor. School Board Member. Councilman. Historian. Raconteur.
I marvel at his unique collegiality and have tried hard to emulate this suave master. To this day, I have not tired of his encyclopedic stories of Santa Monica's past.
At Council meetings Bob would regale us with layer upon layer of these stories and whether it was 9 p.m. or 3 a.m., we loved them, absorbed them, let them help guide our decision making.
Guided by history and heart, Bob Holbrook has shaped Santa Monica in a multitude of ways and we are deeply in his debt.
Paul Rosenstein (Former Mayor and City Councilmember 1992 to 2000)
Bob Holbrook and I came from different political camps. But as I watched him in his service on the school board and city council, it became clear that he sincerely cares about Santa Monica.
As I got to know him better during my eight years on the council, I appreciated him always maintaining civility in debating issues. He has a sense of humor and is a good story teller. And his passion extends to teaching his pharmacy students at USC (and in supporting his beloved Trojans).
In Santa Monica's political history, Bob Holbrook is one of a kind.
Pam O'Connor (Former mayor and City Councilmember 1994 to present)
First and foremost Bob is a kind person--and politically savvy!
Bob was born and raised in Santa Monica and loves his hometown. He has great stories about Santa Monica's past and has been a staunch supporter of efforts to preserve the City's history for future generations.
But Bob is not a man of the past; on the City Council he always had an eye towards future generations.

Bob is a Trojan through and through! A stalwart fan, Bob and his wife JeanAnn have attended many USC football games at home and on the road. He proudly wore the USC colors on to City Council meetings -- prompting me at one installation ceremony to find a pale blue and gold outfit to represent UCLA.
I always had fun with Bob bantering about the UCLA-USC rivalry! However Bob is a sportsman and when arch-rival UCLA won a football game he'd graciously acknowledged a game well won.

And Bob had many great stories to tell about growing up in Santa Monica and the West including working as a cowboy one summer!
Bob is definitely a sportsman (football, cowboy and politics) and a gentleman.
Kevin McKeown (Former mayor and City Councilmember 1998 to present)
Long before Bob and I served together on the City Council -- a full decade
before -- we became correspondents on Santa Monica's pioneering municipal
online conferencing system, the Public Electronic Network (PEN).
Bob's affable manner was evident even then. I was a neighborhood activist just
learning to connect better with City Hall, and Bob was always gracious in
sharing information, and, yes, opinions.
Then and on the City Council, Bob and I disagreed on some issues but never argued, in part because Bob faithfully represents a certain set of values, and I respect that.
As the ultimate Santa Monica favorite son, Bob embodies an admirable rootedness, and an unmatched skill at spinning Santa Monica stories. Bob has always been straightforward, devoted to this City, and unfailingly genial.
Gleam Davis (City Councilmember 2009 to present)
Throughout his decades of public service, Bob Holbrook has made a real difference in this community. Whether you agree or disagree with Bob on any issue, you cannot doubt that Bob always has Santa Monica's best interests at heart.
With his experience on the School Board and the City Council, Bob brings a knowledgeable and thoughtful voice to any discussion. But the most important thing to know about Bob is that he is a genuinely kind and caring man who loves his family and his community.
When I lost my mom, Bob was the first city official to offer his condolences and give me a much needed hug. While he loves USC (Fight On!), he never speaks with more affection than when he is sharing stories about his lovely Jean Ann, his wonderful children, or his enchanting grandchildren.
And Bob treats the Santa Monica community like his family. He always makes time for great events like the Fourth of July parade and never misses an opportunity to honor the many people who work to make Santa Monica such a special place.
Bob has traveled the world, yet he never has found anywhere he loves as much as Santa Monica and Santa Monica is the better for it. I am grateful to have had the opportunity to serve on the City Council with Bob but, more importantly, I am lucky just to know him.