February 27, 2018 -- Tonight, the Santa Monica City Council will honor former mayor Bob Holbrook for his more than 30 years of service by establishing a scholarship fund in his name. This week, The Lookout is posting testimonials from those who served and worked with him.
Bobby Shriver (Former Mayor, City Councilmember 2004 to 2012)
Bob never told me he wanted to be adopted.
Until he got the right offer from the right foster parent.
"Your Mother wants to adopt me," he said one day in 2004. "And I have accepted."
My mother had never offered to adopt anyone. As a social worker in Chicago during the 1950s, she brought some orphans home for a week or two. But she never offered an adoption.
So this Holbrook announcement was a shock.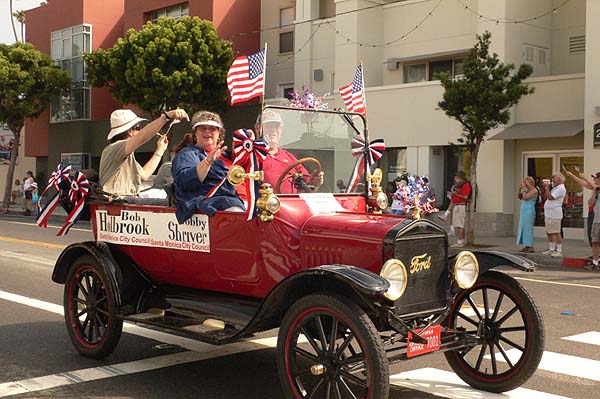 Bob Holrook drives his Model T in the 2007 Independence Day Parade with his wife Jean Ann and Councilmember Bobby Shriver
Even though my 2004 race for Santa Monica City Council was my first run for office, I knew enough about political campaigns to know that almost anything can happen. But an adoption? What would my siblings think?
Many folks who never met my mother think of her as the founder of Special Olympics, mother of 5 great (?) children and a tireless advocate for disability and women's rights. A California female politician once said to me, "I love your mother. She is a very sweet woman."
That politician, and most people, did not know Mom very well. The fact is, she was a relentless worker and very exacting judge of people. George Will once wrote she had "whims of iron."
For those reasons, generations of candidates sought her political judgment. She developed, lobbied, and passed into law unexpected legislation for disability rights, sports access for women, and prison reform. She knew what she was doing!
She never, EVER, gave anyone an "easy" assessment of an issue or of their political chances. Her view was simple: politics is a very, very important pursuit. So it's very, very important to have no illusions. There was no room for a "sweet woman" in such discussions.
Bob explained, "Your mother told me she does not understand why I have not run for senator or governor. She said I would be elected."
"Wow," I said knowing this was a serious, not "nice," judgment of hers.
"What did you say to that?"
"I said, 'Eunice, if I had your name and money, I would run.'"
"Well then," my mother had said, "I will adopt you."
This may sound like a mere "funny story." I think it's a bit more than that.
I know my mother had spent enough time with Bob to develop a judgment. She had campaigned for several weeks. She spent hours with Bob canvassing, putting up lawn signs, attending events, working with volunteers.
So I took (and take!) her judgment about Bob's statewide appeal very seriously. He could have run for, and won, statewide office. And he could have done so without her name or money.
Why? Because Bob has that rarest of qualities: complete authenticity. He really is who he appears to be: a good and decent man trying to help his friends and neighbors with thoughtful policy ideas and an ever-present willingness to just listen.
Those qualities made him a winner at every level of local government: at the School Board, the Band Parents Association, city council member, and as mayor.
I served with Bob for 8 years. I never heard him say anything in private that he did not say in public. He never varied his tone to please an audience. He always listened. Days later, he continued to question his own views in light of ideas/perspectives that had been presented at the council meetings.
Of course, he disagrees with people and sometimes with me. Yet he always does so with sincerity and authentic respect for an opposing position.
California voters will never know what they missed when Bob and Jean Ann decided to stay local in Santa Monica!
Robert Kronovet (Santa Monica Rent Control Commissioner 2008-2012)

I'd like to say a few words about former Santa Monica City Councilman, School Board member and Santa Monica Hometown Boy Dr. Robert Holbrook.
As a fellow elected official, Bob Holbrook extended to me courtesies and a graciousness that no other local Santa Monica politician ever did.
You see ladies and gentleman I am the loyal opposition, as a registered and proud Republican... Only Robert Holbrook reached out to me and showed class and extended me the warm hand of a gentleman.
Robert is the classic hometown politician: gracious, charming with a wonderful warm sense of good old American humor, as well as an openness and compassion that gives the impression that everything is going to turn out alright.
He's a magnificent American and I could never pay back the kindness, wisdom and gratitude he bestowed upon me.
All the best to you Dr. Robert Holbrook from your loyal friend, admirer and confidant,
Kronovet the Republican
Sharon Gilpin (political consultant and Planning Commissioner 1990 to 1992)
I remember going to the opening of the Beach House at 415 PCH and, as a leader of the battle to keep the space public, I wondered how the City felt that day about this amazing turn of events.
Somebody yelled from behind "Hey Sharon" and it was Bob.
I thought Bob had approved the luxury hotel project proposed for the site and walked over to him and Jean Ann and said, "This is better than any hotel -- right?"
Renderings of 415 PCH Beach Club (Courtesy of Douglas Jamieson & Frederick Fisher and Partners)
Bob had a big grin on his face and said that this public beach house was what we were about as a City, that all the 'strife' was worth it, that all the work to get it done had paid off. This, he said, was going to be one of the best celebrations we'd ever been to in Santa Monica.
And at that moment I realized Bob wasn't about politics, Bob was talking as a hometown man, one with a deep love for his City and what would be available for the children and the public for decades.
I realized that his hometown heart guided his head.
John Jalili (City Manager 1984 to 1999)
I worked with Bob for nearly ten years when I served as city manager of Santa Monica. Bob was fiercely protective of his beloved Santa Monica, it's neighborhoods and it's quality of life.
He treated everyone with upmost respect and always listened carefully to all sides of the debate. Although politically somewhat conservative, Bob worked closely with other members of the Council to advance issues of public interest.

Bob is also a prolific story teller, and loves to travel and has a great sense of fun. At a League of California Cities Conference Bob prevailed upon the USC band to perform to everyone's surprise and delight.
Santa Monica has greatly benefited from his service.
Terry O'Day (City Councilmember - February 2010 to present)
Celebrating Bob Holbrook's career in Santa Monica public service is an honor because I very much admire Bob. I've learned the true meaning and cost of service over these years I've worked in the city.
To be able, as Bob has, to serve our city for so long while also raising a great family, maintaining a professional career, and being a genuine, caring person is a feat that only a few will ever accomplish.

For me, personally, the real impact of Bob's service is a human one. It's the caring, mentoring leadership he offered while I started my own public service.
We first met on Corsair Field for the July fireworks. I was aspiring to be a Planning Commissioner and Bob took the time to talk with me and provide some pointers about serving our city. He has always been generous with his time and his caring words.
When Bob turned his powerful insights to City Council deliberations, during the time I served with him, he could change the whole way we viewed an issue by looking at it from the perspective of an everyday person in our city. Perhaps this was easy for him, as a native of our city in whom so many locals placed their trust.
Bob helped me understand different facets and interests in our community, like when he prioritized disabled access to our public treasures.
Bob has always been a fierce advocate. Even in retirement he weighs in on public health hazards, like smoking and has pressed us to increase our protections for our residents and visitors.
My best memories of Bob, however, are always when his serious advocacy gives way to a wry smile and he exposes that his true power is his sharp wit -- and you had been entrapped by it.
Thank you, Bob, for all you have done for our community, but for me, thank you especially for your mentorship and leadership.
Kathleen Rawson (executive director Downtown Santa Monica, Inc. 1997 to present)
Bob Holbrook's dedication to Santa Monica is a shining example of what community service should be. His openness, gentlemanly manner, and sharp intellect - combined with a lifelong love of his community, and the people in it guided his service for more than 30 years.

Bob is a real mensch, and we need more people with his attitude and aptitude to serve in leadership roles - providing an example to current and future generations on how to be effective while being kind and open to all voices.
Jorge Casuso (publisher of The Lookout, 1999 to present)
Uncle Bob. That's what we called Bob Holbrook in the newsroom when he was on the City Council. Like the best uncles, he could really tell a story. You would be sitting through another boring meeting and find yourself waiting for Bob to weigh in, knowing that before casting a vote, he would tell a story.
It usually had to do with Santa Monica in the olden days, before most of his colleagues on the dais had moved to the city where he was born and raised and where he raised a family of his own.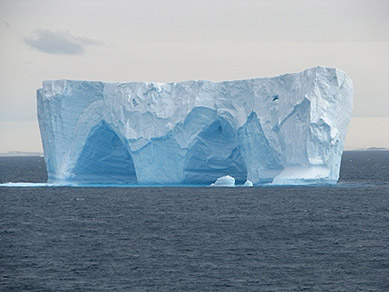 Tabular, or table, iceberg. Photo by Robert Holbrook.
Even when he didn't tell a story, Bob was entertaining, and always insightful. He was "the voice of reason" as his campaign literature proclaimed. It was Bob who would wonder why the council was voting to boycott another state or a country half way around the world when there was so much to be done here at home.
Bob was a real wordsmith, and I'll never forget the council's debate on shortening the length of meetings. Bob, who had to be at work early, looked at his colleagues on the dais, who would routinely pontificate until one or two in the morning.
Then he leaned towards the microphone and made a simple acknowledgment: "Some of my colleagues", he said, "have nocturnal habits."
Nature-show speak had never entered a council discussion, and it was perfect.
Occasionally we would ask Bob to share the story of one of the travels he undertook to remote partss of the world with his wife Jean Ann.
"The icebergs are spellbinding," he wrote from Antarctica. "Many we saw could easily carry our entire City of Santa Monica on their backs!"
With Bob, it always comes back to Santa Monica.