By Lookout Staff
February 26, 2018 -- Thirty-five years ago, Bob Holbrook was first elected to public office in Santa Monica, the city where he was born. For more than three decades he would serve his hometown on the local School Board and City Council.
During his years on the dais, Holbrook would live up to his campaign promise to be "The Voice of Reason" in a city often torn by political strife, tackling issues that remain a challenge -- school funding, homelessness, preserving "what we love about Santa Monica."
On Tuesday, the Council will honor his service by allocating up to $20,000 to establish a scholarship fund "for a Santa Monica student interested in pursuing an education in civic engagement or public service."
This week, The Lookout will post testimonials from those who served and worked with Bob during his many years of service. We hope their words will offer guidance to future public servants who choose to follow in his footsteps.
Ted Winterer (Mayor, City Councilmember 2012 - present)
I first took the full measure of Bob Holbrook's congeniality and grace in November of 2010.
Bob had campaigned for reelection and I had run as a challenger against the three incumbents. On Election Night when I went to sleep late at night the first returns showed me winning a Council seat with Bob in fourth place by the narrowest of margins.
Early the next day, after more votes had been counted in Norwalk, our positions were flipped and I now stood on the outside looking in, which meant that Bob and I faced an excruciating month-long count of provisional and absentee ballots before the election would be decided and certified.
Most in Bob's position would have seen me as an antagonist, even a usurper, to be shunned and avoided. But that's not Bob's style.
He called me the day after the election: we lamented the prolonged uncertainty ahead of us and laughed about the hastily drafted headline run by the online edition of a local paper at 3 a.m. that day which blared "Winterer Outs Holbrook," as if I had resorted to some eleventh hour dirty trick instead of ousting him.
The ensuing four weeks were challenging for both of us, as every Tuesday and Friday the County Registrar would update the vote count. Bob's lead over me would alternately shrink and increase until, ultimately, he prevailed in gaining reelection by 56 votes, the slimmest of margins.
Throughout the process Bob was Bob, handling our conversations and encounters with his characteristic warmth and avuncular equanimity.
I got to know Bob even better when I was elected to the Council 2012 and served with him for four years.
I believe those were the hardest of all his years as a public servant, as he would occasionally bemoan the decline in the civility of our local political discourse -- hard for a gentleman such as Bob to fathom the naked hostility which has too often become the norm.
Santa Monica will be fortunate to have future elected leaders possess the best of Bob's traits: affability, humanity and decency.
Marsha Moutrie (former City Attorney, 1994-2016)

My 20 years of working with Bob Holbrook yielded a trove of good memories. Here are a few.
Though he was passionate about the City and local issues, he was a calming and unifying influence at Council meetings because he was respectful of others, whatever their views. As discussions heated up, Bob would acknowledge disparate views, politely explain his own, provide historical perspective, and often tell a funny story.
And, that's how I think of Bob, as a caring public servant who, among other things, loves to share his life with others, particularly through stories.
Thanks to his stories, I can picture him in various times and places: as a boy, watching the electric street lights come on in Ocean Park for the first time; and 50-plus years later, as an intrepid world traveler, making his way across South America after being marooned by an earthquake in Chili or wading ashore on a remote South Pacific Island that had no port facilities or even docks.

Today, I particularly value Bob's exemplary kindness. He cares deeply about the welfare of others: his family and friends, his fellow council members battling illness, community members in need, and even those far away -- Gulf Coast residents devastated by Hurricane Katrina.
In these singularly unkind times, it's comforting to have this example of an elected official with such a good heart.

Irene Zivi (longtime early education activist and Council candidate in 1984)
My husband, Sam and I have been fortunate to have been good friends with Bob and Jean Ann Holbrook since we moved to Santa Monica in 1980. We have worked in all six of Bob's City Council campaigns since the first one in 1990. That included the 2010 City Council Election which Bob won by 56 votes. We shared many phone calls while waiting for the vote count to be final.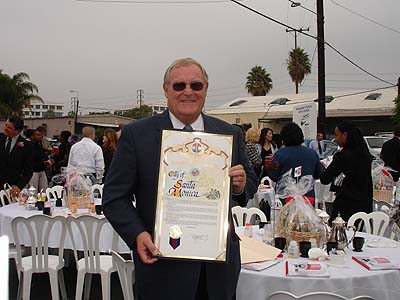 City Council member Bob Holbrook received the Community Partner Award at the Westside Shelter and Hunger Coalition tenth annual awards breakfast in 2005
Bob has been a unique Public Servant and that's why we admire him. He is a true Independent, totally honest, and completely respectful of everyone whether they agree with him or not on the issues. I have always admired his respect and treatment of the City Staff who often suffer from unkind insults from many.
I have been in close touch with Bob since he left the Council in 2014. Bob is a Native Son of Santa Monica and treasures its history. His Father served in the Fire Dept. I love his stories of growing up in Santa Monica. He loves Santa Monica and Santa Monica loves him and so do Sam and I!!
Neil Hofland (Santa Monica Band Parents' Association leader for four decades)
Bob Holbrook, A Music Maker
Bob Holbrook, who played trumpet in the Santa Monica High School Marching Band, is not known for tooting his own horn, but he does have an illustrious record of support for Santa Monica and the Santa Monica schools.
To many of us, Bob's most important support was for the schools' music programs.
In the early 1980s the California Supreme Court ruled that local property taxes could no longer be used to support local schools. All revenue had to be sent to the state, which then redistributed it equally for each pupil. This caused a crisis for districts like Santa Monica-Malibu. Programs had to be cut to meet the significant revenue reduction.
Santa Monica High School Band, performs on the Promenade in 2014.
Music became a target because few people realized the importance of an excellent music program in developing skills necessary for a successful life -- hard work, responsibility, dedication, individual proficiency and teamwork. The district's program was among the very best in America, but it was going to be cut.
Few people in Santa Monica knew or appreciated what we had. Bob Holbrook did, and he was willing to work to save it.
The Santa Monica Band Parent's Association (SMBPA), a nonprofit corporation, was formed to save music in the Santa Monica-Malibu School District. Bob was a stalwart SMBPA member. We went to the school board and promised to raise funds to cover capital expenditures for instruments, music, etc. if the district would keep funding music.
The board agreed and the SMBPA started a weekly Bingo game that ran for more than 10 years and raised hundreds of thousands of dollars to keep both the instrumental and choral music programs going, and growing.
Today the Santa Monica-Malibu School District still has one of the best, if not the best, public school music programs in the nation. Bob can take pride that his support and work with the SMBPA, and later as a school board member and city council member, greatly helped to make this continued excellence possible.
Sonia Ramos (City Council office administrator, 1995-2015)
I am much delighted to participate in honoring Robert T. Holbrook.
I first met Councilmember Holbrook in June, 1995 when I was hired by the City to support and assist the City Council Office. On my first work day, it was Councilmember Holbrook who greeted me early that morning. I remember his kindness, jovial personality and attentiveness in ensuring I felt welcomed.
Shortly thereafter, it didn't take me long to learn of his love and care for the Santa Monica community. Having spent most of his life in Santa Monica, he regaled with stories about his growing years in the city he loved so. I witnessed first-hand how significantly he contributed to the community and his enduring loyalty to his beliefs, his friends and others.
Let me not forget to mention his love for his wife, Jean Ann, his pride for his adult children and grandchildren -- always a subject he enjoyed sharing with me. Of course, his love for football and USC in the mix too!
Thank you "Uncle Bob" for welcoming me in 1995, for your lessons in city governance, your many stories, your hardy laugh, and your continued friendship.
You, my friend, are a "Class-Act" and you are so loved.