By Jorge Casuso
December 7, 2018 -- The second of two residential developments slated for beachfront land at the end of Pico Boulevard was approved by the Planning Commission Wednesday.
Owned by the Beverly Hills-based owners of Casa del Mar and Shutters hotels, the project at 1828 Ocean Avenue -- as well as the smaller project at 1921 Ocean Front Walk approved last month -- will be used as permanent residential housing.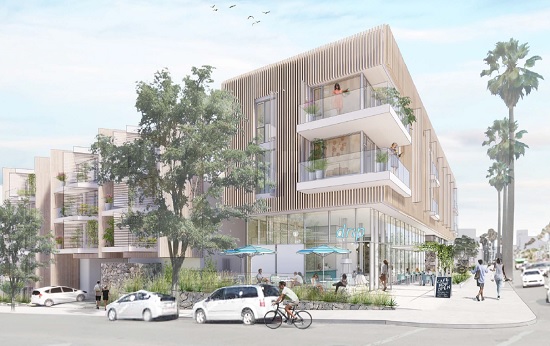 Rendering of 1828 Ocean Avenue Project ( Courtesy Koning Eizenberg Architecture)
The projects are not expansions of the two hotel, which is barred under Proposition S, an initiative approved by Santa Monica voters in 1990 that halted hotel development along the beach.
The Ocean Avenue project approved Wednesday is on what is currently a parking lot for the Hotel Casa del Mar.
The 47-foot-tall mixed-use residential building includes 83 residential units, 2,000 square feet of ground floor commercial space and a three-level subterranean parking garage for 273 vehicles.
The Commission also granted the developer a waiver that allows the ground floor level to rise 36 inches above the sidewalk, double the 18 inches allowed by code.
After neighboring residents complained the structure appeared to dwarf the low-slung buildings along adjacent Vicente Terrace, the building was set back 15 feet to 22 feet from the property line.
Residents also worried the units could become a revolving door if the project was used as corporate rentals or other short-term housing.

In the application for a development review permit, Hank Koning, the architect for tthe project, said the 83 residential units would be used for permanent housing.
The units, he wrote, "are intended for use by persons as their permanent place of residence and shall not be used as Corporate Housing or Lodging for persons who intend their occupancy to be temporary."
The residential building will not offer residents hotel amenities, such as housekeeping, valet and food or room service, the developer said.
The project includes 16 affordable units on site -- half of them are one bedroom, six are two bedroom and one has three-bedrooms.
The Commission's approval comes one month after it gave the go-ahead to the developer's project on Ocean Front Walk.
The four-story project proposed on former City-owned land includes 22 market-rate residential units, 4,000 square feet of ground-floor commercial tenant space and a subterranean parking garage with 56 spaces.
The City sold the land in 2012 for $13.15 million. The City deemed the half-acre plot surplus property that was "no longer needed for any public purpose," according to staff.