By Lookout Staff
September 25, 2017 -- After being extinct for some 66 million years, the dinosaur nicknamed "Auggie" has joined the grizzly bear and quail among California's official state animals.
Augustynolophus Morrisi became California's official state dinosaur Friday after Governor Jerry Brown signed AB 1540 sponsored by Santa Monica Assemblymember Richard Bloom.
Bloom had jokingly called on his colleagues to approve "the most important dinosaur bill in the Legislature this year" and noted that the native California vegetarian was "older than Jerry Brown (barely)."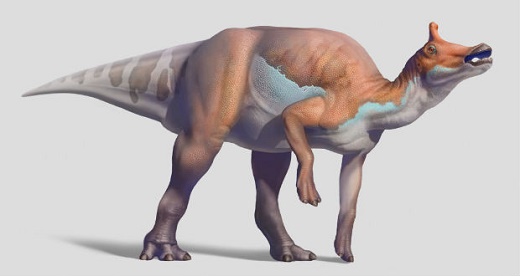 Augustynolophus Morrisi (Courtesy of the Natural History Museum of Los Angeles County'
All jokes aside, Bloom had touted the bill as a way to boost the interest of California school children in science by granting official status to a relatively unknown contemporary of Tyrannosaurus and Triceratops, popularized in the 1993 blockbuster movie "Jurassic Park."
"Today is a great day for California and for paleontology," Bloom, a former Santa Monica mayor, said on Friday. "It's not often that legislation gives us an opportunity to learn about California's prehistoric past.
"Over the past several months Augustynolophus morrisi has inspired and educated Californians across the state, including its students, policymakers and journalists."
Fossil remains of the nearly 12-foot-tall and 35-foot-long "duckbilled dinosaur" were showcased at the Natural History Museum of Los Angeles County's (NHMLA) Dino Fest this weekend.
Its fossil remains will be a staple of the Museum's new award-winning Dinosaur Hall, which features more than 300 real fossils and 20 complete dinosaurs and ancient sea creatures.
Augustynolophus remains -- which include skull material that provides an accurate picture of its features -- form the most complete dinosaur known from California.
Augustynolophus morrissi is named after Dr. William J. Morris, and Mrs. Gretchen Augustyn. Dr. Morris (1923–2000) was a geologist and paleontologist primarily responsible for most of the dinosaur discoveries along the western coast of North America.
Augustyn is a long-time supporter of scientific and educational programs at the Natural History Museum and a former Trustee for the Raymond M. Alf Museum of Paleontology and the Webb Schools in Claremont, California.
"State insignia can be astoundingly effective at educating and exciting students," Bloom said. "Many of us first learned about the California poppy and the California grizzly bear due to their special designation in California.
"AB 1540 can do the same for Augustynolophus morrisi, teaching students across California about a duckbilled, plant-eating dinosaur that roamed our state 66 million years ago."