By Lookout Staff
February 21, 2017 -- The Santa Monica Conservancy will celebrate the legacy of pioneering architect Julia Morgan next month at a structure she designed in the bayside city, Conservancy officials announced last week.
The event will take place Sunday March 5 from 11 a.m. to 2 p.m. at the Annenberg Community Beach House, which Morgan, who was California's first female architect, designed for newspaper tycoon William Randolph Hearst and silent film star Marion Davies.
William Randolph Hearst and Julia Morgan
This year marks the 60th anniversary of the death of Morgan, whose major structures include the Hearst Castle and the former headquarters for the Los Angeles Herald Examiner, one of Hearst's flagship papers.
"Hearst and his mother Phoebe Hearst were clients of Morgan, providing commissions for many of her signature accomplishments," Conservancy officials said.
In addition to the Hearst Castle and Herald Examiner building, other Hearst commissions included the Asilomar Conference Center, the Greek Theater at UC Berkeley and numerous YWCAs in California, officials said.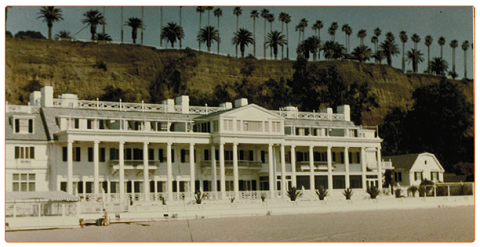 Marion Davies Estate in Santa Monia (Photo Courtesy of the Annenberg Community Beach House)
The Annenberg Beach house was once the guest house for the 101-room estate on Pacific Coast Highway in Santa Monica that hosted legendary parties during the roaring twenties.
Morgan's Georgian Revival Guest House and 100-foot-long pool formed the historic core of the site and was "one of her prodigious accomplishments as California's first female architect," Conservancy officials said.
Morgan was awarded her California architect's license in March 1904 and was awarded a Gold Medal posthumously in 2014 by the American Institute of Architects.
Conservancy docents will highlight the Julia Morgan Guest House on tours from 11 a.m. to 2 p.m during the March 5 celebration.
At 12:30 p.m. in the Garden Terrace Room, Santa Monica City architect Pooja Bhagat will lead a panel discussion titled "Women Designers Then and Now" organized by The Association of Women in Architecture + Design.
The panel "will examine the challenges faced by women in design professions, event organizers said.
Space is limited and reservations are recommended for the event.
The Annenberg Community Beach House is located at 415 Pacific Coast Hwy. Parking is available for $3 per hour or $8 per day. The parking machine accepts cash and credit card. Ample bike parking is available.
The Annenberg Community Beach House is wheelchair accessible and ADA compliant. For disability related accommodations, please call Guest Services at 310-458-4904.