By Jorge Casuso
February 14, 2017 -- The City of Santa Monica has created a new position of "chief performance officer" to analyze data that will help determine what is and is not working effectively, City officials announced last week, but critics are skeptical that municipal spending will be reined in.
Timothy Dodd assumed the $123,672 post last Thursday after filling the same position in Baltimore, officials said.
Dodd will implement a "performance management system" across all departments to "improve service delivery by collecting, analyzing, reviewing, and reporting performance data," officials said in a statement.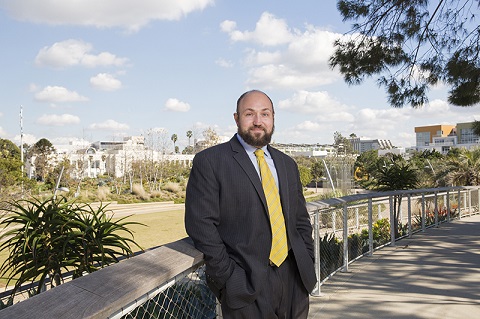 Timothy Dodd (Picture courtesy of City of Santa Monica)
"Performance management is about reviewing data to identify where our work is effective and where it's not," said City Manager Rick Cole.
"In Tim, we found someone who has the demonstrated experience needed to build a framework and champion it across the organization."
More and more cities -- both small and large -- are hiring chief performance officers to eliminate unnecessary tasks and implement more effective ways of reaching goals, said Constance Farrell, the City's public information officer.
"Times are changing and management practices are changing," Farrell said. "We have data at our fingertips, but it's what you do with that data that is important."
Some of the data is precisely what critics of municipal spending say they want City officials to explain, noting that the Santa Monica's $1.1 billion biennial budget is among the highest per capita in the state ("Santa Monica Municipal Budget Among Highest Per Capita in California," November 15, 2016).
"The public wants to see what the balance sheet is," said Tricia Crane, a leader of the City's slow-growth movement and chairperson of Northeast Neighbors. "The people are really angry."
She said a recent meeting of the neighborhood group drew a large vocal crowd that wanted to discuss budget spending with Cole ("Santa Monica City Manager's Comments Anger More Community Activists," January 10, 2017).
Crane pointed to a recent study by the City of Santa Barbara that found Santa Monica had 23.6 full-time employees per 1,000 residents, nearly twice as many as Santa Cruz and Berkeley, which finished second and third respectively with 12.7 and 12.5 employees per capita.
Table from Santa Barbara Study
Santa Monica's high per capita spending has been a longstanding inssue in Santa Monica and the subject of a 2003 series in The Lookout ("Great Expectations or Spending Spree," June 16, 2003, "A Tale of Two Cities: How Santa Monica and Pasadena Spend Their Money," June 16, 2003 and "LETTERS: City Officials Respond: Apples and Oranges & Bad Math," June 18, 2003).
Before being hired as Baltimore's performance officer, Dodd served in a similar role for the State of Massachusetts, where he oversaw strategic plans and performance reports and was responsible for "contractual responsibilities" of municipal performance management programs.

Dodd, who studied History and Public Affairs at American University, holds a Masters of Arts in History from Providence College. He received a Doctorate in Law and Policy from Northeastern University.
"I look forward to using my background in performance management and passion for public service to work with all city departments to create a robust performance management program that effectively communicates the great achievements of the City of Santa Monica," said Dodd.