By Lookout Staff
December 4, 2017 -- Some 600 guests gathered Saturday for the grand opening of Santa Monica College's (SMC) new $115-million media campus that houses the school's media and design programs and serves as the new headquarters for KCRW.
The 35,000-square-foot state-of-the-art center at 1660 Stewart Street -- which includes the Center for Media and Design (CMD) and the KCRW Media Center -- unites all the SMC programs focused on media content development and design on one campus, college officials said.
SMC Superintendent/President Dr. Kathryn E. Jeffery cuts the ribbon flanked by (from left) architect Clive Wilkinson, SMC student trustee Chase Matthews, KCRW President Jennifer Ferro, KCRW Board Chair Matt Kline, SMC Board Chair Dr. Andrew Walzer, SMC Interim Dean of Career Education Frank Dawson and SMC Associated Students president Jennifer Chen. (Photo by Amy Williams courtesy of Santa Monica College)
It is located in a light industrial zone that is the heart of Santa Monica's entertainment district, home to many of the city's 500 media firms and tech start-ups, officials said.
The new facility marks a major step in the evolution of KCRW from a station established in 1945 to train servicemen returning from World War II into a nationally recognized broadcaster known for its eclectic and adventuresome programming.
KCRW Media Center includes an outdoor stage, viewing platforms within the station and a large screening auditorium (" KCRW to Preview State-of-the-Art Center After 35 Years in a Santa Monica Basement," November 28, 2017).
It is the first stand-alone building for the station, which was previously housed in a basement on SMC's main campus.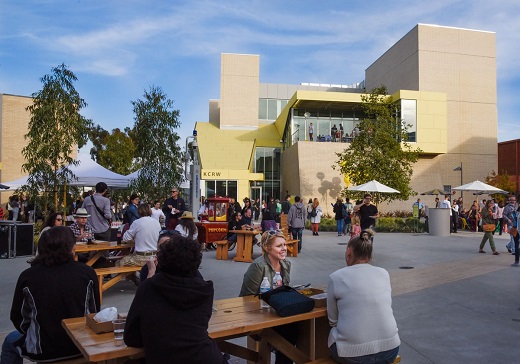 New $115-million SMC Media Campus designed by Clive Wilkinson Architects
The new facility will "allow the public greater opportunities to engage more closely with KCRW through live events and more," college officials said.
The new center was funded primarily through Proposition AA -- a $295 million bond to replace Santa Monica College's outdated facilities that won by a landslide in 2008.
KCRW also launched a capital campaign in 2012 that raised private funds from more than 5,800 donations, officials said.
The funds were used to purchase broadcast and digital equipment for the KCRW Media Center and to acquire new stations in Santa Barbara (88.7 FM) and San Luis Obispo (101.3 FM).
Saturday's program honored the Santa Monica and Malibu voters who supported the measure and the private donors who contributed to the campaign.
Designed by Clive Wilkinson Architects, the CMD campus will "act as a hub for the development of new programs and professional development," officials said.